"His cookbook recipes range from everyday to ambitious, but his
clear and straightforward instructions
strip the intimidation from dishes with titles like Peppery Absorption-Cooked Red-Wine Capellini. They're no trickier in the end than his take on mac 'n cheese or berry buckle." –
Rebekah Denn in The Seattle Times
"Michael Natkin has a talent for enticing and boldly flavored creations that are colorful, thoughtful and fresh!" – Heidi Swanson, author, 101cookbooks.com and Super Natural Every Day
Herbivoracious Loves City Fruit!
As a local Seattle author, I love the work that City Fruit is doing to support the urban orchard. If you purchase a signed copy of my cookbook through the button at the bottom of this page, I will donate $5 from the proceeds to City Fruit to help them continue their mission of stewardship and education.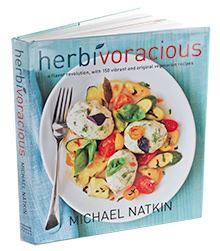 About the Book
I don't care if you are a vegetarian, omnivore, carnivore, vegan, pescetarian, or flexitarian! Labels don't matter. If you want to eat a meatless meal tonight, I want to make sure it is hearty, beautiful, and absolutely delicious.
I've written Herbivoracious: A Flavor Revolution with 150 Vibrant and Original Vegetarian Recipes to rid the world of bland, beige vegetarian food. If the idea of Crispy Polenta Cakes with White Beans and Morel Mushrooms, a Caramelized Apple and Blue Cheese Crostini, or a beautiful Rustic Peach and Nectarine Crostata makes you really hungry, this is the cookbook for you!
What is in the Book?
"Michael Natkin's ability to go global sets his new book
apart from the pack
!"
– Tom Douglas, chef/owner of Dahlia Lounge, Lola and many other Seattle restaurants and author of Tom's Big Dinners
The book is hardcover, 368 pages, and includes 150 recipes and 80+ full color photos. When you plan a vegetarian meal, are you unsure what to do for an entree? I've included over 40 hearty main courses. You'll be able to build satisfying, healthful, attractive, and most of all, delicious meals around these dishes, with a large selection of appetizers, salads, soups and side dishes. Chapters on breakfast and some out-of-the-ordinary desserts round out the selection.
More than half of the recipes are either vegan or easily made so with simple substitutions, and the same is true for gluten-free.
Order a Signed, Personalized Copy
Click the PayPal button below, which will allow you to pay either with a credit card or from your PayPal balance, and I'll ship the book to you by USPS. When you go to checkout, if you'd like a special inscription, there is a place to add it on the last page of the order form under Shipping Details. (If you don't see the spot to add your note, just email me at michael [at] herbivoracious.com, or otherwise I'll make up my own note to you!) Signed copies are non-returnable.