"If we had to choose one book to cook from in 2012, this would be it. The vegetarian blog of the same name has produced a recipe collection that's varied and draws on many cultures. His Shiitake Tacos With Asian Pear Slaw makes a fine Dinner in Minutes." –
Deb Lindsey, The Washington Post
"Michael Natkin has a talent for enticing and boldly flavored creations that are colorful, thoughtful and fresh!" – Heidi Swanson, author, 101cookbooks.com and Super Natural Every Day
James Beard Award Finalist, 2013 in the Vegetable Focused and Vegetarian category
I Don't Care if you are a Vegetarian, Omnivore,
Carnivore, Vegan, Pescetarian, or Flexitarian!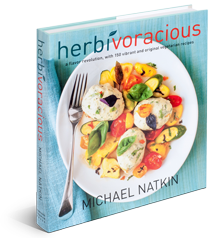 Labels don't matter. If you want to eat a meatless meal tonight, I want to make sure it is hearty, beautiful, and absolutely delicious.
I've written Herbivoracious: A Flavor Revolution with 150 Vibrant and Original Vegetarian Recipes to rid the world of bland, beige vegetarian food. If the idea of Crispy Polenta Cakes with White Beans and Morel Mushrooms, a Caramelized Apple and Blue Cheese Crostini, or beautiful Asparagus with Nori Butter makes you really hungry, this is the cookbook for you!
Throughout the book, in the headnotes and boxes, I've got hundreds of tips that will help you go beyond the recipes to understanding the ingredients, techniques, and thought processes behind them, so you will become a better cook while making meals your family will love.
What is in the Book?
"I've been following Michael's blog for a couple of years now, despite not being a vegetarian, and every recipe I've tried has been wonderful. I've been eagerly anticipating this book, and can't wait for it to arrive."

– Rowan Watson, loyal reader
The book is hardcover, 368 pages, and includes 150 recipes and 80+ full color photos. When you plan a vegetarian meal, are you unsure what to do for an entree? I've included over 40 hearty main courses. You'll be able to build satisfying, healthful, attractive, and most of all, delicious meals around these dishes, with a large selection of appetizers, salads, soups and side dishes. Chapters on breakfast and some out-of-the-ordinary desserts round out the selection.
More than half of the recipes are either vegan or easily made so with simple substitutions, and the same is true for gluten-free.
What Others Are Saying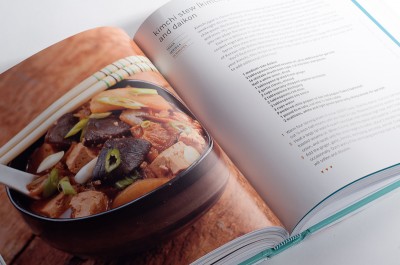 "Michael Natkin's ability to go global sets his new book apart from the pack!" – Tom Douglas, chef/owner of Dahlia Lounge, Lola and many other Seattle restaurants and author of Tom's Big Dinners
"Michael Natkin is one of the few chefs who is not a professional restaurant chef whose writing I read religiously and who has taught me things I didn't know before." – Amanda Cohen, chef/owner of Dirt Candy, NYC
"His cookbook recipes range from everyday to ambitious, but his clear and straightforward instructions strip the intimidation from dishes with titles like Peppery Absorption-Cooked Red-Wine Capellini. They're no trickier in the end than his take on mac 'n cheese or berry buckle." – Rebekah Denn in The Seattle Times