About Herbivoracious
Herbivoracious is all about reinvigorating vegetarian cuisine with modern techniques and bold, authentic flavors. If this is your first time on the site, you might want to start here.
My philosophy is: I don't care whether you call yourself a vegetarian, carnivore, pescetarian or flexitarian. Labels don't matter. I want to make sure that if you cook a meatless meal tonight, it is hearty and delicious. That is the philosophy I bring to this blog, and my cookbook.
My name is Michael Natkin, and I live in Seattle, WA with my wife and our two kids. For 25 years I was a software engineer specializing in computer graphics. I've worked at Adobe Systems developing After Effects,  and helped bring dinosaurs and Terminators to life at Industrial Light and Magic. Whenever I had a moment to spare, I spent it in the kitchen or reading and writing about food.
A few years ago I took a six month leave of absence. My family and I spent a month eating our way through Israel and Italy. Then I spent the next few months interning in the kitchen at Cafe Flora. In 2010 I also had the opportunity to stage at Canlis, one of Seattle's best known fine dining restaurants, and at New York's Dirt Candy.
As of March 2012, I've left the world of software and am fully committed to food. I've written a cookbook for Harvard Common Press. My next goal is to open a small, innovative restaurant in Seattle. Stay tuned! Update, 2013: I'm now the CTO of ChefSteps.com – where I can both cook and code.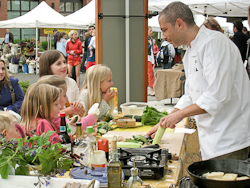 I've been a vegetarian since 1984. Here's why. I'm passionate about bringing big flavors and good culinary technique to vegetarian cooking. Not to say I don't also love a big plate of Waffle House hashbrowns.
I'm always happy to hear from you! Please drop me a line at michael [at] herbivoracious.com. Another fun place to chat and keep up is the Herbivoracious Facebook page.
Michael and Herbivoracious have been featured on many sites, from the New York Times to Saveur. Here are some of the clippings.