"With plenty of healthy choices and few truly hard-to-find ingredients, this memorable debut will thrill vegetarians and omnivores with worldly tastes." – Library Journal (Starred Review)
"Michael Natkin has a talent for enticing and boldly flavored creations that are colorful, thoughtful and fresh!" – Heidi Swanson, author, 101cookbooks.com and Super Natural Every Day
Want To Try Vegetarian But Don't Know What To Eat?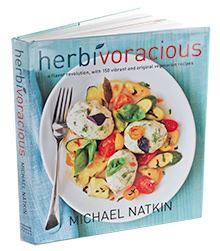 You already know: eating vegetarian meals is good for you, for the environment and for animals. But let's face it, a lot of what passes for vegetarian food is bland and boring. If you just try to take the meat out of typical American meals, you'll end up eating nothing but pasta and cheese every night, and that gets old fast.
I've been a vegetarian and a serious cook for almost 30 years, and I wrote Herbivoracious: A Flavor Revolution with 150 Vibrant and Original Vegetarian Recipes because I want to share with you ideas for meatless meals that are satisfying, beautiful, and delicious. The recipes draw on traditional and contemporary dishes from around the world. In no time, you'll be serving your friends and family Vietnamese Green Mango Salad, Middle Eastern Rice and Lentil Pilaf or Pappardelle with Eggplant Ragu and Fresh Ricotta.
Throughout the book, in the headnotes and boxes, I've got hundreds of tips that will help you go beyond the recipes to understanding the ingredients, techniques, and thought processes behind them, so you will become a better cook while making meals your friends and family will love. You'll get so much more from the bounty you find at your local farmer's market, co-op or Whole Foods. More than half of the recipes are either vegan or easily made so with simple substitutions, and the same is true for gluten-free.
What Others Are Saying
"Michael Natkin's ability to go global sets his new book apart from the pack!" – Tom Douglas, chef/owner of Dahlia Lounge, Lola and many other Seattle restaurants and author of Tom's Big Dinners
"I've been following Michael's blog for a couple of years now, despite not being a vegetarian, and every recipe I've tried has been wonderful." – Rowan Watson, loyal reader
"Michael Natkin is one of the few chefs who is not a professional restaurant chef whose writing I read religiously and who has taught me things I didn't know before." – Amanda Cohen, chef/owner of Dirt Candy, NYC
"His cookbook recipes range from everyday to ambitious, but his clear and straightforward instructions strip the intimidation from dishes with titles like Peppery Absorption-Cooked Red-Wine Capellini. They're no trickier in the end than his take on mac 'n cheese or berry buckle." – Rebekah Denn in The Seattle Times
Order a Signed, Personalized Copy
If you are in the US and would like a signed copy, just click the PayPal button below and I'll ship one to you by USPS. When you go to checkout, if you'd like a special inscription, there is a place to add it on the last page of the order form under Shipping Details. Signed copies are non-returnable.