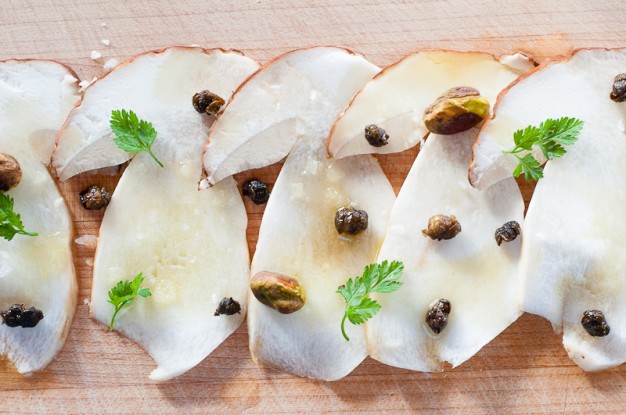 Whenever I get my hands on a rare or expensive ingredient, I look for ways to feature it in a simple, pure form that shows off the natural beauty and flavor. These porcini are only available for a weeks a year, and cost a small fortune, at least here in the Seattle area. In Tuscany, they would be much less! I got mine at Sosio's in Pike Place Market. They have knowledgeable folks behind the aprons and some of the loveliest specialty produce in the city.
Crudo is the Italian answer to sashimi. Raw fish, or in our case, mushroom, is sliced thinly and simply garnished. For the porcini, I infused olive oil with clementine zest, and then added fried capers, roasted pistachios, and chervil for a bit of crunch and complementary flavor. Experiment with the thickness of the slices on your mandoline to find a texture you like; somewhere in the neighborhood of 1mm is about right.
Porcini Crudo
Vegetarian, Vegan, Gluten Free and Kosher
10 grams capers
52 grams extra virgin olive oil, divided
Zest and juice of 1 clementine or orange
12 thin, center slices of porcini mushroom, about 1mm thick
12 roasted pistachios
Maldon salt, as needed
Chervil leaves, as needed
Rinse and dry the capers. Put them in your smallest saucepan with 12 grams of the olive oil and cook over medium heat, stirring occasionally, until browned and crispy, about 3 minutes. Drain on paper towels.
In the same saucepan, combine the remaining 40 grams of olive oil with the clementine zest and cook over very low heat until you can taste the orange flavor infused in the oil, about 5 minutes. Strain and reserve.
Arrange the porcini slices just barely overlapping on your serving platter. Drizzle generously with the orange-infused oil – I should have used more than in the photo above. Drizzle on a smaller amount of the orange juice. Scatter the pistachios and fried capers over the porcini. Sprinkle on a good bit of the Maldon salt, place a few chervil leaves randomly, and serve.