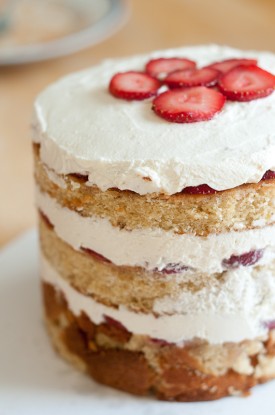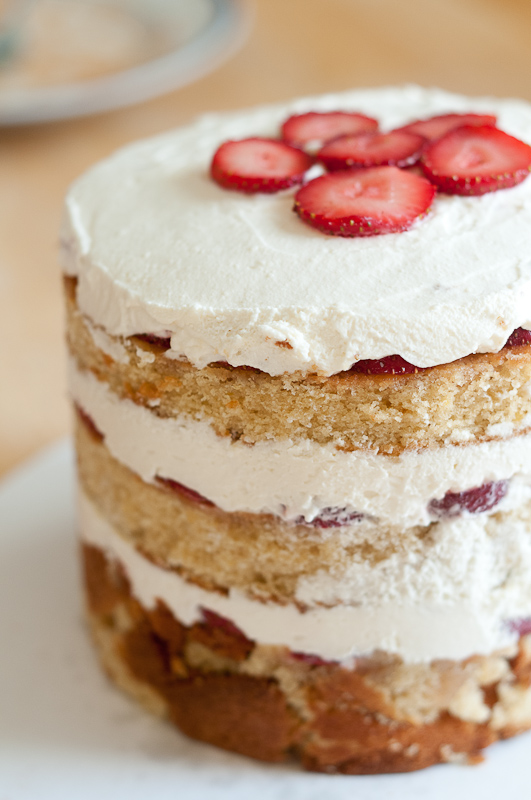 No, this isn't a miniature cake. It is actually 6 inches in diameter, and, I don't know, 6 inches tall and serves 8 pretty handily.
I'm a pretty lousy pastry cook. I typically don't have the patience or skills to create perfect geometric shapes, frost things just right and so-on. So when I got the Momofuku Milk Bar cookbook, I sorta fell in love because Christina Tosi's approach to the decorative side of pastry is so fun and approachable. The way she makes her 3 layer cakes is genius (though it does require some gear). You bake a sheet cake, then use a cake ring to cut out two layers. The bottom layer is made by pressing all of the remaining scraps into the cake ring. Two mylar collars keep the outside perfectly smooth so you can see the filling.
(Though I am tempted to take this online cake decorating class.)
I followed Tosi's recipe for the sheet cake, using the Birthday Cake recipe (page 105) in the book, but omitting the rainbow sprinkles. She's a big believer in long creaming of butter and sugar and the final batter to incorporate plenty of air and lighten the cake. I made up my own filling, frosting and soak, so I'll detail those below; I don't want to reproduce her cake recipe or the assembly method so you'll need the cookbook for that. (Or you could use my components on your own style of cake.) Unlike the Momofuku style, I didn't include any crunchy component; somehow the strawberries didn't seem to want that.
Here are the tools you'll need:
My cake using this method is stupid-simple. The filling is macerated strawberries, the soak (which is used to moisten the cake layers) is the juice from macerating the strawberries, and I make a whipped cream frosting that is stabilized with some cream cheese so it doesn't collapse under the weight of the cake. (Adapted from one I found at  Allrecipes).  Here are the details:
Macerated Strawberries
1 pound ripe, tasty strawberries
1/2 cup sugar
Cut off the strawberry stems. Cut the berries into 1/4″ slices, parallel to the base (i.e. horizontally, not vertically). In a medium bowl, toss the strawberries with the sugar and reserve, at room temperature, tossing occasionally, until the berries have softened and given up lots of juice, about 30 minutes. Save the juice for the cake soak.
Whipped Cream Frosting
8 ounces cream cheese (full fat, not whipped)
1/4 teaspoon salt
1 cup powdered sugar
1 tablespoon vanilla extract
1 1/2 cups heavy cream
Put the cream cheese, salt, sugar and vanilla extract in a stand mixer. Beat on medium speed until fluffy, about 1 minute. With the mixer still running, drizzle in the heavy cream. Continue beating until the mixture is homogenous and holds stiff peaks. Reserve in refrigerator until you are ready to frost your cake.