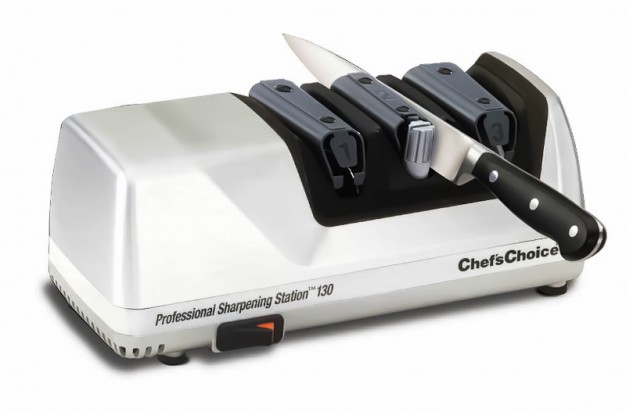 I'm kind of a freak about sharp knifes. When I cook in other folk's kitchens I usually find their knives are as dull as a wiffle ball bat, and I can't figure out how they stand it.
Few things make your life in the kitchen more enjoyable than truly sharp knives. They make your work faster, easier, and safer (because you don't have to use excessive force which is likely to lead to unfortunate slips.) And yet the honest truth is that few of us will take the time to sharpen knives by hand on oilstones or waterstones, and who has the time to take them out for frequent professional sharpening? 
There have been a thousand gadgets invented to make sharpening easier and more foolproof. I've tried lots of them over the years, and far and away the standout solution is this Chef's Choice 130 Professional Sharpening Station. It has three powered grinding wheels. The coarsest is only used if your knife has a knick. The middle wheel is for routine sharpening, and the final wheel is for putting on a razor edge. A few strokes on that and your blade will go through tough vegetables like butter. You can even use the finest wheel on serrated blades like your bread knife to restore their edge. For all 3 wheels, the angle guide takes all the guesswork out of it. Just be sure and read the manual so you know how many strokes to take on each side.
The whole process of sharpening a dull knife just takes a minute or two and requires no special skill, so there really is no reason you ever need to suffer with blunt instruments again. The only real caveat is that you can't adjust the angle if you have a strong personal preference. They do make a different model that trades out the coarsest wheel for an option between Asian and European standard angles, but I haven't tried that myself.