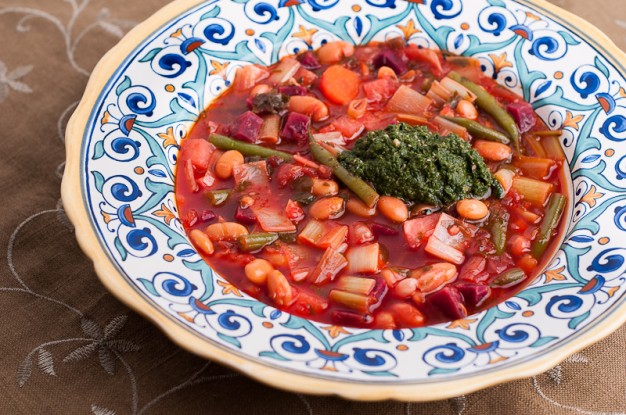 Red Winter Minestrone with Winter Greens Pesto
If you are a dedicated locavore, or farmer's market shopper, or year-round CSA subscriber, you are all too familiar with this issue: depending on where you live, there are several loooong months of the year where the main local vegetables available are the hearty dark leafy greens and root vegetables. You are going to need a serious repertoire of kale recipes to get you through the winter. So when Oxbow Farm sent me a CSA box, I knew I wanted to give you a hearty, warming soup that would take advantage of what the season is offering.
The thing I like most about this soup is the pesto made from the greens of the beets and turnips, along with the kale. Yep, I'm going tip-to-tail. Now stay with me for a minute here, because I know that sounds like it has the potential to be bitter and unpalatable and nothing like good summer basil pesto. The key is that you need to blanch and shock the greens before making the pesto. That removes a lot of the bitterness, so the end result has a complex background flavor but lets the olive oil, parmesan cheese and garlic shine through. The recipe makes more pesto than you will need for the soup, but I don't think you'll mind the leftovers. Serve it on pasta the next day, or spread it on good artisan toast, or eat it off a spoon at midnight. (Yes.)
The soup itself gets that lovely red color from beets. In Italy, minestrone can be made with just about any seasonal vegetables, and beets are no exception. I kind of want to call this soup borschtestrone. But bringing down the wrath of both Jewish and Italian grandmothers worldwide can be hazardous to your health.
Highly recommended to cook the beans yourself, rather than use canned. The texture is better and you can use the bean cooking liquid as part of the soup broth for extra flavor.
The first part of cooking the soup itself is to make a sofrito – onions, tomatoes, garlic, etc. slowly cooked into a flavorful paste. If you have time on your hands, you might want to make a double or triple batch and save the rest to serve on pasta, or eggs, or to flavor rice. Sofrito freezes quite well.
By the way, if you live near Seattle, I'm cooking a dinner on Oct. 30 at Cafe Flora to support City Fruit – a fantastic organization that gather fruit from trees around the city that would otherwise go to waste. Learn more and register here. And thanks to Seattle Parks Foundation and City People's Garden Store who have donated scholarship seats to this event!
Red Winter Minestrone with Winter Greens Pesto
Vegetarian, vegan, gluten free, kosher, and suitable for space use if pureed, gelled, and vacuum-packed
Serves 4 moderately as dinner with salad and bread
For The Winter Greens Pesto (makes more than you need for soup)
Greens from 1 bunch beets
Greens from 1 bunch turnips
1 bunch kale
2/3 cup extra-virgin olive oil
2 cloves garlic
1 ounce parmigiano-reggiano cheese
1/2 teaspoon kosher salt
Bring a large pot of salted water to a boil and set up a large bowl full of ice water. Strip the beet greens, turnip greens, and kale from their coarse stems and wash them well. Put each bunch, one at a time, into the boiling water, and cook until they turn bright green and fairly limp. Use tongs to transfer immediately to the ice bath (where they can all swim together.)
Remove from the ice bath and squeeze out as much moisture as possible.
Puree the greens, olive oil, garlic, cheese, and 1/2 teaspoon of salt in a blender. Taste and adjust seasoning, then reserve in the refrigerator, covered directly on the surface with plastic wrap.
For the Red Winter Minestrone
1/4 cup + 2 tablespoons extra virgin olive oil (divided)
1 white onion, finely diced or grated
2 roma tomatoes, or two canned tomatoes, grated (leave out skins if using fresh)
4 cloves garlic, minced
1 handful parsley leaves
1 pinch chili flakes
1 bay leaf
1 teaspoon minced rosemary leaves
Kosher salt
1 leek, white and light green parts, cut into 1/2″ wide half-moons and well-washed
1 medium carrot, peeled and cut into 1/8″ thick circles
1/2 pound turnips, peeled and cut into 1/3″ cubes
1/2 pound beets, peeled and cut into 1/3″ cubes
1 cup dry white wine
Handful of green beans, cut into 1″ lengths
2 cups cooked white beans (cannelini or similar) – reserve 3 cups of the cooking liquid if you cooked them yourself (recommended)
Optional: lemon juice
In a big soup pot, heat 1/4 cup of the olive oil over medium-high heat. Add the onion, tomato, garlic, parsley, chili flakes, bay leaf and rosemary and 1/2 teaspoon kosher salt. Cook, stirring occasionally, for about 5 minutes, then reduce the heat to medium-low. Keep cooking until you've got a well caramelized, somewhat uniform base (sofrito). This will probably take at least 20-30 minutes.
Add the remaining 2 tablespoons of olive oil, and the leeks, carrot, turnips and beets. Raise heat to medium-high again. Cook, stirring occasionally, for 5 minutes. Add the white wine and deglaze (scrape) the bottom of the pot with your spatula to dislodge any delicious browned bits. Cook for 2 minutes to boil off most of the alcohol. Add the green beans, white beans, and 3 cups of the bean cooking liquid and 2 cups of water (or, failing that, 5 cups of water). Bring to a boil, reduce to a simmer, and cook for a few more minutes. Taste and adjust seasoning. It will certainly need more salt, and you might also like a squeeze of lemon juice.
Divide among heated bowls and serve with a generous dollop of the winter greens pesto, which the diner can stir in.