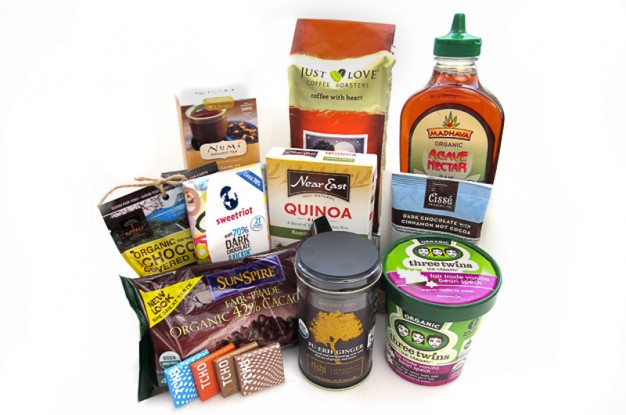 Fair trade is the idea of marketing products with a primary goal of improving the lives of the those who grow (and sometimes process) the raw materials. I knew that it involved paying ethical, above-market prices for the food, instead of pressuring poor communities to produce food as cheaply as possible.  I didn't realize the it also includes a commitment of community development funds that the farmers can use for environmental protection, health care, or women's empowerment among other great things.
Fair Trade USA, one of the major fair trade certification organizations, is sponsoring Fair Trade Month in October. Their slogan is "Every Purchase Matters", which I think is a great thing to keep in mind. Anytime we buy something, we have an opportunity to make the world a little bit better – whether it is a fair trade purchase, buying from a local shop, or hitting the farmer's market for organic bok choy.
To celebrate Fair Trade Month, Fair Trade USA is giving away the lovely gift box you see above to one Herbivoracious reader. It includes Madhava agave nectar, Near East Quinoa, Three Twins Ice Cream, and chocolate from TCHO among other goodies.
To enter, just sign up for my email list using the form below. If you are already on the email list, you can enter by leaving a comment on this blog post. Enter by 11:59 PM EST on Sunday 10/7/12, and I'll announce the winner the following day. I'll contact the winner by email to arrange delivery of the prize. The contest is over, and the winner is Melinda. Congratulations, and thanks to everyone who participated!