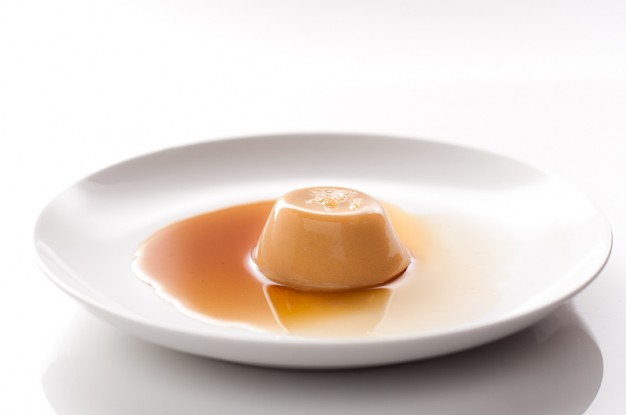 Caramelized Banana and Buttermilk Panna Cotta
Panna cotta is a classic Italian dessert, traditionally made from cream and milk set with gelatin, which isn't vegetarian. The gelatin is what makes it different from flan (set with eggs) or pudding (set with starch and sometimes eggs). The best panna cotta is ultra-creamy and just barely set – it should have a distinct wiggle to it. So the challenge in making a vegetarian panna cotta is to replace the gelatin with something that doesn't make a brittle, crumbly, or over-firm gel.
Agar-agar might not seem like the ideal choice here, because indeed it does have a tendency to make brittle gels that fracture when you bite into them, rather than seeming to melt. That problem becomes worse at higher concentrations though, so I figured if I could give it some help by starting with an already thickish flavor-base, I could use a lot less agar. In this case, using buttermilk, cream, and caramelized banana puree worked like a treat – I was able to use only 0.2% agar by weight, which resulted in a completely creamy, wiggly, delicious panna cotta.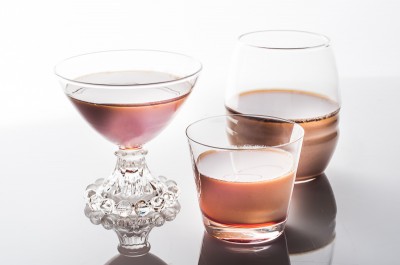 Since I was making caramelized banana panna cotta, I figured a bourbon and brown sugar syrup would make a perfect flavor pairing. You could also try replacing the dairy products with coconut milk and cream for a tropical (and vegan) version, and then maybe you would use a mango sauce instead. (I haven't tried any of that – please let me know if you do.)
The other big benefit of agar is that it is relatively easy to find; other good options such as a mixture of carrageenans are probably too much trouble for most folks to source. The agar brand I like best is Telephone – it comes in little packets that you can find at Asian groceries or here on Amazon. I find that this brand is completely flavorless, and the thickening strength is very reliable. If you try other brands, or agar flakes etc., you may have to experiment to find the equivalent amount.
Whenever you use agar (or any other thickener like xanthan gum etc.), it is important to disperse it before hydrating. The best technique is to whisk it in with sugar or another powdered ingredient, disperse it into a vortex of liquid in the blender, and only then do you heat it. If you try to heat it, which causes the powder to hydrate, before fully dispersing it, you'll have a clumpy mess on your hands.
With panna cotta you have the choice of serving it in ramekins or unmolding it. Obviously ramekins are the safest choice, but if you want to unmold, it is best to use metal or silicone molds to aid in the release. Dipping the base of the mold in hot water for a few seconds before drying and inverting on a plate may aid in release.
Housekeeping: If you are a Facebook user, you may have noticed that pages you like aren't showing up in your newsfeed as often as they used to. If you want to be sure that the Herbivoracious fan page is showing up for you, go over to it, like it if you haven't already, and then click on the gear-shaped icon toward the top right and choose Add to My Interest Lists.
Caramelized Banana and Buttermilk Panna Cotta
Vegetarian, gluten-free and potentially kosher
For vegan, try coconut milk instead of the dairy products (untested)
Makes 6-8 servings
For the bourbon brown sugar syrup
3/4 cup water
3/4 cup dark brown sugar
6 tablespoons good quality bourbon (Maker's or better)
Bring all ingredients to a simmer in a small saucepan. Simmer 5 minutes. Strain and reserve in refrigerator.
For the caramelized banana and buttermilk panna cotta
3 overripe bananas, peeled (430 grams peeled weight)
572 ml (2 cups) buttermilk
236 ml (1 cup) heavy cream
2.5 grams (1/2 teaspoon) pure vanilla extract
2 grams salt
75 grams brown sugar
50 grams white sugar
2 grams agar agar powder (I use Telephone brand – check if you need kosher, but other brands strength may vary)
Gather 8 ramekins, pudding cups, or whatever you want to serve the panna cotta in onto a baking sheet that will fit in your refrigerator.
Preheat oven to 400. Put bananas on a parchment line baking sheet and roast until very well browned and bubbling, about 30 minutes, mashing with a fork a couple of times throughout to expose more surface area.
Put bananas, buttermilk, cream, vanilla, salt, and brown sugar in a blender and blend on high speed for 2 minutes.
Whisk together white sugar and agar in a small bowl. With the blender on medium speed, remove the top and sprinkle the sugar-agar mix into the vortex. Put the cover back on and blend on high speed for 2 more minutes.
Strain the mixture through your finest sieve into a saucepan. Heat at medium, whisking frequently until it comes to a simmer. Immediately remove from heat and transfer to the ramekins. Place on baking sheet and cover with tin foil. Refrigerate at least two hours.
To serve, unmold if desired by dipping the ramekin base in hot water then drying and inverting onto a plate. Otherwise, you can serve directly in the ramekins. Drizzle about 2 tablespoons of the bourbon brown sugar syrup on each portion.