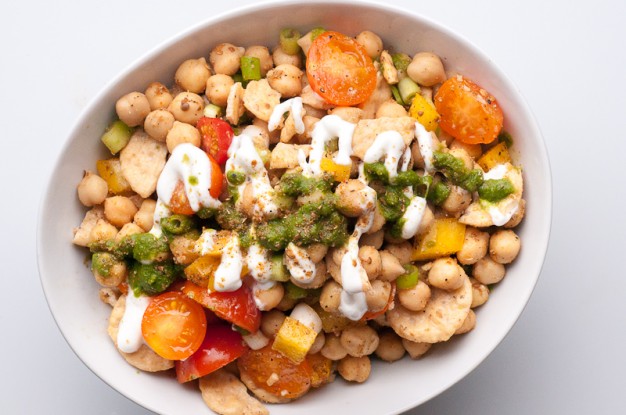 Wacky Chana Chaat – Spicy Chickpea Snack
Chaat is a whole family of amazing snack foods from India that are served by street vendors and informal restaurants. Chaat can be anything from aloo tiki (potato fritters – there's a recipe in my book) to pani puri (little crispy hollow crackers that you poke a hole in, fill with a potato and chickpea mixture, then dunk in a spicy cold broth) to dahi vada (fried lentil dumplings drowned in sweet yogurt). It is almost hard to say what the defining characteristic of  a chaat is, but after awhile you know one when you see one, and you'll probably want to get on the outside of it as quickly as possible.
Today's recipe is a variation of a traditional chana (chickpea) chaat. I'm calling it "wacky" because I used Trader Joe's thin-mini rice crackers to add a crunchy component. Most chaats have a crunch factor, from crispy noodles (sev) to puffed rice (bhel). I chose the rice crackers just because I had them lying around and  they have a nice neutral, salty crunch that I thought would work perfectly. If you use a different kind of rice cracker, just be sure it is a plain one, not glazed with  teriyaki or wrapped with nori – that wouldn't go well. You can do everything else ahead, but don't mix the chaat until the last minute, because you don't want the crackers to lose their snap.
Chaat masala is a spice mix that is used in many different chaats; you can buy it or I show you how to make a simplified version of it below. You also might like to add a tamarind chutney for another layer of flavor. The general aesthetic of chaat is a real riot of flavors and textures.
Oh, and in other news, after much "fun" getting the colors right, I finally have my Zazzle store open, so pop on over if you have just been hankering to get an Herbivoracious t-shirt, apron or trucker hat.
Wacky Chana Chaat
Vegetarian and gluten free; vegan if you omit the yogurt
Serves 2-4
1 1/2 cups cooked chickpeas (room temperature)
10 cherry tomatoes, halved
6 green onions, white and light green parts, cut into 1/8″ segments
1/4 yellow or red bell pepper, cut into 1/4″ squares
1 tablespoon chaat masala (recipe follows) plus additional for garnish
1/2 cup Trader Joe's thin mini rice crackers, roughly broken
1/2 cup thick yogurt beaten with a pinch of salt and water as needed to make saucy
Mint chutney (recipe follows)
Toss the chickpeas, cherry tomatoes, green onions, bell pepper and chaat masala together. Taste and adjust seasoning.
Just before serving, add the rice crackers and toss.
Divide among serving bowls, garnish with the yogurt, mint chutney and a pinch of chaat masala and serve immediately (before the rice crackers lose their crunch.)
Chaat Masala
Yields about 4 teaspoons – you can make a double or larger batch and keep it  for a few weeks in a sealed container
Vegetarian, vegan, and gluten free
1 teaspoon cumin seed
1 teaspoon coriander seed
1 teaspoon amchoor (dried mango powder) or 1/4 teaspoon citric acid (sour salt)
1/4 teaspoon freshly ground black pepper
1/2 teaspoon cayenne pepper
1/2 teaspoon salt
Toast the cumin seed and coriander seed in a dry skillet over medium-low heat until fragrant but not burned, about 2 minutes.
Combine all ingredients in a spice grinder or mortar and pestle and grind to a fine powder.
Mint Chutney
Vegetarian, vegan, and gluten free 
Leaves from 2 ounces of fresh mint (1 bunch)
Leaves from 2 ounces of cilantro (1 bunch)
1 teaspoon grated fresh ginger
1 clove garlic, thinly sliced
1/4 cup diced white onion
Juice of 1 lime
1/2 teaspoon salt
1 teaspoon sugar
Combine all ingredient in a mini food processor, or double recipe and make in a blender. Process on high speed until you have a smooth puree, adding a bit of water as needed. Taste and adjust seasoning – it may need more sugar, salt, or lime juice.