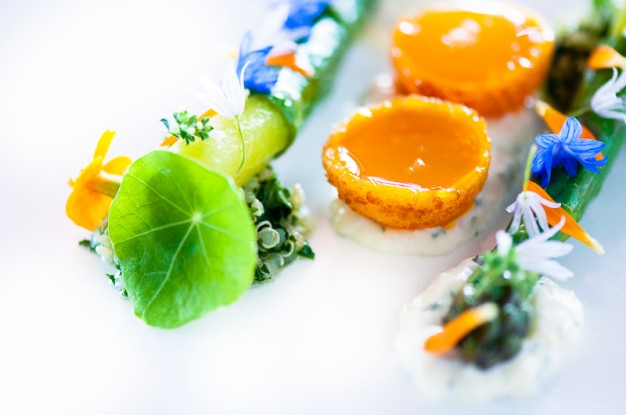 Asparagus with Sauce Gribiche, Quinoa "Tabouli" and Warm Egg Yolk
Back in 2010, I had the wonderful experience of staging at Canlis for a couple of weeks. For those of you who haven't had the pleasure of dining there, Canlis is a legendary fine-dining institution in Seattle. It boasts spectacular views high above Lake Union, unmatched service that is always as friendly as it is accurate, and a wine list I can't begin to describe. It is the place that Seattleites go to dress up, feel special, and celebrate important events in their lives.
A few years ago, the third generation owners, brothers Brian and Mark Canlis, brought in Chef Jason Franey from New York's Eleven Madison Park, and challenged him to completely modernize the menu while maintaining the classic dishes that decades of customers have come to expect. I'd been lucky enough to eat at Canlis a few times, both before and after the change, and was thrilled that Chef Franey had obviously put a lot of effort into the vegetarian tasting menu, which could have easily been given short shrift.
Brian Canlis is also a highly skilled photographer, and he and I cooked up the idea to collaboratively shoot and eat the vegetarian tasting menu before service one day, so I could share it with you. (Brian shot all of the gorgeous wide photos, with a studio strobe, and I shot the tight closeups and the action shot, with a 105 macro, handheld and using available light). Honestly, I was blown away. The already terrific food has only gotten better over the past couple of years, as Chef Franey has had more time to implement and refine his vision.
I have to admit, I have an ulterior motive in posting these dishes. I want to throw down the gauntlet to other restaurants, whether fine dining or more moderate: take your vegetarian dishes seriously! In 2012, few restaurants still torment vegetarians with a sad plate of steamed vegetables, or a melange of side dishes from the meat entrees. But so often, all that is on offer is a single, uninventive pasta in a beurre blanc. I'm not saying every restaurant should be making fine-dining level dishes, just that the vegetarian dishes should be as good as everything else on the menu.
There are certainly other great examples (and if you are in Seattle, I've got a long list of them in my guide app.) By and large, though, omnivorous restaurants lack either the interest, focus, or ideas to stop treating vegetarians as second class citizens. I think that is a real shame, as there are plenty of vegetarians like me that take their food seriously and would spend a lot more money at restaurants that make the effort to embrace us. (And hey, chefs/restauranteurs, if you want to hire me to consult on your vegetarian offerings, drop me a note at michael [at] herbivoracious.com).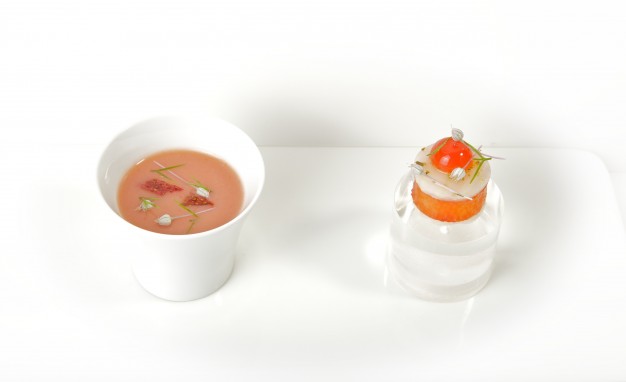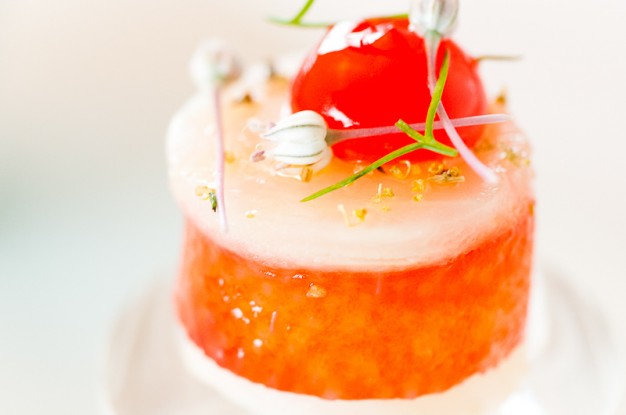 Ok, descending from the soapbox. Let's take a look at the dishes, in the order they would be served. (Keep in mind that the menu changes frequently.) The first  is Strawberry and Fennel. Cold strawberry soup and a gorgeous strawberry and fennel terrine. A perfect, cool, pair of refreshing bites to settle into the meal.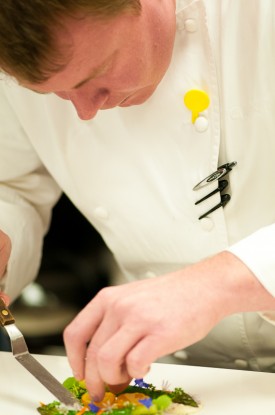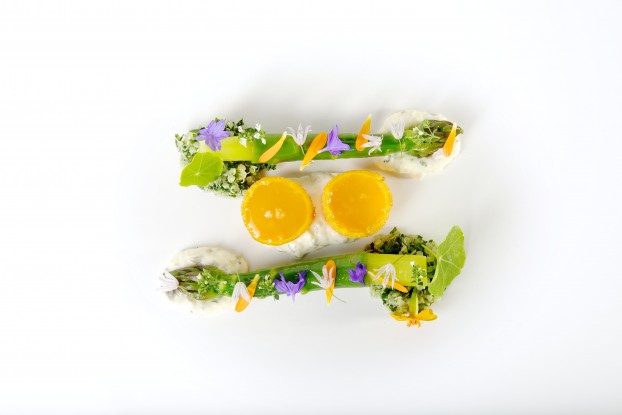 Asparagus. With sauce gribiche, a "tabouli" of quinoa, and an incredible fried egg yolk. (See also detail photo at top of post). I've had this dish twice now and it is one of the most memorable things I've eaten in years. I had to ask how the egg is made. First, a bunch of egg yolks are whisked together and cooked, sous vide, to the perfect gelled texture. Then they are piped into sphere molds and frozen. The frozen spheres are rolled in panko, deep fried just long enough to cook the shell and melt and warm the interior, then cut in half and set atop the gribiche. Unbelievable.
Another chilled course, this time as a palate cleanser before we get to the mains. Cucumber and melon terrine, with horseradish, and a gimlet vinaigrette. The terrine is made without any pectin, which Chef Franey says has a tendency to get slimy; he simply uses vacuum compression.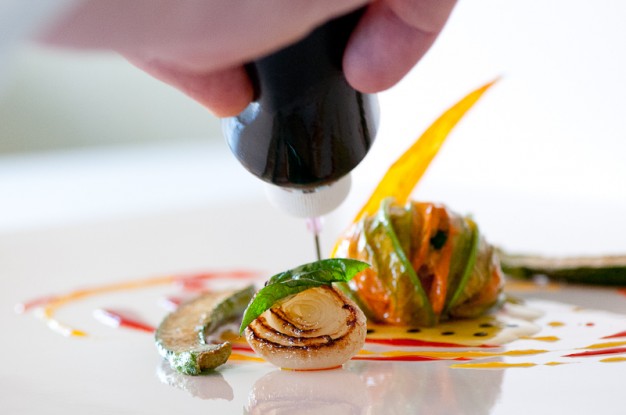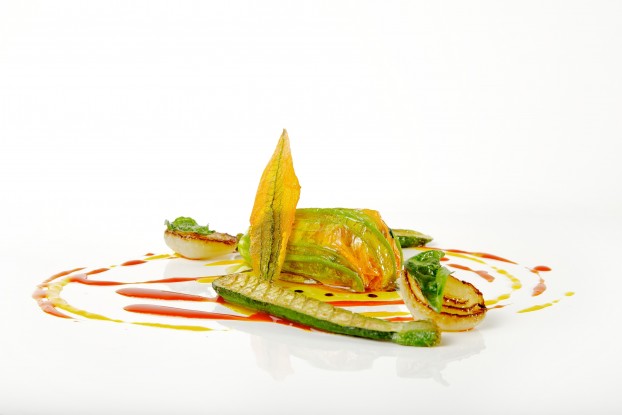 Alex and Aki were just talking last week about the fact that the zucchini blossom itself doesn't have that much flavor; its value is in the beauty, in being evocative of the season, and as a vessel. The typical treatment is to stuff them with goat cheese and deep fry. This version, stuffed with finely diced ratatouille and served with sweet pepper reduction is much more interesting. (And by the way, if you want to play with squash blossoms, I've got a version filled with sauteed zucchini and served with chimichurri.)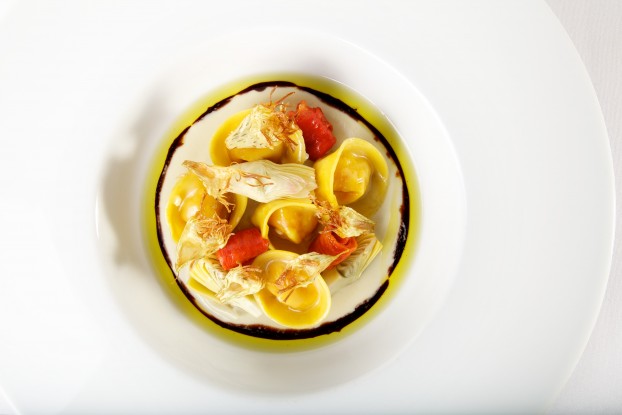 Next up: tortellini, filled with artichoke, topped with tomato confit and crispy artichokes, and finished with saba (syrupy grape must), preserved lemon, and olive oil. The preserved lemon is a nice touch. It adds that hint of fermented complexity without overtly making the dish seem Moroccan. I love that this is a restrained portion of pasta. Enough to cap off the savory section of the meal without leaving you too stuffed to enjoy dessert.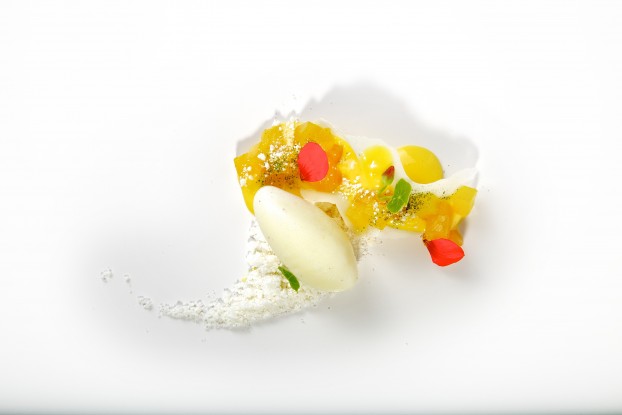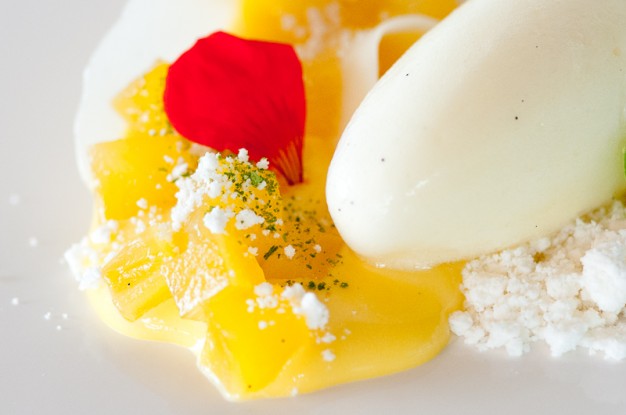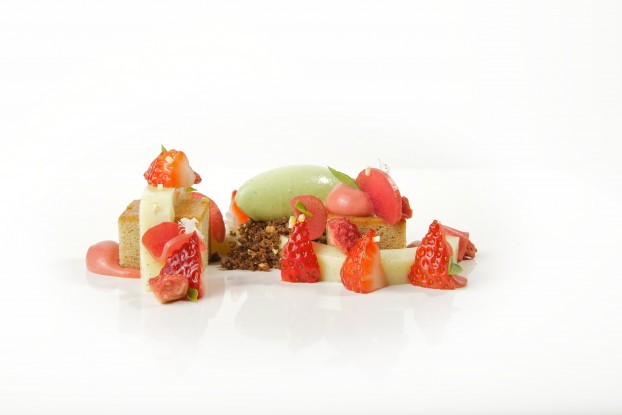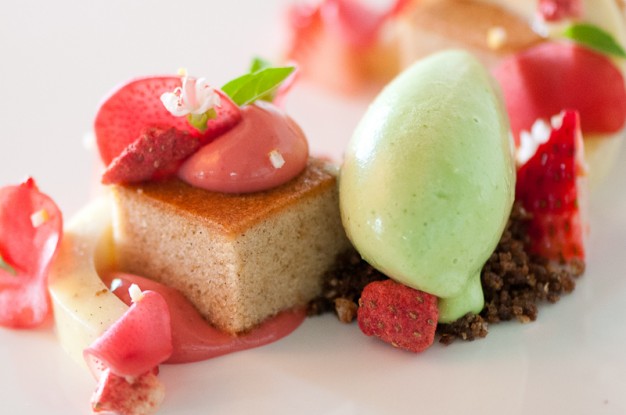 … and speaking of dessert, let's have two! Pastry Chef Baruch Ellsworth has been leading the sweet department at Canlis for less than a year, and is doing great things. In fact, I can't think of another restaurant in town that is doing plated desserts anywhere near this level. The first two pictures are of Pineapple, with white chocolate, passion fruit, and coconut. The latter two are vanilla custard (that's the flexible rectangle running through the dish) with rhubarb, basil, and buckwheat (pain de genes and toasted groats). Fantastic stuff, and a perfectly matched end.
So there you have it. I realize this isn't in any way an unbiased review. I'm obviously a big fan of what the Canlis', Chef Franey, and Chef Baruch are doing, and  they have been kind enough to let me work there and been very supportive of my own (beginning) path in the food world. But all that said, I think what I have to say is fair: they are doing some damned exciting food, pushing the boundaries, making customers very happy, and treating vegetarian diners with the same respect as omnivores. To which I can only say: thank you.