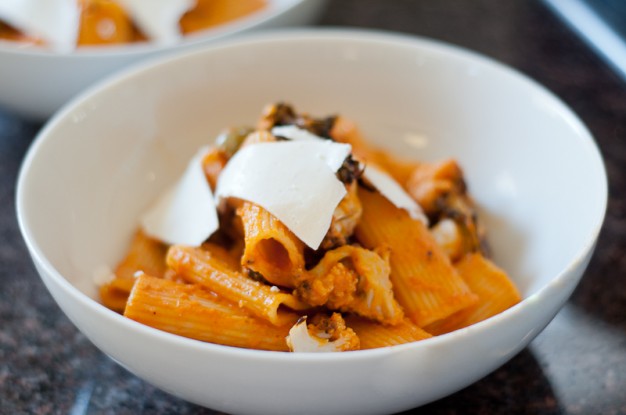 Rigatoni with Roasted Cauliflower and Spicy Tomato Sauce
I've had rigatoni on the brain recently. KitchenAid was kind enough to send me this pasta-extruder attachment for review and I had in mind to use it to make saffron rigatoni and then serve it with cauliflower in several textures. Unfortunately, the day got away from me and I had to settle for a simpler dish with dried rigatoni, one way of cooking the cauliflower, and a spicy tomato sauce that takes just a few minutes to make. (Yes, the extruder review will be coming soon though – I'm sure looking forward to it!)
As it is, the dish I came up with is somewhat of a cross between two classics – Penne alla Vodka (which inspired the tomato-cream sauce spiked with a bit of vodka) and Pasta alla Norma, but with cauliflower instead of eggplant. The cauliflower is roasted until it is meltingly tender and full of browned flavor.
I like to use Muir Glen's Fire Roasted crushed tomatoes for this dish and many others where a subtle smoky flavor is welcome. If you don't have them (or if you do, but want even more smoke), try adding some smoked paprika to the sauce. You might also want to include some fresh basil leaves right at the end of cooking.
As always, I like to finish cooking the pasta with the sauce for the last minute or so. This helps the sauce really cling to the pasta instead of just hanging around in the same general neighborhood but never getting to know each other.
Rigatoni with Roasted Cauliflower and Spicy Tomato Sauce
Vegetarian
Serves 4 
1 head cauliflower, broken into bite-sized florets (reserve stems for another use or chop and include)
6 tablespoons extra-virgin olive oil, divided
Kosher salt
1 onion, diced
4 cloves garlic, thinly sliced
Two 14.5 ounce cans crushed tomatoes, preferably Muir Glen Fire-Roasted 
3/4 cup heavy cream
2 tablespoons vodka
1/2 teaspoon chili flakes
Optional: smoked paprika
1 pound rigatoni
1 cup pitted green olives – if they are a marinated variety, so much the better
Ricotta salata cheese (if you can't find that, a young pecorino would be good – something semi-soft and salty)
Preheat oven to 450 degrees. Put a large, covered pot of well-salted water on to boil. Set serving bowls aside to warm.
Toss the cauliflower with two tablespoons of the olive oil and a couple of pinches of salt. Roast in oven, tossing occasionally, until completely tender and browned in many spots, at least 20 minutes. Remove from oven and reserve.
Meanwhile, place your largest skillet over medium heat. Add the remaining olive oil, and when it shimmers, add the onion and garlic and a pinch of salt. Cook, stirring occasionally until the onion is translucent. Transfer the contents of the skillet to a blender (but don't clean the skillet). Add the tomatoes, cream, vodka, chili flakes, and 1/4 teaspoon of salt to the blender. If using smoked paprika, add 1/2 teaspoon. Blend at high speed until perfectly smooth. Return to skillet and bring to a simmer over very low heat. Taste and adjust seasoning.
Boil the rigatoni according to package directions. When it is almost al-dente, reserve 1 cup of the cooking water, drain and add to the sauce. Add the cauliflower and olives and mix gently. Taste and make any final adjustments to the seasoning – does it need more salt, chili flakes or smoked paprika? If the sauce is too thick, dilute it with some of the reserved pasta water.
Divide the pasta among the serving bowls (or place in a large family-sized bowl). Add several thin shavings of ricotta salata and serve immediately.