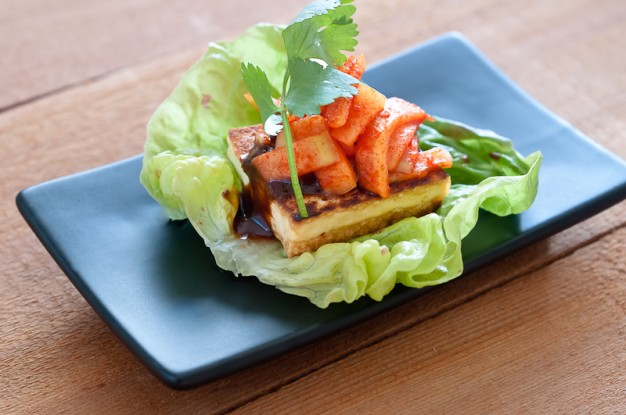 Green Apple Kimchi, shown here with Tofu Lettuce Wrap and Hatcho Miso Sauce
As I mentioned in the Tomato and Nectarine Salad, I've fallen in love with gochugaru (Korean chili powder). It is spicy, but not so spicy that you can't use enough of it to also appreciate its fruity, tart notes. I like using it to make quick "kimchi". I'm putting the "kimchi" in quotes because there is no fermentation at all. I'm not putting it in quotes because this is apple, not cabbage – Koreans make kimchi from all sorts of things besides those familiar leaves.
You can take this same blueprint and make a quick, spicy pickle out of just about anything – cucumbers, peaches, daikon. Use your imagination! You can even add a little bit of juice from fermented kimchi to get some of that lactic acid punch in there. Otherwise, I include a bit of rice vinegar.  These kinds of pickles make a great banchan for any Korean meal, or just eat it on rice (maybe with a fried egg), or on a sandwich, or … the possibilities are endless, because almost any dish is better with a bit of heat, fresh crunch, acid and salt.
In the photo, I've used the green apple kimchi on a lettuce wrap with pan-fried tofu and a sauce made from hatcho miso, soy sauce, rice vinegar, mirin, kochujang, sesame oil and ginger. Sorry, I didn't write down any proportions for that – it was a quick improvisation because when I went to grab my ssamjang out of the refrigerator it was way past expiration date.
Quick Green Apple "Kimchi"
Vegetarian, Vegan, Gluten Free and Kosher
Yields about 3 cups 
2 green apples (any crisp variety)
1/4 white onion, thinly sliced
1″ piece of fresh ginger, grated
1/4 teaspoon salt
1 – 2 tablespoons gochugaru (Korean chili powder)
1 tablespoon rice vinegar
Cut the apples into 1/8″ thick slices, avoiding the core. You can leave the skin on. Cut the slices into 1/2″ wide strips. The easiest way to do this is on a mandoline – you can do the whole thing in one move with the wide julienne cutter. 

Put all ingredients in a bowl and use your hands to toss it thoroughly, working the gochugaru into the apple. Taste and adjust seasoning to your preference.

Reserve in refrigerator until ready to use. Use within a couple of hours or it can become too soggy.