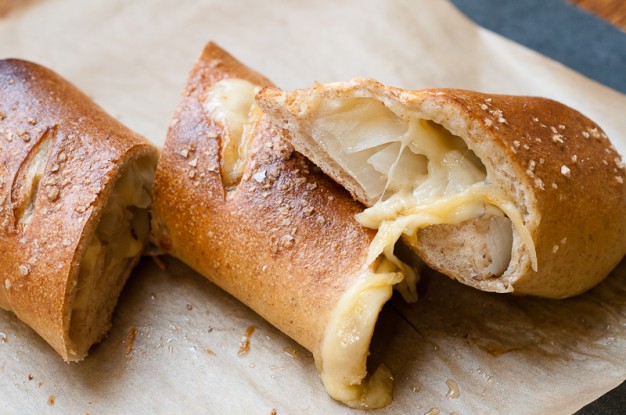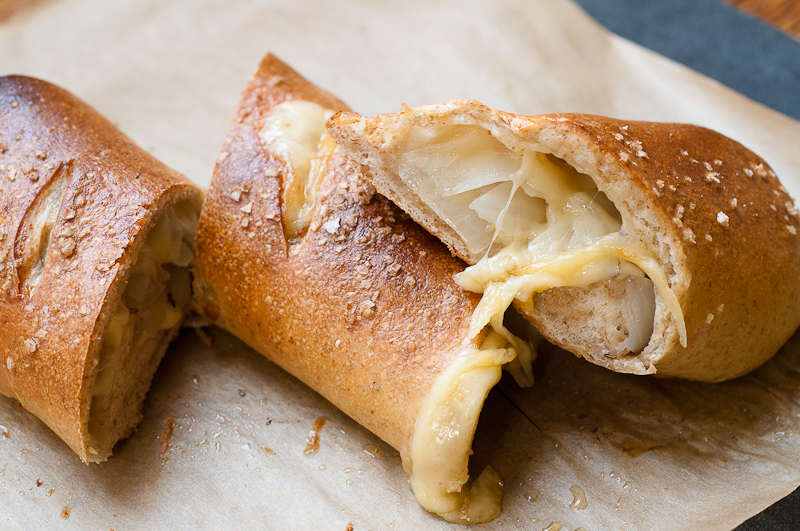 Rye Piroshki with Roasted Onions, Caraway, and Swiss Cheese
Piroshki (not to be confused with pierogi) are individual yeast buns that are popular in Russia and all over Eastern Europe. They can be filled with anything from potatoes and cabbage to cottage cheese and jam. In Seattle, we have a shop called Piroshky Piroshky that does a really nice job with them. I used to live around the corner from one of their stores and loved to run in and grab one for a quick lunch.
As far as I know, piroshki are generally made with white flour. I had made a rye pizza dough that I ended up unhappy with – as pizza dough. I had some left over the next day, and was just messing around with what to do with them. Free association – rye … Swiss … onions … caraway. So I figured I'd just roll that up and bake it while I worked on something else. Turned out to be delicious, so I wanted to share it with you. At first I thought I'd call it a Jewish deli calzone, but then I figured piroshki is a closer match.
I did this with quick skillet-roasted onions, which have a browned exterior but a crunch remaining. I'm sure it would also be delicious with slowly caramelized, fully melted into sweet deliciousness. You'll just need more of them.
Rye Piroshki with Roasted Onions and Swiss Cheese
Vegetarian
Yields 8 piroshki
For the sponge (first part of the dough)
500 grams all-purpose flour
650 grams warm water
1 envelope yeast
25 grams sugar
Put all ingredients in stand mixer and mix with paddle on medium-low speed until uniform, about 2 minutes. Allow to rest, loosely covered, at room temperature for 2 hours. (You can of course also mix this by hand.)
300 grams all-purpose flour
200 grams dark rye flour
75 grams vegetable oil
15 grams salt
Switch to the dough hook, turn on medium-low speed, and slowly add all of the remaining ingredients to the sponge.

Continue to run the dough hook for ten more minutes (or knead by hand.)

Form the dough into a ball and transfer to an oiled bowl. Cover loosely and allow to rest for one hour in a warm part of your kitchen.

Divide the dough into 8 balls and place on a floured baking sheet. Cover loosely with plastic wrap. Allow to rest one more hour.
4 large white onions, sliced about 1/3″ thick
1/4 cup vegetable oil
1 tablespoon toasted caraway seeds
Big pinch cayenne pepper
1/2 teaspoon salt
Freshly ground black pepper
24 ounces grated swiss cheese
1 egg
Maldon (aka the world's greatest salt) salt or other finishing salt of your choice
Preheat oven to 400 degrees and line 2 baking sheets with silpats or parchment paper.
Put the oil in your largest skillet and place over medium-high heat. When the oil is hot, add the onions and cook, stirring frequently, until they are well browned but still have some crunch. Stir in the caraway, cayenne, salt, and several generous grinds of black pepper. Taste and add more seasoning as needed.
To form a piroshki, roll one ball of dough out on a floured board to about 10″ by 8″. Spoon in one eighth of the onions and one eights of the cheese, forming a line running lengthwise down the dough about 2″ from a long edge, and leaving an inch or so at either end. Roll up into a torpedo shape, sealing the ends and the seam. Place on the baking sheet and repeat for the remaining piroshki.
Whisk the egg with 2 tablespoons of water and brush all of the piroshki, then sprinkle on a few grains of salt. Use a sharp knife to put three diagonal slashes across each piroshki.
Bake until golden brown and oozing cheese from the vents. Serve hot. You might like to cut each piroshki into 3 pieces to let them cool a little faster and make them easier to handle.