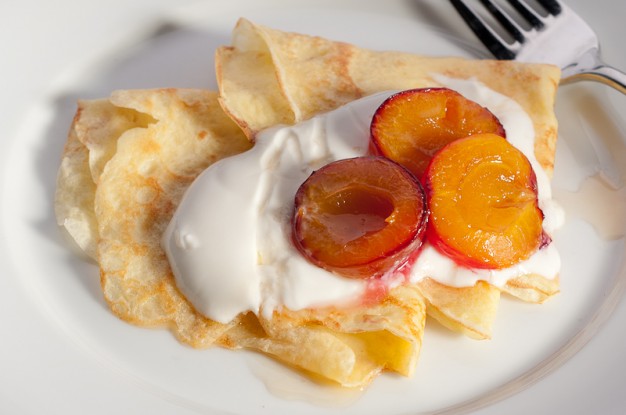 Crepes with Roasted French Plums, Yogurt and Honey
Julia Child's 100th birthday is coming up on 8/15/12, and PBS has been doing this very fun #cookforjulia event to commemorate her. When they asked me to contribute a recipe, I knew right away that I wanted to do something with crepes. Julia and I go back a long way. I only have two cookbooks from my Mom. Mastering the Art of French Cooking, Volume 1 is one of them, and the other is an enormous Chinese cookbook that I've never found very usable.
I read Mastering cover-to-cover many times when I was just starting out in the kitchen. Julia's fanatical attention to detail in her recipes was fascinating. It wasn't always easy to sort out which of the fine points were crucial and which were just niceties, but she taught me to scrutinize every aspect and not be satisfied with "adequate" food – an impact that I still feel, 30 years later.
Of all the recipes in the book, I come back to the crepes most often. It is a simple thing. You put all of the batter ingredients in a blender, give them a good spin, let it sit in the refrigerator for a couple of hours, and then make the crepes. Sure, it takes a bit of practice to get the knack of  forming a nice, thin circle, finding the right heat level, and flipping them, but after one batch you'll have a skill you can use to please friends and family for the rest of your life. I've got some tips for you in the recipe.
Once you know how to make a basic crepe, there are no end of things you can do with them, from today's recipe with roasted plums, yogurt and honey to my Valentine's day standby with chocolate ganache and raspberry compote or the terror-inducing Gâteau de Crêpes. Crepes can be used for savory dishes as well, but for that I prefer the style made in Brittany with buckwheat flour. A topic for another day!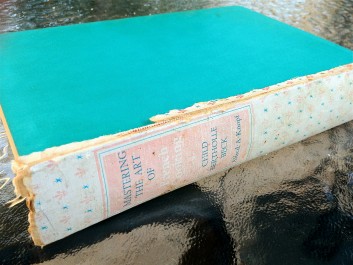 For cooking crepes you want a seriously non-stick pan. If you've got a well-seasoned cast-iron skillet or omelet pan with sloped sides that give you access to the crepe, that is all to the good. If not, I've been using this Calphalon 12-inch non-stick omelet pan with great success. Just don't use metal tools in it. (Disclaimer: Calphalon gave me this pan at Eat, Write, Retreat – and  I liked it enough to haul it around in my suitcase for the rest of my book tour. Yes, I could have shipped it.)
The plums I used are from my neighbor's tree. They are a French variety whose name escapes me right now. Italian plums would be just as good. What you want is one of the varieties that has a loose (free) pit and is rather dense so that it can cook without the juices running everywhere.
I've flavored the yogurt with slivovitz, a plum brandy from the Balkan region. The one I use is made by Oregon's amazing Clear Creek Distillery. If you don't have slivovitz, this will still be delicious with a regular brandy, or you can omit the booze altogether.
Crepes with Roasted French Plums, Yogurt and Honey
Vegetarian and kosher
Serves 6
12 crepes (1 recipe from Mastering the Art of French Cooking, Volume 1, see below)
9 Italian plums
2 tablespoons melted unsalted butter
2 leaves fresh sage, rubbed and thinly sliced
3/4 cup thick Greek yogurt
2 tablespoons slivovitz (plum brandy), or plain brandy, or 1 teaspoon vanilla extract
2 tablespoons honey plus more for drizzling
Pinch of salt
Preheat oven to 450. Line a baking sheet with parchment or a silpat. Cut the plums in half, and remove the pits. In a medium bowl, toss the plums with the melted butter and sage. and place the plums on the baking sheet. Roast for 10 minutes. Pluck off most of the sage.
Stir the yogurt with the slivovitz and honey.
To serve, fold two warm crepes into quarters and overlap on a plate. Put 2 tablespoons of the yogurt on top of the crepes, and put 3 half plums on top of the yogurt. Drizzle with additional honey and serve.
Julia Child's Crepe Recipe
Yields about 12 crepes

I don't want to reproduce Julia's recipe in the entirety, but here are the ingredients, and my synopsis of the method.
1 cup cold water
1 cup cold milk
4 eggs
1/2 teaspoon salt
2 cups sifted all-purpose flour [I use 9 ounces and don't sift]
4 tablespoons [1/2 stick] melted butter
Combine all ingredients in the blender. Whiz on high speed for 1 minute, scraping down the sides if needed. Refrigerate for 2 hours. [I've been known to omit the refrigeration. The point of this step is to allow the flour to hydrate, but it makes quite acceptable crepes if used immediately.]
Put your skillet over medium-to-medium high heat with a tiny bit of butter. When it is preheated, pour in 1/4 cup of the batter while tilting and swirling the skillet in all directions for a few seconds to produce a generally circular, thin crepe. If you can't get it spread evenly, you need either  (1) work on your tilting and swirling (2) thin out the batter a bit or (3) lower the heat. Expect it to take a few crepes to really dial it in.
Cook until lightly browned on one side, about 1 minute or a bit more, then flip and cook for just about 30 seconds on the other side. I usually perform the flip by lifting the edge with a silicone spatula and then using my fingers to rapidly turn it over. I have asbestos fingers though, so only try it this way if you feel comfortable that you won't hurt yoursellf. Otherwise, try using two spatulas.