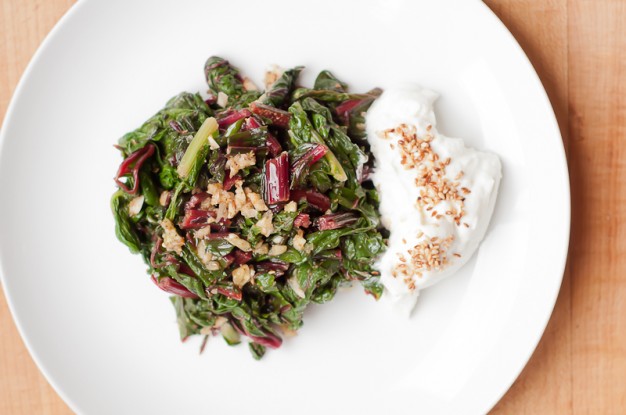 Swiss Chard with Garlic and Yogurt
Meze is the Mediterranean tradition of a meal made of several small plates. My family especially loves to eat meze-style in the summer, when no-one feels like heating up the kitchen or eating a heavy dinner. To make a nice meze, you can make a couple of items from scratch (maybe tabbouleh or this warm grape and ricotta salata salad) and fill out the spread with warm pita bread, quick marinated feta, good olives, good store-bought hummus or prepared tahina, and raw vegetables.
Today's dish of room-temperature chard flavored with garlic and dukkah (which I'll explain in a moment) would be a great addition to your meze. It demonstrates a basic method for cooking greens so that they retain a bit of texture and color but are tender and enjoyable. You could use different greens (mustard greens, spinach, even dandelion greens if you enjoy their bitter punch) or different spices, and you could certainly add a squeeze of lemon if you'd like a splash of acidity.
Now about dukkah. It is a spice mixture that originated in Egypt. A word of caution: if you have a nut allergy, check the ingredients of any pre-packaged version, as it generally contains ground hazelnuts or other nuts. I usually get mine from the World Spice Merchants store in Seattle, though they no longer seem to carry a nut free version. But in any case, don't feel like you have to have dukkah for today's recipe. If you don't, just make an equal-parts mixture of ground sesame seeds, coriander seeds, cumin and thyme, and season it to taste with black pepper and sea salt.
Swiss Chard with Garlic and Yogurt
Vegetarian and gluten-free; vegan if you omit the yogurt or use a soy yogurt
Serves about 2 as a side dish (depending on size of your bunch of chard), easily multiplied
1 small bunch of Swiss chard
1 clove minced garlic
Extra-virgin olive oil
Dukkah (see above) (check your brand if you need nut-free or gluten-free)
Maldon (aka the world's greatest salt) salt or other flaky sea salt
1/2 cup thick Greek-style yogurt
1 tablespoon toasted sesame seeds
Thoroughly wash the chard in at least 2 changes of water; more if you suspect any grit remains. Pull the leaves off of the stems. Discard the toughest part of the stems and chop the remaining stems into 1″ lengths.
Fill a large bowl with icewater. Put the leaves and stems in a loosely covered, microwave-safe bowl and microwave on high for 3 minutes or until the leaves are well wilted and tender but not turning gray. Immediately transfer the chard to the icewater and toss to cool quickly (this will preserve the color). Drain the chard and squeeze it dry in a clean dishtowel.
Put the chard in a bowl and toss with the garlic, a good glug of extra-virgin olive oil, at least a couple of teaspoons of dukkah and salt to taste. Taste and adjust seasoning – you may want more garlic, oil, dukkah or salt to get the flavors really popping.
When you are ready to serve, mound the chard on a plate, and sprinkle with a few more flakes of salt. Spoon the yogurt next to the chard and sprinkle it with the toasted sesame seeds.