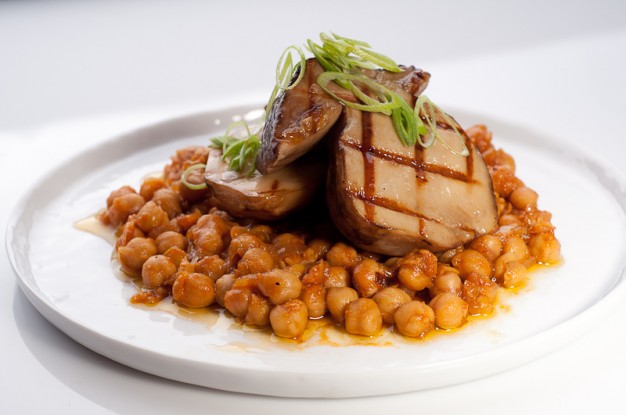 Saffron Chickpea Stew with Grilled Porcini Mushrooms
First of all, let me say that this stew is well worth making even if you can't find fresh porcini mushrooms. I can only get them in Seattle for a few weeks a year, and they are quite expensive. You could serve the same stew with morels or crimini mushrooms (either of which you would just saute, not roast and grill), or take it in an entirely different direction and have it over couscous.
That said, if you are able to find fresh porcini, man, what a treat they are. In Italy, folks go absolutely nuts for porcini season, but I have to say that when I was there in porcini season, I ate quite a few dishes that were, well, kind of lackluster, with the beautiful mushrooms cooked until they were too limp and steamed. My favorite way to prepare them to really take advantage of the flavor and texture is to roast them in a foil packet until they are tender but not overly soft, then grill them to create those lovely grill marks and caramelize the surface a bit.
By the way, this cake tester is a terrific way to check when vegetables are tender. At fine dining restaurants, the cooks all carry them in their jacket pockets so they can poke a mushroom, artichoke or potato to get a sense of the texture while leaving an imperceptibly small hole. You can also remove it and (carefully) feel the temperature of the metal pin to get a sense of how hot your product is inside. I'm not sure how good it actually is for cakes, it seems to me that the metal skewer is too smooth to really accurately tell you whether a cake or muffin is no longer wet inside. But they are great for vegetables!
I made this stew with some wonderful Pedrosillano chickpeas that were given to me by PNW Farmer's Cooperative. I'd had their zero-tannin lentils before and was pretty amazed by the flavor, so I was expecting good things and wasn't disappointed. They are smaller and creamier than the standard chickpea, and seemed a perfect match for the Spanish flavors I threw at them. If you'd like to try these chickpeas, Tim and Eliza can sell you a pound over at ChefShop.com.
For the wine in the sauce, I used a very dry Riesling because it is what I happened to have open. But I think a Spanish red would also be great. Whatever wine you choose, make sure it is something drinkable. We are putting a full cup in the sauce so you'll definitely taste it. You could certainly make the stew a day ahead, the lusty flavors of wine, garlic and saffron only get better with time.
Serve with a green salad and grilled bread to mop up the sauce. (To make grilled bread, simply brush a nice artisan bread slice with a good amount of olive oil and toast or press on the grill pan you use for the porcini.)
Oh, and hey, a quick request. If you've picked up my cookbook, could you add your review on Amazon? It is great for visitors there to know what my blog readers think about the recipes.
Saffron Chickpea Stew with Grilled Porcini Mushrooms
Vegetarian, vegan, gluten free and kosher
Serves 4
About 20 ounces fresh porcini mushrooms (sauteed morels would be great too, if less dramatic – don't grill 'em)
Extra-virgin olive oil (about 1/4 cup + 2 tablespoons)
Kosher salt
1 large white onion, minced
3 tablespoons double-concentrated tomato paste (or 6 tablespoons regular tomato paste)
8 cloves minced garlic
Nice big pinch saffron threads
1/2 teaspoon smoked paprika
1 teaspoon sugar
1 cup dry white wine
5 cups cooked chickpeas (preferably home cooked; see above for more discussion)
Freshly ground black pepper
Thinly sliced green garlic, or failing that, scallion
Maldon (aka the world's greatest salt) salt or other finishing salt
Preheat the oven to 450. Cut the porcinis in half, lengthwise. Place the porcinis on enough tin foil to wrap them. You may want to make two packets. Toss them with a little olive oil and a couple pinches of salt and seal them into packets. Roast until tender (see above). Time will really depend on the size of the mushrooms; mine took about 30 minutes. When tender, open, inhale and faint from the beautiful smell, then reserve. You might consider drinking the roasting juices. Cook's treat.
Meanwhile, put a generous 1/4 cup of olive oil in a large skillet over medium heat. Add the onion, tomato paste, garlic, saffron, smoked paprika, sugar and 1 teaspoon of salt. Cooking, stirring occasionally, until the onion and tomato have turned a nice rust color.
Add the wine and scrape (deglaze) the bottom of the pan to incorporate all the lovely browned tasty bits. Add the chickpeas, find a low simmer, and cook for about 15 minutes. Add water as needed to create a saucy consistency. It should definitely not be dry, but neither are we making soup. Taste and adjust seasoning. Besides salt, it might need more smoked paprika.
Set your serving bowls or plates aside to warm up. Heat a grill pan over high heat. Brush the cut side of the porcinis with a bit of olive oil and grill until nice grill marks develop. Rotate 90 degrees and create a crosshatch pattern.
When you are ready to serve, give the chickpea stew one last adjustment for taste and texture and divide among the serving bowls. Top with some freshly ground black pepper and a little drizzle of olive oil. Arrange the porcini on top of the chickpeas. Garnish with the green garlic and a few flakes of Maldon (aka the world's greatest salt) and serve immediately.