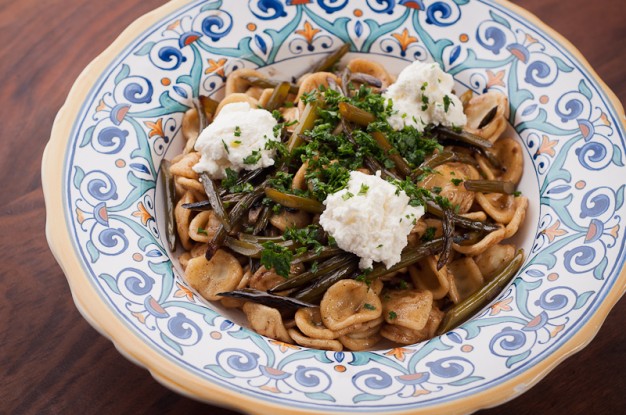 Orecchiette with Garlic Scapes, Ricotta, and Gremolata
Unlike tender green garlic, garlic scapes are the firmer central flowering stem of the garlic plant. When fully cooked, they have a texture similar to asparagus, and a sweet flavor like slow-roasted garlic. In the past I've made the mistake of not trimming off enough of the hardest part and/or not cooking them fully, and then they can be unpleasantly woody, but when cooked until tender they are quite delicious. The most likely place to find garlic scapes is at a farmer's market, though I have seen them at Asian groceries and Whole Foods as well.
The idea for this pasta is a riff on a terrific ravioli that Mike Easton served at Seattle's Il Corvo, a lunchtime-only pasta restaurant that lives inside Procopio Gelateria behind Pike Place Market. His fresh pasta is outstanding, but I didn't have time for that project today, so I made this variation using a good dried orecchiette. I'm inspired by his ability to create an atypical restaurant-within-a-restaurant, as I want to do something equally non-standard.
Gremolata refers to a mixture of minced lemon zest, parsley and raw garlic that most famously garnishes osso buco. I like it on many things, including these smashed potatoes. For today's dish, I added a few tarragon leaves for some extra complexity.
The quality of ricotta varies widely; if you don't know of an excellent local source, the national brand you want is Calabro.
Orecchiette with Garlic Scapes, Ricotta, and Gremolata
Vegetarian and kosher
Serves 4
For the gremolata:
Zest of 1 lemon
1 clove garlic, minced
1 packed handful of washed and dried parsley leaves, minced
A few leaves of tarragon (optional), minced
Pile these ingredients together on the chopping board, and give them an additional mincing and tossing together. Set aside in a bowl.
For the pasta:
1 pound garlic scapes
4 tablespoons butter, divided
1/4 cup minced shallots or onion
Kosher salt
1/2 cup dry white wine
1 pound dried orecchiette or other medium-sized shaped pasta
1 1/2 cups fresh ricotta
Freshly ground black pepper
Put a large pot of well-salted water on to boil. Set your serving bowls aside to warm up.
Trim the flower and 1/2″ off the other end from each scape. Cut the scapes into 1 1/2″ lengths.
In your largest skillet, melt 2 tablespoons of the butter over medium heat. Add the shallots and 1/2 teaspoon of salt. When the shallots are translucent, add the scapes and saute until mostly tender. This could take 10 minutes or more. If they are really fighting you, add a little water and cover to allow them to steam.
When the garlic scapes are nearly done, add the pasta to the water and cook according to package directions. Using a slotted spoon, transfer the garlic scapes to a bowl. Add the wine to the saute pan and scrape (deglaze) the bottom of the pan to loosen up any delicious browned bits. Whisk in the remaining 2 tablespoons of the butter, a little bit at a time. Add the garlic scapes back to the pan.
When the pasta is just short of al dente, reserve 1 cup of the pasta water and drain. Add the pasta to the pan with the garlic scapes and stir to combine. Taste and adjust seasoning; it may need more salt. If the pasta seems a little dry (tight), add a bit of the reserved pasta water until it has a nice, moist shine.
Divide the pasta among the serving bowls. Top each bowl with several dollops of the ricotta, a few grinds of black pepper, and some of the gremolata. Serve immediately.