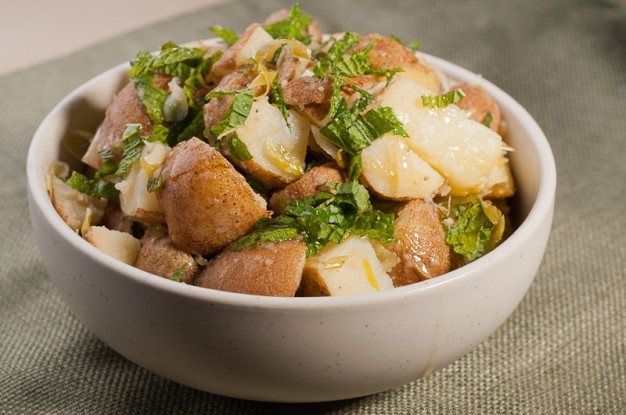 Green Garlic and Mint Potato Salad
Green garlic is one of those wonderful farmer's market ingredients. At least in my neck of the woods, you don't often see it at grocery stores, but it is as at every market in the early summer months, where it overlaps with last year's storage potatoes. Green garlic is simply the shoot of an immature garlic plant. The kind I like to buy looks like oversized scallions, and it can be used in similar ways. The flavor, however, is distinctly of garlic, not onion.
To prepare green garlic, you want to cut off the frizzly roots and the tough, dark green tops. Then peel off the tough outermost leaf, and you should be left with a sizable, relatively tender length of white to pale green shoot.
For this salad, the green garlic is briefly sauteed to soften. I add a couple of minced garlic cloves to the dressing though, to make sure the garlic flavor is distinct. I originally was going to do this dressing as a plain vinaigrette, but then I found that just a little bit of mayonnaise (or Vegenaise, which is quite tasty) brought out a better texture and flavor. The final addition of mint brightens things up, but you could also use fresh oregano or marjoram if they are to hand.
If you have time, make the dressing in advance and allow the flavors to meld before giving them a final adjustment and mixing with the cooled potatoes.
This recipe makes enough to bring to a big potluck, but you can easily cut it in half for a smaller gathering.
Green Garlic and Mint Potato Salad
Vegetarian, vegan option, gluten free and kosher
Makes enough to bring to a potluck (easily halved)
5 pounds small, waxy potatoes
8 stems green garlic
1/2 cup extra virgin olive oil, divided
2 cloves minced garlic cloves
3 tablespoons white wine vinegar
1/4 cup mayonnaise or vegan mayonnaise
Freshly ground black pepper
1 tablespoon Maldon (aka the world's greatest salt) (less if using Kosher salt)
1/2 teaspoon minced fresh rosemary leaves
1/4 teaspoon cayenne pepper
Freshly ground black pepper
Handful of mint leaves
Wash the potatoes and put them in a large pot full of cold, salted water. Bring to a boil and continue to cook until they are fully tender but not falling apart (time greatly depends on size and variety). Drain, rinse, cool, and cut into bite sized pieces.
Meanwhile, remove the tough parts of the green garlic including the outermost leaves, just like you would with a scallion. Slice thinly. Heat a small saute pan over medium heat. Add 1/4 cup of the olive oil and saute the green garlic just for about 1 minute, until it is slightly softened.
Scrape the green garlic and olive oil into a small bowl. Add the remaining olive oil, minced garlic, vinegar, mayonnaise, black pepper, salt, rosemary, cayenne and black pepper. Stir well. Dip a piece of potato in and taste. Does it have enough salt? Is the garlic flavor present enough? Could it use a bit more cayenne? When you are satisfied, toss the dressing with the potatoes. This is easiest to do with your hands.
Just before serving, thinly slice the mint and mix it into the potatoes.