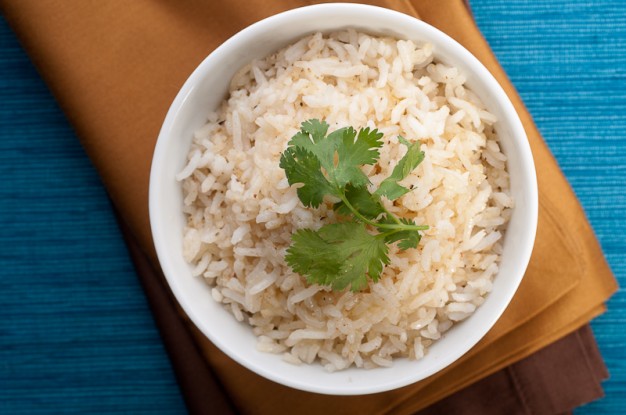 Ginger and Black Pepper Rice Pilaf
Flavoring your basmati rice is an easy way to add variety to an Indian menu. The possibilities are endless. Today's version, with ample quantities of grated ginger root and freshly ground pepper is one of my favorites.
You don't need a special ginger grating tool. Just use the same microplane you already use for cheese, chocolate and nutmeg. Wait, you don't own a microplane? Seriously, get one right now, it will be among the best twelve bucks you ever spent in the kitchen, or I'll eat my hat (*). I find that you don't even have to peel ginger if you are using the microplane, it cuts it so finely that the skin becomes unnoticeable.
It is really important to use freshly ground black pepper for the best flavor – not just in this dish, but for just about anything. When you grind pepper, the beautifully floral aromatic notes dissipate very quickly; the pre-ground stuff is missing most of the goodness.
I make this pilaf in a somewhat unusual way. None of the flavorings are cooked in with the rice. We simply flavor the ghee (or butter, or vegetable oil) with the seasonings and fold them in with the cooked rice. You can also do this as more of a fried rice with leftover cooked basmati. Just prepare the seasoning mixture in a larger skillet, add the cooked and cooled rice, and stir-fry until the rice is tender.
If you don't have basmati, another long grain rice would still be good. I wouldn't do this with a short grain or sticky rice. To turn this into a delicious one-dish meal, add cooked chickpeas (about 1/3 of the volume of rice) and serve it with maybe a bit of Indian lime pickle and yogurt.
(* – Offer to eat hat valid only on January 1st, 2317. And if I live that long, offer to eat hat applies only to properly refrigerated edible tofu hat.)
Ginger and Black Pepper Rice Pilaf
Vegetarian, vegan (with substitution below), gluten free and kosher
Serves 4 as a side dish
1/4 cup ghee, butter, or vegetable oil (if you want vegan)
1 packed tablespoon grated fresh ginger (don't skimp, and do not substitute powdered ginger!)
1 teaspoon kosher salt
1/4 teaspoon cumin powder
Big pinch of cinnamon
Big pinch of cayenne pepper
1/2 teaspoon or more freshly ground black pepper
6 cups cooked basmati rice
Heat the ghee, butter or oil in a very small skillet over medium heat.
Add the ginger, salt, cumin, cinnamon and cayenne and stir and cook for 30 seconds. Remove from heat. Mix in the black pepper.
Fold the seasoning mixture into the rice. Taste and adjust the seasoning. It might need more salt or more black pepper.