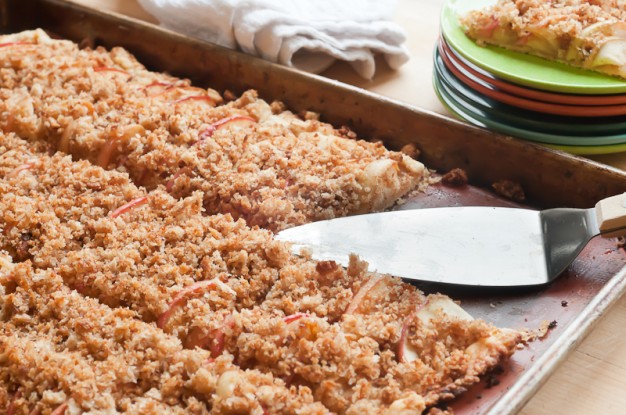 Apple Crostata with Breadcrumb Streusel
I love pie as much as the next person, but often I can't be bothered with the decorative aspect of making a nicely crimped edge, latticework, etc. (Where by "can't be bothered" I mean "I'm completely incompetent at".) That's where crostata comes in. It is fussless pie, made on a baking sheet instead of in a pie dish. I've posted about crostata before, so I'll refer you back to the previous recipe as to how to make the dough. We'll do a double batch and it will completely fill a half sheet pan, which makes it nice for brunch for, say, 12 people.
Today's variation is sort of a mashup with this amazing strudel I had at Forno Marco Roscioli in Rome. The idea of breadcrumbs in a pastry appealed to me, so for this crostata, I use the crumbs to make a variation of a streusel topping. I wasn't sure it would work out, but I ended up liking the result quite a bit. It is less sweet than a typical pie, making it a nice match for a cup of strong coffee and a plate of scrambled eggs.
I highly recommend these basic Chicago Metallic half-sheet pans (otherwise known as jelly-roll pans). They are heavy-duty, won't warp easily, and are good for a million things in the kitchen. I use them to hold a collection of prep bowls, catch drips in the oven, bake cookies and big batches of brownies, roasting vegetables and so-on. Buy a couple and you'll want to get rid of every other junky sheet pan you've every owned. You might enjoy having Silpats (reusable silicone liners) to go on them when you want non-stick.
To make the breadcrumbs, take a few slices of day-old artisan bread, such as pain au levain, and simply whiz them in the blender. You'll probably have to tamp them down a few times. Don't reduce them all the way to powder. The Vita-Prep makes extremely short work of this task! Please don't make this crostata using canned breadcrumbs, I'm pretty sure that would be terrible.
Apple Crostata with Breadcrumb Streusel
Serves 12
Vegetarian and kosher 
Double batch of the pastry dough from this older crostata recipe, refrigerated
4 apples (I used Braeburns)
1/2 cup dark brown sugar
Kosher salt
1/4 teaspoon nutmeg (preferably fresh ground)
1 teaspoon cinnamon
1/4 cup sugar + 2 tablespoons white sugar, divided
2 cups breadcrumbs from artisan bread (I used a slightly stale pain au levain)
4 tablespoons butter, melted
Preheat the oven to 400 F. Take the dough out of the refrigerator, let stand until somewhat pliable, then roll out to a bit larger than your rimmed baking sheet. If desired, line the baking sheet with a silpat or parchment paper. I don't think it will stick without, but I haven't tried it. Press the pastry into the corners and edges. Prick the surface all over with a fork. Place the sheet in the refrigerator to chill while you prepare the rest of the ingredients.

Peel, core and slice the apples into 24 segments each. (I start with eighths using this great item and then cut each slice into thirds.) Place the apples in a bowl and toss them with the brown sugar, 1/4 teaspoon of salt, the nutmeg and the cinnamon.

When the dough is well chilled, arrange the apples in overlapping rows to cover the pastry. Sprinkle on 1/4 cup of white sugar. Bake until the apples are tender, about 20 minutes. Meanwhile, toss the breadcrumbs with the melted butter and 2 tablespoons of sugar. Remove the crostata from the oven and distribute the breadcrumbs over the top. Return to the oven and bake until the breadcrumbs are toasted, about 5 more minutes.

Allow to cool, cut into squares and serve.