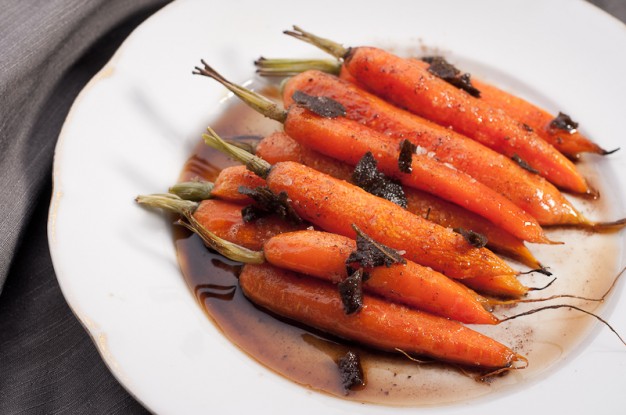 Roasted Carrots with Sage Brown Butter from the Savory Sweet Life Cookbook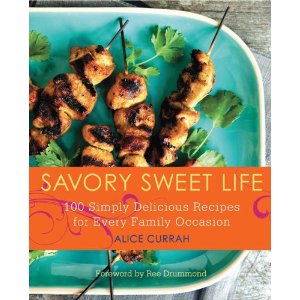 I first met Alice a few years back, when she was just starting her first blog, Savory Sweet Life. I knew right away that she wasn't going to be one of these bloggers that start out with a burst of enthusiasm, and then tail off until they are only posting every three months, mostly about their pet parakeet. It was easy to see that Alice had the energy, personality, and persistence to be successful at anything she tried.
Sure enough, Savory Sweet Life became a big hit; she's added a second personal blog, writes for PBS Kids, and her first cookbook, Savory Sweet Life: 100 Simply Delicious Recipes for Every Family Occasion, has just come out. She was kind enough to send me a review copy a few weeks back, and I knew from the second I laid eyes on it that she had a hit on her hands.
The reason everyone (including Ree Drummond, who wrote the foreword), falls in love with Alice is that she's genuine, honest and open… and fun! Her recipes are exactly the same way. There isn't a hint of pretense to them. They are well conceived, straightforward to make, and full of flavor. Alice doesn't eschew shortcuts when they make sense, but she also won't compromise the taste of a dish to turn it into one of those 10-minute meals that aren't worth the 10 minutes.
Her book is laid out in an unconventional way that I think works quite well. Each chapter is an occasion, like Father's Day, Family Game Night or Summer Fun in the Sun. Of course you don't have to stick to those suggestions, but it is certain to jog your imagination when you are trying to figure out what fits for an upcoming event, whether big or small.
For my vegetarian readers: the book is not vegetarian. Personally, I don't limit myself to reading vegetarian cookbooks, as too many of the best ideas are in other kinds of books. But there are plenty of vegetarian dishes, and many more that can easily be made without meat.
The dish I chose to share with you, with Alice's permission of course, is her Roasted Carrots with Sage Brown Butter. My biggest problem with the dish is that I made it in the afternoon, and it was really hard not to eat all of the carrots myself instead of saving some to share with the family for dinner. The flavor is warm and comforting, and the subtle hit of cinnamon and nutmeg is lovely with the carrots. I happened to have some perfect, small, sweet, organic carrots so I left them whole, but if you are using larger ones, cut them as Alice describes below. You could also add toasted pecans for another layer of flavor.
So my verdict… go order Savory Sweet Life: 100 Simply Delicious Recipes for Every Family Occasion right away!
Roasted Carrots with Sage Brown Butter
Reprinted with Permission from Savory Sweet Life: 100 Simply Delicious Recipes for Every Family Occasion
Vegetarian, gluten free and kosher
12 carrots, peeled, cut in half lengthwise, then cut into 2-inch pieces
2 tablespoons extra-virgin olive oil
3 tablespoons salted butter
6 fresh sage leaves, chopped
1/4 teaspoon ground cinnammon
1/4 teaspoon ground nutmeg
Kosher salt and freshly ground black pepper
Preheat the oven to 400 F.
In a large bowl, toss the carrots with the olive oil to coat them thoroughly. Spread the carrots in a single layer on a baking sheet and roast them for 20 minutes, or until tender.
Meanwhile, prepare the sage brown butter: Melt the butter in a small saucepan over medium heat. Add the sage, cinnammon and nutmeg and cook until the butter is fragrant, brown, and beginning to foam, 1 to 2 minutes. Remove the pan from the heat and set aside.
Toss the carrots in the sage brown butter and season them with salt and pepper to taste before serving.
Just for fun: Sprinkle a little bit of brown sugar on the carrots right before you roast them. The added sugar brings out the natural sweetness of the carrots, which complements the nuttiness of the brown butter.