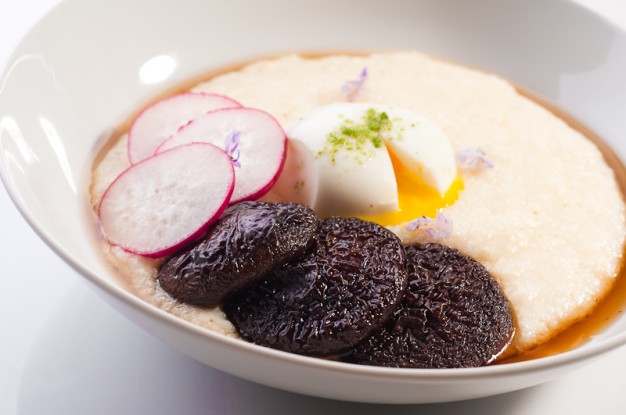 Maple-roasted Shiitake Mushrooms
When I was a kid, I would see my uncle Irv mix together his breakfast plate full of waffles, eggs, bacon and syrup, taking bites of everything together, and I thought it was horrifying. The idea of mixing sweet, smoky, savory and salty items together wasn't something I would even consider. Now I realize he was absolutely right, and I look for any opportunity to create that kind of contrast and complexity.
These maple-roasted shiitakes are a perfect example. All you have to do is toss the mushroom caps with real maple syrup, a healthy dose of salt, a pinch of smoked paprika and a bit of oil and roast them in the oven until they are tender and glazed. I did a popup dinner a few weeks ago where I did basically the same thing using King Oyster mushrooms. The plate you see in the picture is similar to the one I served there: the mushrooms are served with cheesy grits and a 5:10 egg (more below), and garnished with radishes, parsley salt and rosemary flowers.
At that dinner, I had pickled the radishes in the style of bread-and-butter pickled cucumbers, added seared shishito peppers, and finished the dish with a variation of my Umami-Packed Vegetarian Broth. (The variation was that I smoked the onions first and added smoked paprika to the broth, so I didn't add it to the mushrooms.) For today's plate, I didn't have the broth on hand so I finished with more of the maple syrup.
Speaking of maple syrup, it is a complex topic. In the past, I've always told people to buy grade B because it has more flavor than grade A. That is generally true, *but* if you are able to get Grade A Dark Amber (like they carry at ChefShop.com), you can have the best of both worlds – intense flavor but no underlying bitterness. Another option, which many fine-dining chefs use, is the BLiS bourbon-barrel maple syrup, which adds a wonderful oaked flavor. Either way you win. In any event, please don't even think about roasting your mushrooms with artificial maple-flavored syrup. It would be ghastly.
Oh, and about the egg. Chefs have come up with a lot of different ways to cook eggs that give you separate control over the texture of the whites and yolks. One of the simplest is David Chang's 5:10 egg. Bring a big pot of water to a simmer. Add refrigerator-temperature eggs. Set a timer for exactly 5 minutes and 10 seconds. When the timer goes off, transfer them with a slotted spoon to an ice bath. When they are cool enough, peel them. You can rewarm for service by dunking them in water that is below 140 F (60 C) for a minute. This results in an egg that has a fully set white, and a liquid but viscous yolk that I find immensely appealing.
By the way, the main factor in whether eggs will peel cleanly is age. As eggs get a little older, the air pocket in them gets bigger and when cooked, that helps them separate from the shell. So for any egg you plan to cook and peel, it is best to buy them more in advance than you might for other purposes.
Thanks, Uncle Irv!
Maple-Roasted Shiitake Mushrooms
Serves 4 as part of an entree – could also be used as a breakfast item or side dish
Vegetarian, vegan, gluten-free and kosher
1 pound of fresh shiitake mushrooms, stems removed
Real maple syrup (se above) to coat, about 1/2 cup
1/2 teaspoon kosher salt
Big pinch smoked paprika (pimenton)
Preheat oven to 400 degrees. Toss the mushroom caps with the syrup, salt and paprika. Spread in a single layer on a baking sheet lined with a silicone mat or parchment paper. Roast, turning a couple of times, until tender, glazed, and wrinkled. Taste and adjust seasoning. Serve hot.