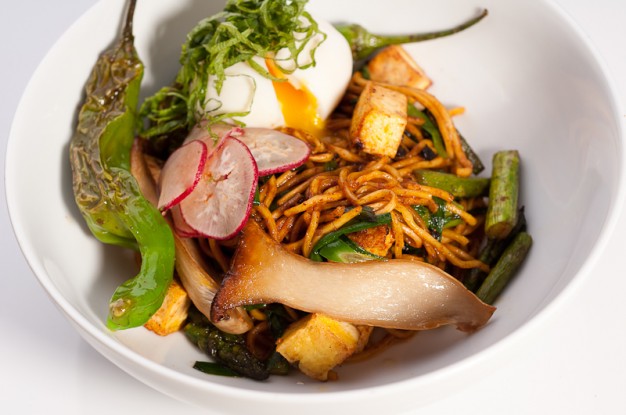 Korean Yakisoba with French Horn Mushroom, Tofu and 5:10 Egg
I asked around on the social medias to see if there was an official name for Japanese yakisoba noodles cooked with Korean flavors, and no-one came up with anything, but I have a hard time believing that some version of this dish doesn't exist. So someone please let me know the right term.
Meanwhile, make this and vary the vegetables according to what you have on hand. Mine was inspired by a trip to Uwajimaya, so you can see I had a lot of great Asian ingredients available. You could simplify this whole thing, just making the noodles tossed with the sauce and whatever vegetables you want and jarred kimchi and it would be easily be a 30 minute meal.
If you have time though, I highly recommend the quick radish kimchi. In Korea, kimchi can be made with anything from cabbage to pears, and it can be pickled for a wide range of times to produce different tastes. The recipe below makes a great template to work with a variety of vegetables and adds that wonderful hit of acidity and crunch to any dish.
There are a lot of ways to make nice soft-boiled eggs. I use David Chang's very simple 5:10 approach below, but if you have a different way you prefer, feel free to substitute it.
As far as the other ingredients go: if I haven't convinced you to buy gochujang yet, I'm trying again. It is a mainstay of Korean cuisine, a hot paste made from spicy peppers, rice and fermented soybeans (NB: and often some wheat products, not gluten free). It keeps a long time in the fridge and I can pretty well guarantee you'll be addicted after one try.
Hatcho miso is interesting stuff – almost black, chunky and fudgy, it has a somewhat smoky taste. If you can't find it, just use a red miso instead.
Garlic chives (aka nira) can be found at good Asian grocers and sometimes at farmer's markets. If you can't find them, use say 6-8 scallions instead.
The French horn mushrooms are also known as king oyster mushrooms, but every time I mention them with that name, someone writes in to say "I thought this was a vegetarian blog!" Read closer, people ;).
Korean Yakisoba with French Horn Mushroom, Tofu and 5:10 Egg
Vegetarian and kosher
Serves 4
For the quick radish kimchi
5 red radishes, thinly sliced (on a mandoline if available)
2 cloves garlic, thinly sliced
1/2 teaspoon kosher salt
1/2 teaspoon sugar
1/4 teaspoon Korean red pepper powder, or failing that, cayenne
Toss all ingredients and allow to rest at room temperature for about an hour. Can also be made a day ahead and refrigerated.
1/4 cup hatcho miso, or failing that, red miso
1/4 cup gochujang
1/2 cup mirin (preferably the real thing, not a bottle of corn syrup labeled mirin)
1 tablespoon toasted sesame oil
Zest of 1 lemon
Combine and whiz all ingredients in a mini food processor, adding water if needed to reach a saucy consistency. Taste and adjust seasoning.
4 refrigerator-temperature eggs (you may want to do extra to be on the safe side)
Vegetable oil
14 ounces extra-firm tofu, patted as dry as possible and cut into bite sized cubes
4 large French horn (aka king oyster) mushrooms, cut lengthwise into 1/4″ thick slabs
12 shishito peppers (or padron peppers)
1 bunch asparagus, tough ends removed and cut into bite sized pieces
1 bunch garlic chives (nira), hard ends trimmed off and cut into bite-sized lengths
1 1/2 pounds fresh yakisoba noodles
Shiso leaf
Set up a small bowl full of ice water. Bring a medium pot of water to a boil. Reduce to a simmer. Gently lower in the eggs and cook for exactly 5 minutes and 10 seconds. Transfer to the ice bath. When cool, peel and reserve.
Set your serving bowls to warm up.
Heat a few tablespoons of oil in a wok or your largest skillet over high heat. Working in two batches, fry the tofu until golden brown on all sides, season with a bit of salt, then reserve on a paper-towel lined plate.
Add a bit more oil if necessary and fry the mushrooms in a single layer on both sides until golden brown on both sides. Season with a bit of salt and reserve.
Add a bit more oil if necessary and blister the peppers on all sides, season with salt and reserve.
Add a bit more oil if necessary and stir-fry the asparagus until tender. Add the garlic chives and stir-fry for 30 seconds. Add the yakisoba noodles and stir-fry for about 1 minute or according to package directions. Add the tofu and the sauce to the pan and toss through. Taste and make any final adjustments to the seasoning. If it seems a bit dry ("tight" as chefs call it), add a little water.
Divide the noodles (with the tofu, asparagus and garlic chives) among the serving bowls. Top each bowl with a peeled egg, a dose of the radish kimchi, 3 of the shishito peppers and their share of the mushrooms. Quickly chiffonade the shiso and scatter it on top. Cut halfway through the egg to allow the yolk to slowly run out, then serve immediately.