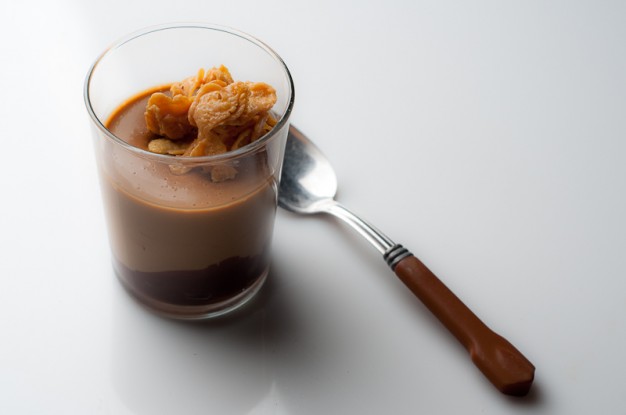 Butterscotch Pudding with Bittersweet Ganache and Caramelize White Chocolate Crispies
Okay, I'm not going to kid you. This pudding is over the top, and it is also a significant amount of work and mess if you make all 3 components. It is also ridiculously delicious. If you want to simplify it, you could skip the crispies or not caramelize the white chocolate used to make them (in which case, use good milk chocolate so there is some flavor there). And even if you think you will never make the whole thing, all 3 components are versatile and can be used in other desserts.
Caramelized white choolate, you ask? Yep. It has been around for years. White chocolate by itself is bland, tasteless stuff since it is mostly just cocoa butter. But if you cook it for long enough, it turns into this whole other brown-caramel-flavored deliciousness. I like to do it in the pressure cooker but if you don't have one, David Lebovitz has this nice recipe that will show you how to make it in the oven.
Butterscotch pudding is hot right now. I've seen it in lots of restaurants, in the Mozza cookbook, and on several blogs. I thicken mine only with cornstarch, no eggs. There is nothing wrong with the egg approach, which yields a texture like pastry cream. I just happen to prefer the more classic cornstarch pudding texture, and it is also significantly easier. Also, I didn't add any Scotch whisky. The name butterscotch doesn't actually mean there is Scotch in it, but it can be a delicious addition if you want to go that route. I was making this for a school fundraiser so it didn't seem like the right thing!
I've got basic instructions for making the butterscotch itself (the cooked butter and brown sugar). If you want more detailed instructions, you should go visit Shuna who has laid it out for you in beautiful detail.
The crispies use cornflakes for a lowbrow riff on feuilletine (delicious, hard to find little flakes of pastry). I toss them with the caramelized white chocolate, hazelnut butter and salt to make addictive little clusters of goodness. Well, actually I used sunflower butter, but I recommend you use hazelnut butter!
Butterscotch Pudding with Bittersweet Ganache and Caramelize White Chocolate Crunchies
Vegetarian and kosher
Serves 4
Special equipment needed: immersion blender (aka stick blender), pressure cooker (for the white chocolate; alternatives suggested above), small canning jar
For the ganache
75 grams top quality bittersweet chocolate (I use a 72% fairly traded, slavery free chocolate from Valrhona) in small pieces
150 grams heavy cream
Put the chocolate in a small bowl. Heat the cream to a bare simmer in the microwave or small pot. Pour it over the chocolate. Whisk until the chocolate is fully melted, smooth, and shiny. If needed, warm for an additional 10 seconds at a time in the microwave at 50% power. Neatly divide among four serving glasses or bowls and chill.
For the butterscotch pudding
27 grams (3 tablespoons) cornstarch
473 grams (1 pint) half-and-half, divided
42 grams unsalted butter
140 grams brown sugar (I used a medium color, neither light nor deep dark, from Hain Organic)
Kosher salt
1/2 teaspoon vanilla extract
In a small bowl, whisk the cornstarch with about 1/2 cup of the half-and-half to form a smooth slurry.
Put the butter and brown sugar in a medium saucepan over medium-high heat. Cook, stirring occasionally until the butter is melted, then reduce heat to medium. Continue to cook, stirring occasionally, until very fragrant, about 7 minutes. Another clue to doneness is that the texture changes to be like thick wet sand, as Shuna puts it so aptly.
Turn off the heat, and carefully stir in a pinch of salt, the vanilla extract and the remaining half-and-half. It will sputter when you add the half-and-half, and the sugar will seize up. Put heat back on medium-low and cook, stirring frequently, until it reaches a simmer. The sugar should start to dissolve, but don't worry if it isn't perfect, we are going to blend it soon.
Whisk the cornstarch slurry one more time, then whisk it into the pot, return to a simmer, and cook for one additional minute. You'll see it thicken noticeably. Turn off the heat. Carefully use your immersion blender (following the manufacturer's directions on pureeing hot liquids) to process the pudding until it is completely smooth and uniform. Allow to cool somewhat, but not completely set, then pour or ladle atop the ganache in the serving cups, cover with plastic wrap, and return them to the refrigerator.
For the caramelized white chocolate crispies and to finish the dish
This will make more than you need, it is just about the smallest practical amount. Don't worry, you'll have no trouble "selling" the leftovers. 
2 cups natural cornflakes (the kind that aren't crusted in sugar, from a Whole Foods / health food store type place)
110 grams white chocolate
15 grams unsalted butter
58 grams (1/4 cup) heavy cream (or more, as needed, see below)
1 tablespoon unsalted hazelnut butter
1/2 teaspoon Maldon (aka the world's greatest salt) (or less of another sea salt)
8 rosemary flowers (optional)
Toast the cornflakes on a sheet pan in a 300 degree oven until fragrant and lightly browned, about 5 minutes.
Seal the white chocolate in a canning jar. Put in pressure cooker with enough water to cover the jar and cook at high pressure for 20 minutes. Release pressure. Carefully remove jar and allow to cool until you can handle comfortably, then open the jar.
The chocolate will be brown, smell great, and look terribly seized up. Transfer it to a bowl and break it up with a fork.
Heat the cream in a small bowl in the microwave until it is nearly boiling (20 seconds at a time). Whisk a bit of the chocolate in at a time, adding more when it becomes smooth. Basically what we are doing is making a ganache and simultaneously unbreaking the chocolate. You may need to reheat for a few seconds in the microwave and add a bit more cream. You want to use as little cream as you can because we don't want to wet the cornflakes, but use as much as you need to create a slightly spreadable, stirrable ganache. You can also try doing this with the immersion blender but it is such a small amount it can be hard to work with.
Stir in the hazelnut butter and the salt. Taste and adjust seasoning.
Use your hands to toss the chocolate mixture with the cornflakes, trying to coat them somewhat evenly. You probably won't need all of the ganache. This is a sticky procedure, you may want to wear gloves. Spread them out on a cookie sheet, allowing small clusters to form. Allow to rest for at least an hour so the chocolate can set.
When the pudding is set and you are ready to serve, top each pudding with a small handful of the cornflakes and 2 of the optional rosemary flowers, and serve.