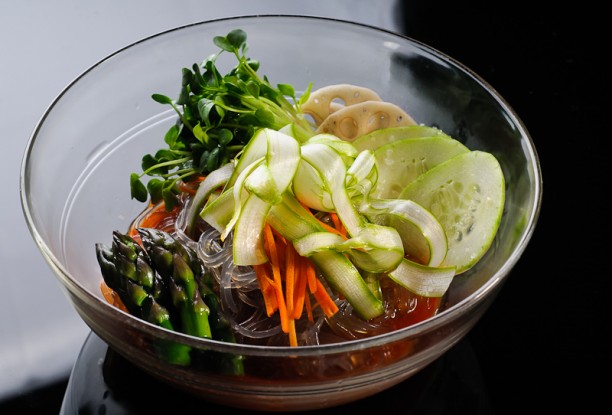 Cold. Not cool. Cold, cold, cold. Ice cold. That's what makes these noodles great.
I first had bibim naengmyeon at a restaurant named Mandoo Bar in the New York's Koreatown, although they call it Joll Noodles. Perhaps there is a difference, but google has failed to set me straight, so if any of you can shed more light on the subject, I'm all ears. I see that some folks make them with buckwheat (soba) noodles, but the version I had used sweet potato starch noodles (like in Alice's japchae) which are slippery and very chewy and altogether delightful. You might like to offer your diners kitchen shears to cut the noodles in their bowls before eating.
Update: Angie in the comments below, along with @KoreanFood and @SavorySweetLife got me straightened out. So the correct name for this dish is jjolmyeon. Jjol noodles started as a mistake at a noodle factory; they accidentally made some noodles that were too thick and chewy, but they became a hit item. And indeed, the dish I had in New York had very chewy noodles. If you can't find them, the naengmyon make a very good substitute.
The ice cold noodles are served in an ice cold bowl filled with a spicy, thin, ice cold sauce and topped with ice cold, thinly sliced vegetables. It is just incredibly refreshing. If you serve this at room temperature or just barely cool, I'm going to be mad at you. Don't make me come over there.
I decided to play with the toppings a bit, so I've used blanched asparagus tips, shaved asparagus stems, radish sprouts (kaiware) and lotus root in addition to the traditional cucumber and carrot. A halved hard boiled egg is often included, but I left it off today. I know the kaiware and lotus might not be easy to come by, so you should feel free to choose other vegetables. Certainly shredded lettuce, bean sprouts or pickled daikon would all be very appropriate.
When you read the steps, you'll see that it calls for moving several of the ingredients through an ice bath. To set up an ice bath, fill a large bowl with lots of ice cubes and cold water. Don't skimp on this step; it both chills the vegetables and noodles and gives them a nice, snappy texture.
If time permits, serve these noodles with a variety of banchan and vegetarian kimchi.
Did I mention, serve it cold?
Jjolmyon or Bibim Naengmyeon 
Vegetarian, Vegan, and Gluten Free
Serves 4
For the sauce
1/4 cup kochujang (Korean chili / soybean paste)
1/2 cup mirin
4 teaspoons rice vinegar
1 teaspoon salt
1 inch piece grated fresh ginger
Up to 1/2 cup ice cold water
In a small bowl, whisk together half of the kochujang and all of the mirin, rice vinegar, salt, and ginger. Whisk in enough ice cold water to reach a thin sauce consistency. Taste and adjust seasoning, adding the rest of the kochujang depending on your heat preference. Refrigerate, or if you want to serve soon, place in the freezer.
1 bunch thick-stemmed asparagus
12 thin slices of peeled fresh lotus root (optional)
12 ounces Korean sweet potato starch noodles (first choice: jjolmyon, second choice: naengmyon)
Toasted Asian sesame oil
1 cup julienned carrot (preferably cut on a mandoline)
12 thin slices cucumber
Kaiware (radish) sprouts (optional), trimmed
Place your serving bowls to cool in the coldest part of your refrigerator, or in the freezer if you want to serve soon.
Bring a large pot of well-salted water to a boil. Set up a large bowl full of ice and water.
Remove the coarse part of the asparagus stems. Cut off the tips including about 1″ of stem and blanch in the boiling water until tender, about 1 minute. I like to do this directly in a small sieve so it is easy to get them back out. Transfer to the ice bath, then when chilled transfer to a small bowl and refrigerate. Repeat the blanching and chilling with the lotus root, if using. Leave the boiling water going on the stove.
Use a vegetable peeler or mandoline to thinly shave the remaining portion of the asparagus stems. Refresh the slices in the ice bath for a minute or two and then refrigerate.
Boil the noodles according to package directions, or for 10 minutes if you can't read the package directions. Drain and transfer to the ice bath.
When you are ready to serve, divide the sauce among the chilled bowls. Drain the noodles and toss them with a bit of the sesame oil, and divide among the bowls. Top the noodles with portions of the asparagus tips, shaved asparagus, lotus root, carrot, cucumber and kaiware. Serve immediately.