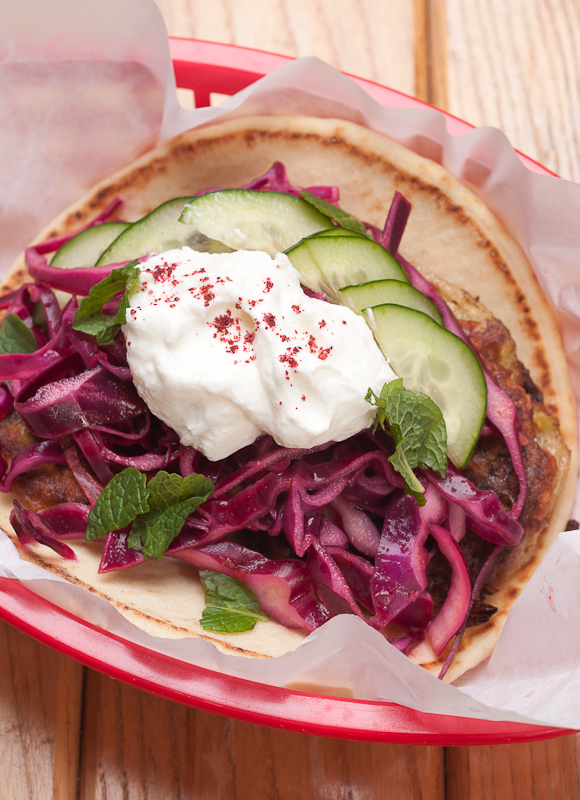 Kouftikes de Prasa (Leek Fritter) Sandwiches
Of all the new recipes I developed for the cookbook this has to be one of my favorites. I'm excited to share it with you as a sneak peek today. The contest in this article is over (Melyssa S. was the winner), but maybe you'd like to order a copy?
All over the Middle East and even in India, a kofta is a little meatball or patty. There are a few vegetarian versions too. These kouftikes de prasa as they are affectionately known on the Sephardic side of my family, are made of leeks, bound together with breadcrumbs and eggs.
I like to up the ante by serving them in a pita sandwich with a spicy pickled cabbage flavored with preserved lemon and harissa. This transforms them from an appetizer into an entrée with street food flair.
The cabbage needs to sit for a couple of hours to soften. You can toss it together the day before and let it marinate in the refrigerator overnight, or in a pinch, just use plain shredded lettuce instead, and serve hot sauce on the side.
Kouftikes De Prasa Sandwiches
Vegetarian and kosher
Serves 4 / 30 minutes active
For the spicy cabbage
2 cups finely shredded red cabbage
½ teaspoon Kosher salt
¼ cup white vinegar
½ preserved lemon, finely chopped
2 teaspoons harissa or Thai-style chile sauce (such as Sriracha)
For the leek patties
2 large leeks, white and light green parts only (about 12 ounces)
2 tablespoons olive oil
3/4 teaspoon salt
4 large eggs, beaten
1/2 cup homemade breadcrumbs (page 000)
½ teaspoon cumin powder
¼ teaspoon Aleppo pepper or cayenne
pinch cinnamon
vegetable oil for shallow frying
flaky sea salt
To finish the sandwiches
4 pita breads, lightly toasted or grilled
20 thin half-moons of cucumber
½ cup thick Greek yogurt or labneh
sumac
handful mint (or cilantro) leaves, torn
For the spicy cabbage: Thoroughly toss together all ingredients and refrigerate for at least two hours (the day before is fine too). Allow to return to room temperature before serving.
For the leek patties: Cut the leeks in half lengthwise and then into ¼" half-circles. Wash in 3 changes of water and then dry thoroughly (a salad spinner works well for this).
In a large skillet over medium high heat, heat the olive oil and saute the leeks until tender and starting to shrivel, about 5 minutes. (You can use the same skillet to fry the leek patties in a moment).
Thoroughly mix the leeks, salt, eggs, breadcrumbs, cumin powder, Aleppo pepper or cayenne, and cinnamon.
Put about 1/8" of vegetable oil in the skillet and set the heat to medium-high. Drop the batter in with a quarter-cup measure and use the back of the cup to smooth each patty into a circle about 4" in diameter. Make 8 patties total, which will require two batches. Fry each patty until golden brown, about 3 minutes per side. Remove to paper towels and season with the flaky sea salt.
To finish the sandwiches: Place two leek patties on a pita. Top with a handful of the spicy red cabbage, 5 cucumber slices, and 2 tablespoons of the Greek yogurt. Sprinkle a little sumac on the yogurt, and scatter a few mint leaves over the whole sandwich. Serve immediately.