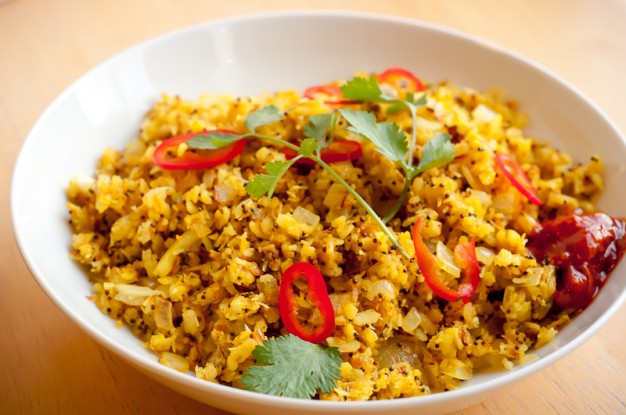 Poha (Flattened Rice) with Coconut and Cashews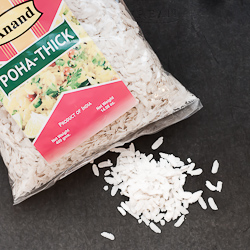 Poha is simply rice that has been flattened. It is a popular food in India, used in a whole range of dishes. In fact, I'd been eating it for years on thalis without really quite realizing what it was. It has become something of a minor obsession for me lately, because it cooks very quickly, produces a light, fluffy texture, and is quite neutral in flavor so it takes to a wide range of treatments.
Now you aren't going to find poha at your local supermarket or even Whole Foods. See the small picture at right for an idea of what you are looking for at the Indian grocer, or you can pick it up from Amazon 14oz along with some lime pickle 10oz, which I like to serve with this dish. (Hell, lime pickle would make recycled snow tires taste pretty good.)
You'll often find at least two thicknesses of poha. I like working with the thick one, as I think it is most forgiving. The main thing you don't want to do is oversoak or overcook the flakes, as then you will have mush. Be sure to drain them before they fall apart, you just want to get enough liquid in them to rehydrate.
For today's dish, I've added the big flavors of coconut and cashews, together with chilis, spices and sauteed onion. The cashews aren't in the photo because I love my wife, but trust me, they will be good. If you don't care for coconut, just leave it out and you'll still have a delicious dish. Try my version once and then start improvising – I think you'll find that poha is a fun new friend in the kitchen.
Oh, and before I forget, here's an easy opportunity for everyone to help with a great cause. I'm a big fan of Elizabeth Andoh's work. Her book "Kansha" is my go-to reference for basic Japanese flavors. She's written an ebook called Kibo to raise funds for Japan earthquake relief, one year after the disaster. Just $4 and about 50% vegetarian.
Poha (Flattened Rice) with Coconut and Cashews
Vegetarian, vegan, gluten free and kosher
Serves 2 as a main dish or 4 as a side dish or part of a thali
1/2 cup raw cashews
6 tablespoons unsweetened dried coconut
1 cup thick poha (Indian flattened rice)
3 tablespoons vegetable oil
3/4 cup cup diced onion
1 inch piece of fresh ginger, grated
3/4 teaspoon kosher salt
1 tablespoon black mustard seed
1/2 teaspoon garam masala (or more to taste)
1 teaspoon turmeric
Juice of 1/2 lime
1/2 ripe jalapeno (red), thinly sliced
Cilantro
Lime pickle
Toast the cashews in a small, dry skillet over medium low heat until fragrant, about 5 minutes. Reserve. Toast the coconut in the same skillet and reserve.
Put the poha in a bowl and cover with water. Let sit until fairly tender but not falling apart, about 3 minutes. Drain in a sieve, pressing lightly to remove excess water. Reserve.
Put the oil in a large skillet, either well-seasoned cast iron or non-stick, over medium-high heat. When the oil is shimmering, add the onion and ginger and fry until the onion begins to soften, about 3 minutes. Add the salt and mustard seeds. When the mustard seeds begin to change color, about 30 seconds, add the garam masala and turmeric. Stir in the drained poha and the coconut. Cook, stirring occasionally and gently for about 3 minutes. Squeeze in the lime juice. Taste and adjust seasoning.
Serve hot, garnished with cilantro, and offering lime pickle on the side.