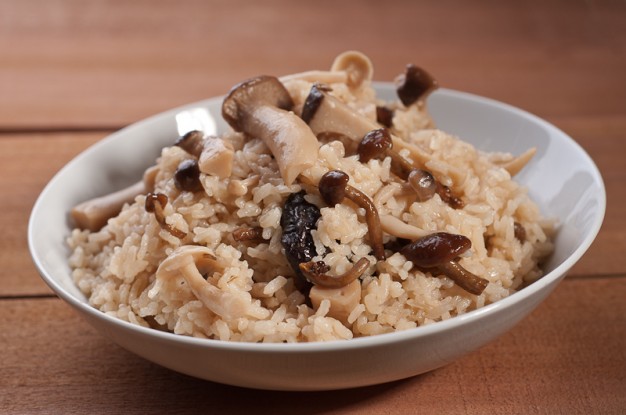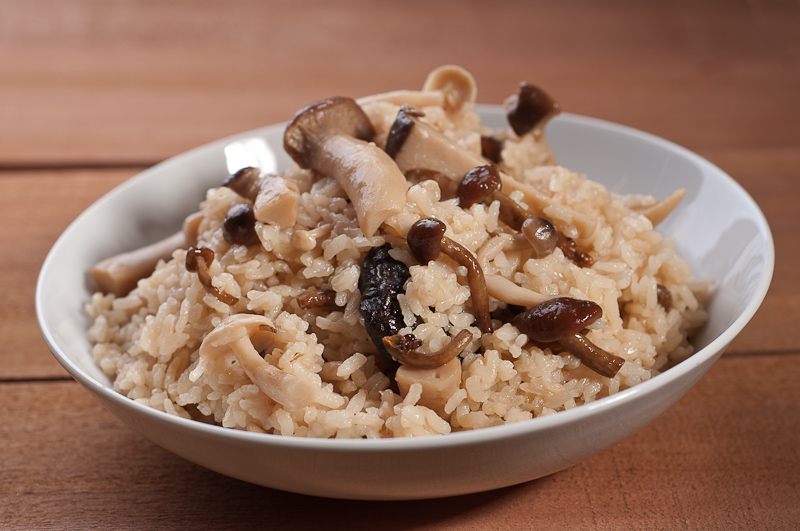 Kinoko Gohan (Japanese Mushroom Rice)
Kinoko Gohan is classic, soothing Japanese comfort food. It has strong associations as a fall dish, but the typical mushrooms used in it are mostly cultivated and therefore available year round. Of course if you have access to seasonal, wild harvested maitake or matsutake, for example, then you'll be making something truly special.
One way to get a good variety of mushrooms for your kinoko gohan is to use one of those sampler packs that seem to be popular in grocery stores these days. In any event, I would not make this with white button, crimini, or portabella mushrooms.
The most traditional way of making kinoko gohan involves making a separate dashi (broth), then using that to cook the mushrooms, then finally using the mushroom cooking liquid to make the rice. I like to take an unauthorized shortcut and make a light dashi at the same time as I cook the mushrooms. You can make the whole dish right in the rice cooker, if you have one.
Although the dish is primarily about fresh mushrooms, I also use a few dried shiitake to bump up the umami factor. If you've been around the site for awhile, you'll know I find a lot of use for these little power-packs of flavor. I also like to add a bit of toasted sesame oil to round things out.
Kinoko Gohan (Japanese Mushroom Rice)
Vegetarian, vegan, kosher and potentially gluten free
Serves at least 4
3 tablespoons shoyu (Japanese soy sauce; look for a gluten-free tamari if needed)
1/4 cup sake
1/4 cup mirin
5 dried shiitake mushrooms
One piece of dried kombu, approximately 6″ by 1 1/2 "
8 ounces mixed fresh Asian mushrooms (such as king oyster, oyster, maitake, shimeiji, bunapi, shiitake), trimmed and cut if very large
2 cups Japanese-style rice (like Niko Niko or Kokuho Rose), pre-soaked for an hour if time permits
1 teaspoon toasted sesame oil
Kosher salt
Put the shoyu, sake, mirin, 2 cups of water, the dried shiitakes, kombu, and fresh mushrooms in a good-sized pot with a lid, or in a rice cooker. Bring to a simmer and let cook 5 minutes. Turn off the heat.
Strain the mushrooms, reserving the liquid. Discard the kombu (or save for another use) and reserve the mushrooms. Cut the stems out of the dried shiitakes as they will be too hard to eat.
Rinse the rice thoroughly and add to the pot or rice cooker. Measure the mushroom liquid and add enough water to it to make 2 1/2 cups total. If using the rice cooker, add the liquid and cook on a normal cycle. If using a pot, add the liquid to the pot, bring to a boil, lower to a bare simmer, cover, and cook until the liquid is completely absorbed, about 20 minutes.
When the rice is done cooking, turn off the heat and, if possible, let stand 10 minutes. Fold in the mushrooms, toasted sesame oil, and salt to taste, then serve hot or warm.