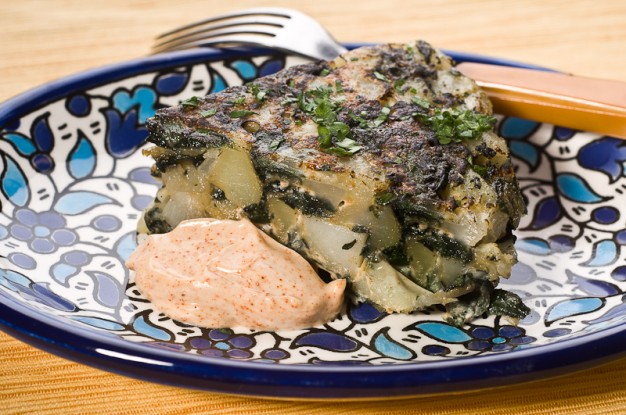 Tortilla de Espinacas – Spanish Omelet with Spinach
When we had our first kiddo, family and friends helped out by bringing over food, doing laundry, and generally making it so we could stay in our pajamas and figure out how the heck to be parents. It was wonderful. Seriously, if you have the opportunity to do that for a someone you know, they will never forget it.
Our neighbor Catherine brought over her tortilla, and it was so good that we asked for the recipe and have made it many times since. If you haven't had it, a Spanish tortilla is nothing like a Mexican tortilla. In Spain, a tortilla is a thick potato and egg omelet, usually served at room temperature or cool as an appetizer (tapa). It also makes a fine light meal, much like a quiche or fritatta.
The most common tortilla uses sliced potatoes and no other vegetables. Catherine and husband Martin met on a study abroad program in Spain, and later went back to teach English. They brought home this variation, known as tortilla de espinacas, that uses cubed potatoes and adds spinach. It adds a whole additional dimension of flavor and texture that I love. I've added a bit of smoked paprika just because that's how I roll.
Tortilla de Espinacas
Vegetarian, Gluten Free and Kosher
Serves 4 as a main course or 8 as an appetizer (tapa) 
6 tablespoons extra-virgin olive oil
4 cups peeled and cubed waxy potatoes (about 5 smallish potatoes)
Kosher salt
1/2 onion, diced
3 cloves garlic, thinly sliced
1/2 teaspoon smoked paprika (or more if you want it to be a pronounced flavor, not just a background hint)
6 eggs, beaten
10 ounces frozen spinach (one standard package), thawed and well drained
For garnish: minced parsley, flaky sea salt
Put the olive oil in a 10″ non-stick skillet over medium heat. Add the potatoes and 1 teaspoon Kosher salt and cook, stirring occasionally until the potatoes begin to soften, but don't let them brown. Add the onion, garlic and smoked paprika and continue to cook until the potatoes are fully tender but definitely not falling apart.
Stir together the eggs, spinach and 1/2 teaspoon Kosher salt. Mix the potatoes into the eggs. Wipe the skillet clean and add a bit more olive oil. Raise the heat to medium high, allow the oil to get quite hot, then add the egg mixture to the skillet.
Allow to cook at this high temperature for about 10 seconds to make sure the outer layer of eggs set instead of stick, then reduce heat to low and cook the tortilla until it is mostly set and bubbles are appearing on the top surface. If it isn't setting, raise heat slightly. Remove from the heat and cover with a plate. Working very carefully with oven mits or towels, flip the tortilla onto the plate and then slide it back into the skillet. Cook for about 5 more minutes, then once again carefully invert onto a serving plate. Allow to cool and firm up for at least 15 minutes before serving at room temperature, or refrigerate and serve cool, garnished with minced parsley and a bit of flaky sea salt.