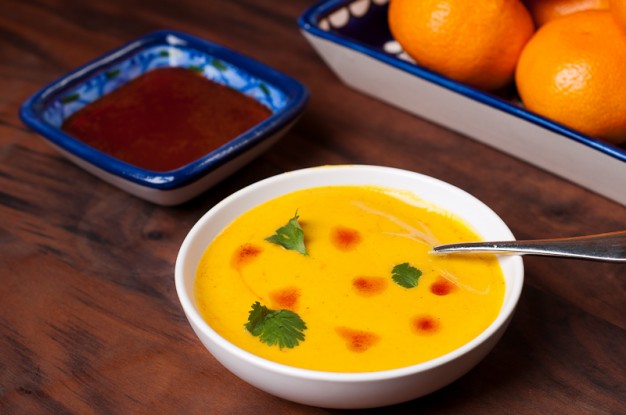 Red Lentil and Kabocha Squash Soup with Harissa Oil 
I'm going to start slipping you guys the occasional sneak peek at a recipe from the upcoming cookbook. This one is a two-fer: a warm and hearty soup, and a quick way to make spicy harissa oil with which to spike it. Stay tuned! In a few weeks, I'll also be able to share some of the videos we shot for the extended e-book. Sign up for my email list and I'll send you each new recipe as it comes out. 
This is a great soup to serve when there are kids at the table, because it is quite mild if you leave the harissa oil off their portions. With the garnish, the flavors come alive, and you'll want to mop up every bit with a good artisanal bread or toasted pita. Red lentils are nice for soups and purees because they basically dissolve when cooked, leaving a silky smooth texture. Don't try to make this recipe with green or black lentils! If you don't have kabocha squash, you can make this with a cooking pumpkin (such as a sugar pie pumpkin) or butternut or acorn squash. You won't need a whole squash, so it is also a good way to use leftovers from an earlier meal. If using previously cooked squash, simply heat it through in the first step.
Harissa is the classic spice paste of North Africa, used in stews, as a rub, and as a condiment at the table. Oil infused with harissa is terrific for grilling vegetables, and I like it drizzled on soups. You can also use a small amount of this oil to spice up a vinaigrette for dressing salads or dipping bread. If you happen to have harissa paste, you can make harissa oil by simply pureeing the paste with olive oil and straining. If not, you can make a quick approximation using this recipe. It will keep in the refrigerator for a few days.
Sumac is an intensely maroon powder with a mild tangy flavor. Look for it at a Middle Eastern market or online retailer.
Red Lentil and Kabocha Squash Soup with Harissa Oil
Serves 4 to 6
Vegetarian, vegan, and gluten free
For the quick harissa oil:
1⁄2 cup extra-virgin olive oil
2 teaspoons sriracha, sambal oelek, or similar thick Asian chile sauce
1 teaspoon hot red pepper flakes
1⁄2 teaspoon ground cumin
1⁄2 teaspoon caraway seeds
1⁄2 teaspoon coriander seeds
2 teaspoons ground sumac
1 garlic clove, minced
Combine all of the ingredients in a small saucepan and warm over low heat for about 5 minutes. Do not allow the spices to sizzle; you don't want them to cook, just to get warm enough for their flavors to infuse the oil quickly. Remove from the heat and let sit for 5 minutes more.
Puree all of the ingredients with a stick blender or a mini food processor. Strain through a fine-mesh strainer. The oil is ready to use.
For the soup:
1⁄4 cup extra-virgin olive oil
1 1⁄2 cups peeled, seeded, and cubed kabocha squash
6 garlic cloves, minced
1 teaspoon coriander seeds
1⁄2 teaspoon hot red pepper flakes
1 1⁄2 cups red lentils
2 teaspoons kosher salt
6 cups water
Juice of half a lemon (optional)
Fresh cilantro leaves, for garnish
Quick harissa oil for drizzling
Heat the olive oil in a 3-quart saucepan over medium-high heat. Add the kabocha squash and cook, stirring occasionally, until lightly browned, about 3 minutes.
Reduce the heat to medium. Add the garlic, coriander seeds, and hot red pepper flakes and cook, stirring, for 30 seconds. Do not let the spices burn.
Warm your soup bowls in a low (200°F) oven. Add the red lentils, salt, and water to the saucepan. Bring to a boil, lower the heat to maintain a simmer, and cook until the lentils have mostly fallen apart, about 30 minutes. Carefully puree, very thoroughly, with a blender or immersion blender. (See page 89 for safety tips on pureeing hot soups.) Taste and adjust the seasoning, and stir in the lemon juice, if using.
Divide the soup among the warmed bowls. Garnish with the cilantro leaves and a generous drizzle of the harissa oil, and serve immediately.