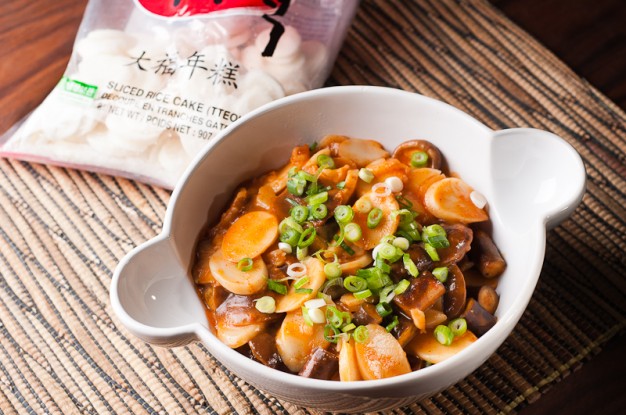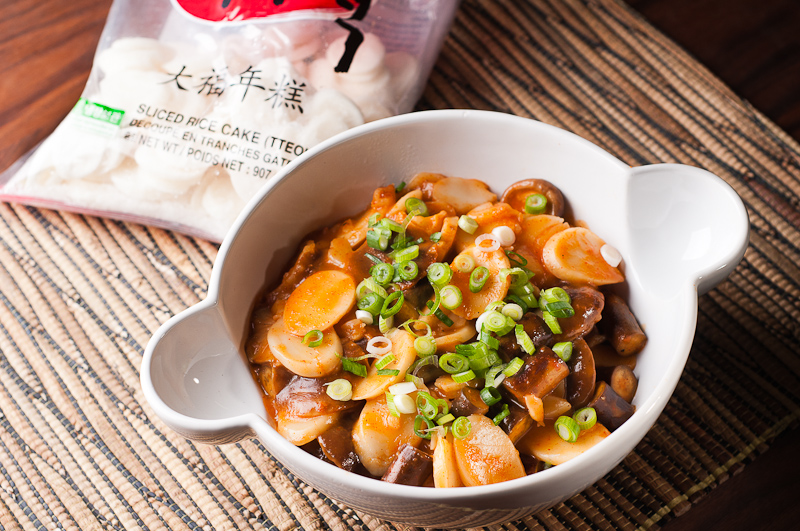 Tteokbokki, Ddeokbokki, Dduk Boki – Spicy Korean Rice Cake Stew
Tteok (also transliterated as ddeok, duk, dduk and so forth) is a type of Korean rice cake that you can buy frozen at any Korean grocer or better general Asian grocers. The two most common shapes you will find are flat ovals, and cylinders about 1/4″ in diameter. You can see a package of the former in the picture above. They can be used in various kinds of stir fries and soups like the Tteok Guk that is a standard New Year's dish. Today I'll show you how to make a simple, spicy stew called tteokboki.
To make the stew you are also going to need kochujang, a ubiquitous Korean paste of fermented chilis, soybeans and rice. It tastes like fiery miso. Don't worry, once you buy a small tub there are plenty of other things to make with it, like kimchi fried rice, spicy fried zucchini, and the kimchi stew that will be in my book.
There is nothing set in stone about the choice of shiitakes and eggplant for this dish. Koreans put all sorts of things in tteokbokki, including almost any vegetable, hardboiled eggs, even mandu or noodles (for that delicious starch-on-starch action). So feel free to improvise with what you have on hand. Just think about the timing so that the ingredients will finish together, or for precooked items simply add them at the end.
The most important thing with this stew is judging when it is done. The tteok should certainly be tender and cooked through, but not cooked so long that they are leaching out tons of starch and making an overly gooey sauce. You can add a bit more water at the end to adjust the final thickness.
Tteokbokki – Spicy Korean Rice Cake Stew
Vegetarian, vegan, and gluten-free
Serves 4
3 cups water
2 tablespoons kochujang (check ingredients if you need gluten free)
2 tablespoons sugar
2 tablespoons light soy sauce (choose a gluten free variety if needed)
2 teaspoons rice wine vinegar
1″ piece of ginger, grated
1 pound frozen tteok (Korean rice cakes), any shape (check ingredients if you need gluten free – some have wheat!)
1/2 pound Asian eggplant cut into bite-sized pieces
1/2 pound fresh shiitake mushrooms, stems removed
3 green onions, thinly sliced, white and light green parts only
Fresh ground black pepper
Toasted sesame oil
Bring the water to a simmer in a large skillet. Non-stick is a good option as the tteok do tend to stick a bit. Add the kochujang, sugar, soy sauce, vinegar and ginger and stir. It is ok if the the kochujang doesn't fully dissolve immediately, it will have plenty of time.
Add the tteok and cook, stirring occasionally until it comes back to a simmer, then adjust the heat to maintain the simmer. After 5 minutes add the eggplant and shiitakes and continue cooking, stirring occasionally and checking the bottom for sticking, until the tteok and eggplant are tender, about 15 minutes more minutes. If the sauce gets too thick, add a bit more water.
Taste and adjust seasoning and sauce thickness. It should definitely be thick like a stew, not a soup, but not gummy and tight. Add a bit more water if needed.
To serve, transfer to a large serving bowl or individual dishes and garnish with the green onions, black pepper and a healthy drizzle of sesame oil.