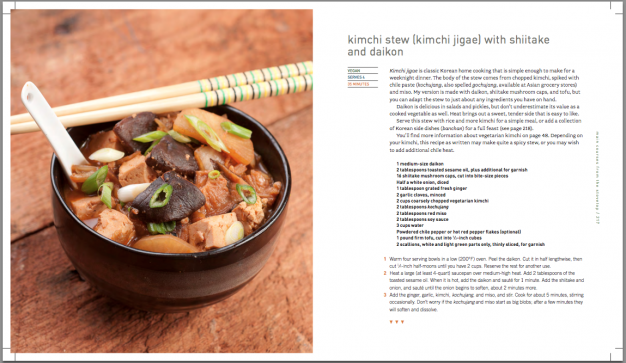 A page spread from the Herbivoracious cookbook
In journalism, they say "don't bury the lede", but today I've got three of them:
The cookbook will hit stores on May 8th, 2012 (if you are new here and thinking "what cookbook?" look here)
You can pre-order it this very minute on Amazon, Barnes & Noble, or IndieBound
I'm quitting my day job
After 1.5 years of writing and testing and shooting and meeting and eating and editing and strategizing and even occasionally arguing, the book is at the printer right now. The team at Harvard Common Press has done an incredible job of designing the book so that it will be both lovely to look at and easy to use. Click on the page spread image above and you'll see what I mean. The final stats: hardcover, 368 pages, 150 recipes, and 80+ full color photos.
I tweaked recipes until the last possible moment, making sure everything is dialed in just how I want it to be when you get your hands on it. It is an amazing feeling to have gone through this process with all of your support. There were definitely days when things weren't going right in the kitchen that I would take a step back and remind myself how many of you have reached out to encourage me over the years. Obviously not every dish is going to be to everyone's taste, but I feel confident that if you pick a recipe in the book because it sounds good to you, you are going to end up with something you will be proud of.
One thing I've emphasized through the whole process is that this isn't just a cookbook for vegetarians. Almost everyone I talk to these days, regardless of their diet, wants to eat less meat. In fact, meat and poultry consumption in the US is down 12% over the past 5 years. I think there is a general recognition that meatless meals are good for your health, the environment, and animal welfare. I hope and believe that this book will be of interest to anyone who loves food.
When folks plan a vegetarian meal, they are often unsure what to do for an entree, so I've included over 40 main courses. You'll be able to build a satisfying, healthful, and most of all, delicious meal around these main dishes, with a large selection of appetizers, salads, soups and side dishes. Chapters on breakfast and some unusual desserts round out the selection.
The book will officially hit the stores on May 8th, 2012. Harvard Common Press is doing an amazing amount to support it. In an era where tours are mostly on the author's own dime if they happen at all, they are sending me on a multi-week tour all over the US, which is an indication of just how strongly they believe in this book. The dates and cities aren't completely nailed down yet. I can't wait for the opportunity to connect with all of you folks in person! If you would like to be on the email list so that you get each week's new recipes and updates about the book and events, just sign up right here:
And yes… I'm quitting my day job. I've been a professional software engineer since I was 16 (yep, really… my first paid gig was writing accounting software for construction companies with my old pal David Harpe). I've had the opportunity to work for George Lucas making dinosaurs and Terminators, and for the past 12.5 years I've been at Adobe, working on After Effects with a group of people that have become some of my best friends in the world. It isn't easy to step out of that womb. But my passion for food has simply grown to the point where I can't keep squeezing it in on nights and weekends. As much as I love cooking for friends and family, writing, and interning at restaurants, it has become clear to me that I need  cooking to be my full time focus.
So I'm taking the leap. Am I nuts to give up the security of a good paying, mostly 9-5 job with great friends for massive uncertainty? Probably. Still, March 1st will be my last day at Adobe. After that, I'll be spending several months improving the blog and promoting the book, and then I plan to open a restaurant of my own in Seattle, probably starting with a series of pop-ups while I develop the menu and find the right space and team.
Here we go!