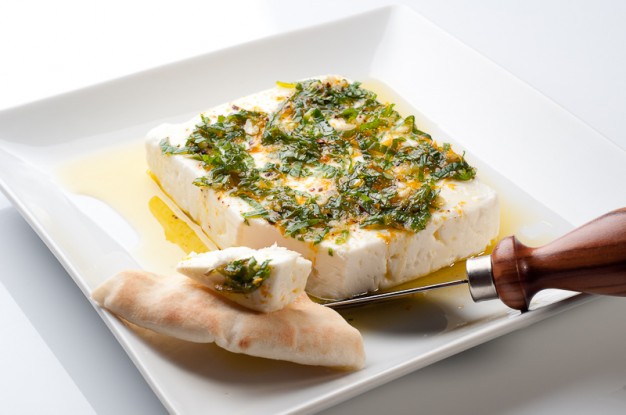 Quick Marinated Feta with Orange Zest, Mint and Aleppo Pepper
Here's about as easy an appetizer as you could want for a Middle Eastern or Mediterranean meal or cocktail party spread.  We'll just make a quick marinade of good olive oil with garlic, Aleppo pepper, orange zest and fresh mint, pour it over the top of a block of feta cheese and serve it forth with lightly toasted pita bread.
By the way, I'm calling this marinated because that seems to be the convention, but really it is more like "dressed". You can put the dressing on earlier if you want, but it doesn't really sink into the cheese and you don't need it to. Your diners will spread the cheese and dressing onto the pita and the flavors will all come together on their palate.
It is worth exploring the different varieties of feta. For example, at Seattle's Pacific Food Importers (aka Big John's), you might find a creamy Bulgarian variety, a French sheepsmilk feta and a couple of domestic brands. Whole Foods normally has a couple of options, including a nice one from Mt. Vikos. Whichever feta you choose, pat off any surface moisture and allow it to come up to a cool room temperature before serving. If you serve cheese at refrigerator temperature, much of the flavor is muted.
Aleppo pepper is grown in what used to be the Jewish part of Syria. It has a gorgeous dark red color and earthy, robust, slightly fruity flavor that I love. If you can't get your hands on it, use regular chili flakes.
A more typical Middle Eastern version of this marinade would actually use dried mint, and you can feel free to do that if you like. The flavor is quite different than fresh, but equally interesting.
Quick Marinated Feta with Orange Zest, Mint and Aleppo Pepper
Vegetarian and gluten free
2 tablespoons best quality extra virgin olive oil
1 clove garlic, minced
1 big pinch Aleppo pepper or chili flakes
1 teaspoon orange zest (from about 1/2 orange)
8 mint leaves (chiffonade) or 1 teaspoon dried mint (rub to release flavor)
7 ounces feta
3 pita breads cut into 1/8th rounds and lightly toasted in the oven
In a small bowl, stir together the olive oil, garlic, pepper flakes, orange zest and mint.
Put the feta on a plate in one large piece and pour the marinade over it.
Serve at cool room temperature with the toasted pita.