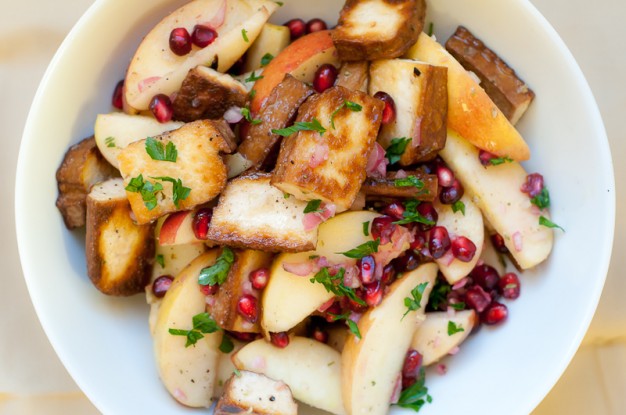 Pan Seared Tofu and Apples with Champagne Vinaigrette and Pomegranate Seeds
I stopped by Northwest Tofu the other day and came home with their beautiful pressed tofu, along with regular tofu (still warm) and fresh yuba. Casting about for a lunch I could throw together in just minutes, I tossed the pressed tofu in my skillet and rummaged around in the fridge to see what would could join the party.
Now normally I use tofu almost exclusively in Asian dishes. I'm not inclined to go pureeing it into milkshakes or stuffing it into lasagna. But when I saw a container of leftover pomegranate seeds (well, arils if you want to be technical) marinating in champagne vinaigrette, flavored with lots of fresh thyme, it just jumped out at me that it would be delicious with the super-fresh, well browned tofu. Then I thought of the Braeburn apples that Full Circle had brought, and five minutes later, this salad was born.
At least, I guess salad is the right name for it since the apples aren't cooked and it has a vinaigrette, but really this is plenty hearty enough to be a one-dish meal.
This tofu has had so much of the moisture removed that it browns really quickly and easily. It almost reminds me of grilled halloumi cheese, which I think would also be excellent in this dish. I'm not sure you will get the same results with the prepackaged pressed tofu you often see at groceries. I often find those aren't just pressed, but actually unpleasantly tough. Take this as an opportunity to get out and explore a local tofu shop in your town.. and if you know one, leave it in the comments so other folks can find them.
Needless to say, this salad dressing is delightful on lettuce too!
Pan-Seared Pressed Tofu with Apples and Champagne Vinaigrette
Vegetarian, vegan, and gluten-free
Serves 2 as a light lunch or 4 as a side dish
For the dressing
2 tablespoons champagne vinegar
3 teaspoons minced shallot
Leaves from 2 sprigs of fresh thyme
1 teaspoon Kosher salt
1/4 cup extra-virgin olive oil
In a small bowl, stir together the vinegar, shallot, thyme and salt. Allow to stand for ten minutes. Drizzle in the olive oil while whisking to emulsify. Taste and adjust seasoning. Reserve.
To finish
2 tablespoons vegetable oil
9 ounces pressed tofu (the kind that is completely firm and generally already brown with some soy sauce on the outside), cut into approximately 1″ x 1″ x 1/2″ squares [note: if you need gluten-free you'll need to inquire about the soy sauce!]
Reserved dressing
1 large or 2 medium crisp, sweet apples, cored and cut into 16 slices each (Braeburns work well)
1/2 cup pomegranate seeds
Freshly ground black pepper
Flaky sea salt
Place a large skillet over high heat. Add the oil, and when it is shimmering, add the tofu in a single layer. Cook until well browned on one side, then flip and cook the other side. Remove to a medium bowl with a slotted spoon.
Pour the dressing over the tofu and toss. Add the apples and pomegranate seeds and toss again. Taste and adjust seasoning. Divide among serving bowls and finish with generous amounts of black pepper and flaky salt.