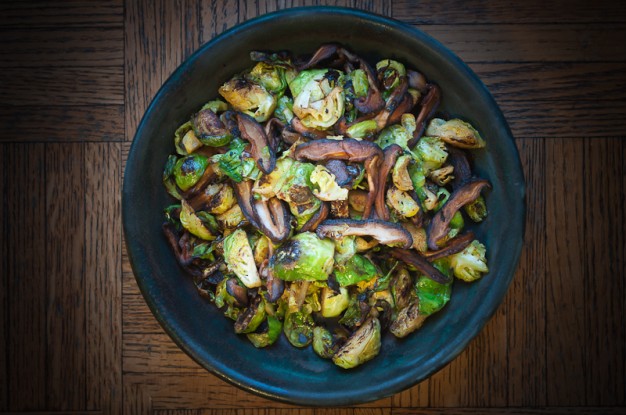 Pan Roasted Brussels Sprouts with Shiitakes and Smoked Paprika
Brussels sprouts are oddly fashionable these past couple of years. They have two things going for them:
Underdog status. A lot of people hated them because they were boiled to death for much of the 20th century.
But they are actually delicious when prepared well.
Now we've caught on that they are wonderful when pan-fried, deep-fried, broiled, roasted or otherwise subjected to high heat for shorter periods of time. (Of course, I actually still love them steamed or boiled and served with good sweet butter as long you don't overcook them.)
I think you'll enjoy this version, which has just 7 ingredients, of which 5 are pantry staples. It comes together in only 10 or 15 minutes. The shiitakes and smoked paprika add to the earthy complexity of the nearly-charred sprouts
Wait a second, you don't consider smoked paprika and Maldon (aka the world's greatest salt) salt to be pantry staples? Ok, you need to change that. Those are two ingredients that will change your life as a cook. The smoked paprika takes any dish and makes it taste like it was cooked over an open wood fire, and the Maldon adds a magnificent flaky saline crunch that is ideal for a finishing touch. It takes many dishes from good to great. Trust me, even if they seem a bit overpriced, a little goes a long way and your food will improve dramatically. If you use Amazon Prime, this 2-pack of Maldon is a better deal.
Pan Roasted Brussels Sprouts with Shiitakes and Smoked Paprika
Vegetarian, vegan, gluten-free and kosher
Serves 2-3 as a side dish
3 tablespoons vegetable oil
6 fresh shiitake mushroom caps, sliced about 1/8″ thick
Kosher salt
3 cups brussels sprouts, trimmed and quartered (about 9 ounces / 250 grams)
1/2 teaspoon smoked paprika
Freshly ground black pepper
Flaky salt such as Maldon (aka the world's greatest salt)
Line a plate with paper towels. Place a large skillet over medium-high heat. Add the vegetable oil, and when it shimmers, add the mushrooms caps in a single layer. Cook until well browned on one side, about one minute, then flip and cook the other side. When the second side is browned, remove with a slotted spatula to the paper towels, leaving as much oil behind as possible. Season with a sprinkle of Kosher salt.
With the skillet still on medium high heat, add the brussels sprouts and toss to coat with oil, adding a bit more oil if needed. Cook, turning occasionally, until tender and many surface have dark brown spots. I like mine almost charred.
Add the smoked paprika, 1/2 teaspoon of Kosher salt and the reserved shiitakes. Toss, then taste and adjust seasoning. Transfer to a serving platter, finish with black pepper and a few grains of flaky salt and serve.