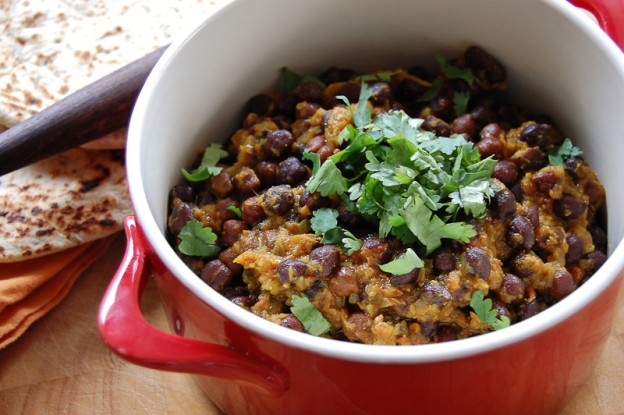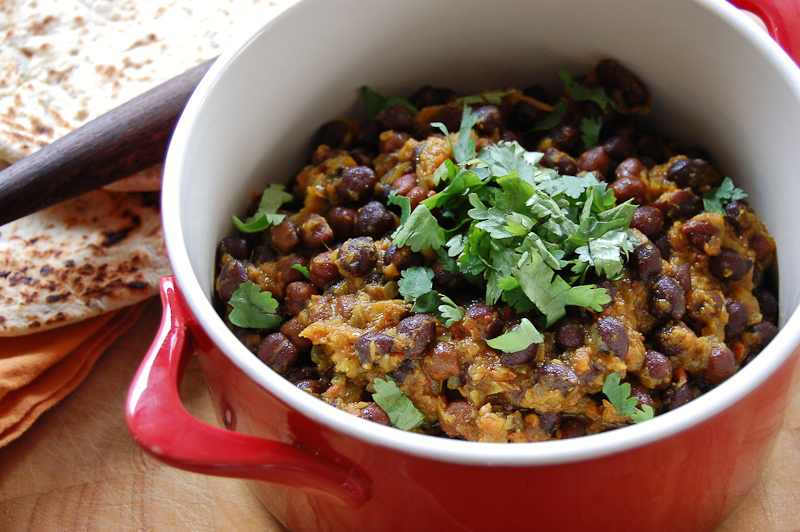 Kala Chana (Black Chickpea Curry)
Today's guest post is from my friend Amee of Rabbit Food Rocks. We've been blog buddies for a couple years now. Amee is down in Dallas, Texas. She's Indian and today's recipe is one of those great homestyle Indian dishes that you almost never see in a restaurant, so you have to learn to make it yourself if you want to try it. But Amee's range is global. Check out her Scandinavian Kringler if your eyes can afford the calories! Take it away, Amee…
When I was about 11 or 12 years old, I'd ask mom what's for dinner, and she would reply "rotli, daal, bhath, shaak" (which translates to the mundane Indian weeknight meal of "flatbread, lentil soup, rice, and side vegetable"). Sounds interesting or exotic to others, but this is actually quite dreadful to the Indian-American kid. I know my fellow Caucasian classmates were somewhere out there enjoying macaroni and cheese or spaghetti or mashed potatoes or green peas and carrots…something colorful and creamy and perhaps, even greasy…mmmmmm.
It doesn't matter how good of a cook mom is, the phrase "rotli daal bhath shaak" is usually followed by a groan. I'd drag my feet to fulfill my duty of setting the table…and mentally prepare my stomach for implosion. And I needed to sound as disappointed as possible, in hopes that she would magically respond "No problem!! What would YOU like to eat tonight??" Mom needed to realize that everytime she served me rotli dal bhath shaak, I died a little inside. And at this rate, mom, I'd be dead before I grew boobs.
Still, you don't have to be Indian to know that Restaurant Mom only offers two choices for dinner: Take It or Leave It. But on occasion, in lieu of the daal (lentil soup) and the shaak (vegetable), mom made a hearty kathol (general term for beans/pulses). I used to favor hearty beans over a mushy vegetable or soup. But my favorite kathol was and still is kala chana (black chickpea curry). It's hearty, warming, and aromatic, much like a vegetarian bean-based chili. You can also use regular dried chickpeas if the kala chana are too hard to find.
Now, at 32, as I've grown more comfortable with re-creating mom's dishes, this is one I continue to perfect and enjoy. …still waiting to grow boobs, though….
This is a spicy and hearty bean dish served with flatbread or naan. You can pair it with rice for a complete protein meal. This dish is often accompanied by a yogurt-based soup called kadhi, which is a perfect complement to this dish. Black chickpeas have a tough skin and are a very dense bean, so soaking overnight is a must.
Kala Chana (Black Chickpea Curry)
Serves 2-3
Vegetarian, vegan, and gluten-free
1 cup dry black chickpeas
 1 teaspoon baking soda
 7 cups water
 2 teaspoons salt
 4 tablespoons canola oil
 1/2 teaspoon black mustard seeds
 1/8 teaspoon asafoetida (hing)
 4 dried chilies (Indian dried red chilis – if not available, chile de arbol would probably work well)
 3 cloves
 1/2 cinnamon stick
 1 tablespoon ginger-garlic paste*
 1 medium onion, peeled and finely diced in the food processor (pulse well, just before it releases liquid)
 2 roma tomatoes, pureed in the food processor
 1 teaspoon ground coriander
 1 teaspoon ground cumin
 1/2 teaspoon turmeric
 1/4 teaspoon chili powder (or more/less to taste) (cayenne is an ok substitute)
 1/2 teaspoon garam masala
 2-3 tablespoons finely chopped cilantro (optional)
*ginger garlic paste is 1:1 puree of ginger and garlic, but you can substitute 1″ grated ginger plus 5 cloves garlic crushed and finely diced
(Without a pressure cooker, skip steps 1-3 and do this instead: soak the beans overnight and then rinse and replace the water and cook on medium heat in a medium pot for an hour and 15 mins.  Make sure water level is at least 1″ above the beans at all times.)
Soak the beans with the baking soda in 3 cups water overnight. Drain water.
Fill the pressure cooker with the soaked beans, add 4 cups of fresh water. Add the salt to the water, and pressure cook for 3 whistles (12 minutes). Turn off the heat but do not open the pressure cooker.
After 45 mins or later, open the pressure cooker and drain the beans.
Heat canola oil in a wide saute pan or wok (pan should be at least 3″ deep) on med-high heat. Add asafoetida, mustard seeds, chilies, cloves,and cinnamon stick. Fry for about 1 to 2 mins until fragrant but not burned.
Add onions to the pan and cook for 4-5 mins or until onions soften and become translucent. Add ginger-garlic paste (or substitute) and cook for 1-2 mins.
Add tomatoes to the pan, stir well, and then add coriander, cumin, turmeric, chili powder.
Cook for 5 minutes, mixing well. Add garam masala and beans. Cover and simmer on low for 20 mins, stirring occasionally.
Turn off heat, garnish with cilantro, and serve over rice, or with flatbread, parathas, or naan.