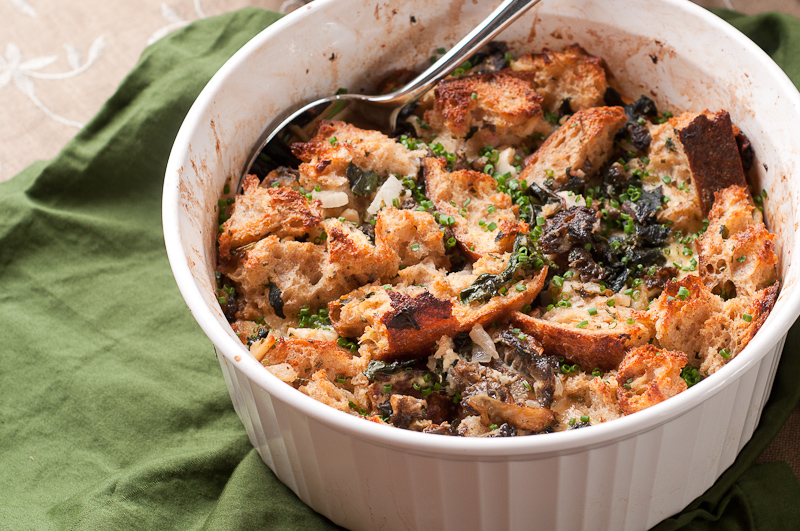 Savory Bread Pudding with Morel Mushrooms and Beet Greens
I wish you could smell this.
It is one of those dishes where you take a deep whiff of wild mushrooms, garlic, rosemary, and butter and you get a little bit dizzy for a second.
Regular, sweet bread puddings are rather hearty for dessert, so it isn't a big stretch to reflect them onto the savory side of the mirror. Tom Douglas has been doing both corn and mushroom bread puddings for years at Seattle's Etta's and Palace Kitchen.
Really there isn't much difference between a savory bread pudding and stuffing, except that bread pudding is bound with eggs. The tricky bit is to add the richness of the custard without crushing the lightness of bread. A few simple moves help: tear the bread instead of cutting it in too uniform cubes to create more airspace. Use a relatively hearty bread like pain au levain to retain structure. And, most important of all, toss the bread only very gently with the egg mixture.
If you can't get morels right now (and yes, I wrote this post a while ago), chanterelles or cultivated oyster mushrooms would work well as long as you cook them long enough to develop some flavor. Or you know, a few ounces of black truffle if you happen to have them lying around in the back of your crisper drawer.
I chose the beet greens simply because I was serving a beet salad at the same meal, so they were available, but you could use any other leafy green that suits you. Just be sure to get the water out so they don't sog up your bread.
Savory Bread Pudding with Morels and Beet Greens
Vegetarian
Serves 4 as a big side dish or light main course
Greens from 1 bunch beets (or other greens), stripped of ribs, cut in ribbons, rinsed well
5 tablespoons butter, divided
1/2 cup finely diced white onion
2 cloves garlic, minced
Kosher salt
1/2 pound morel mushrooms
4 eggs, lightly beaten
2 cups whole milk
1 teaspoon minced fresh rosemary leaves (or 1/2 teaspoon dried)
Several gratings of whole nutmeg (or a big pinch of ground)
Pinch smoked paprika
7 ounces (about 3 big, thick slices) pain au levain or similar artisan bread
Flaky sea salt for finishing
Fresh ground black pepper
2 tablespoons minced fresh chives
Preheat the oven to 375 and butter a deep 8″ round casserole (or similar). Bring a medium pot of salted water to a boil. Boil the beet greens until tender, about 10 minutes. Drain, cool, and squeeze out as much water as possible.
Melt 2 tablespoons of the butter in a medium saute pan over medium heat. Saute the onions and garlic with a big pinch of salt until lightly browned, about 5 minutes and reserve.
Soak the morels in a large bowl of water (don't do this if substituting other mushrooms, just wipe them clean!) Drain and repeat if necessary because they still seem to be giving off dirt, not just bits of mushrooom. Drain well but it is ok that they will still be a bit wet. Cut in half (or smaller if the mushrooms are very large). Melt the remaining 3 tablespoons of butter in the same saute pan over medium-high heat. Add the mushrooms and a big pinch of salt. You'll see all the water come out, then eventually evaporate, and then finally the mushrooms will start browning. Stop when they have browned a fair amount, about 10 minutes total. Reserve. (Wipe that pan with a bit of bread and eat it! You've been working hard and need a snack.)
Whisk together the eggs, milk, rosemary, nutmeg, smoked paprika and 1 teaspoon of Kosher salt. Tear the bread into bite sized pieces and put that in the casserole. Add the beet greens, sauteed onions, and sauteed mushrooms and toss. Pour the egg mixture over the bread and toss very gently, don't squeeze and squish.
Let stand about 20 minutes so the bread can absorb the custard, then bake until it reaches an internal temperature of about 180 degrees F, checked in several places. This should take 45 – 55 minutes. It will still seem a bit soft, but it shouldn't be liquid anywhere. Do not overcook, as the eggs will then turn rubbery and start leaching water and you'll be very sad.
Remove from the oven, let cool for at least 15 minutes, garnish with a sprinkle of flaky sea salt, fresh ground black pepper and minced chives and serve it forth.