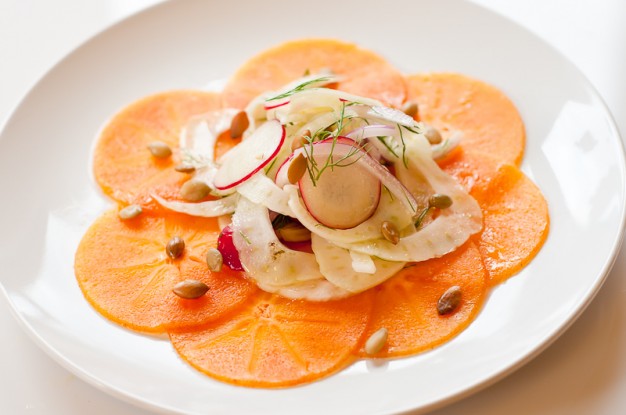 Persimmon Carpaccio with Fennel Salad
Persimmons are in season right now, and I love them. For those of you not intimately familiar with this fruit, the most important thing to know is that there are two general types: fuyu persimmons (which I use in this salad) are short and squat, resembling an orange tomato. They are eaten while still firm.
Hachiya persimmons, on the other hand, can only be eaten when they are incredibly soft, practically turning into pudding, otherwise they are inedibly astringent. So needless to say, don't try to make this carpaccio with hachiya persimmons or you'll have a frightful mess on your hands. But do buy some hachiyas and scoop 'em out with a spoon, or make persimmon pudding.
Once you have the right kind of persimmons, and a simple mandoline, you can toss this together in minutes. You'll impress your friends and family out of all proportion to how difficult it was to actually do!
Persimmon Carpaccio with Fennel Salad
Vegetarian, vegan and gluten free 
Serves 4
10 minutes
2-3 fuyu persimmons
1 bulb fennel (reserve fronds)
4 radishes
1/4 of a small red onion, peeled
2 tablespoons extra-virgin olive oil
1 tablespoon champagne vinegar
1/2 teaspoon flaky sea salt (preferably Maldon (aka the world's greatest salt))
2 tablespoons toasted pumpkin seeds (pepitas)
Chill 4 salad plates. Slice the persimmons about 1 mm thick on a mandoline, discarding the end slices. Use a circle cutter to cut out each slice. For the persimmons I used, a 2 1/2″ cutter was perfect. Alternatively, you can skip using the circle cutter but you'll need to peel the persimmons.
Thinly slice the fennel, radish and red onion on the mandoline and put them in a small bowl. Dress with the olive oil, champagne vinegar and sea salt. Taste and adjust seasoning.
Arrange 7 persimmon slices in a circle on each plate. Top with 1/4 of the salad, keeping it centered and as tall as possible on top of the persimmons. Garnish with a few of the reserved fennel fronds and the pepitas and serve.