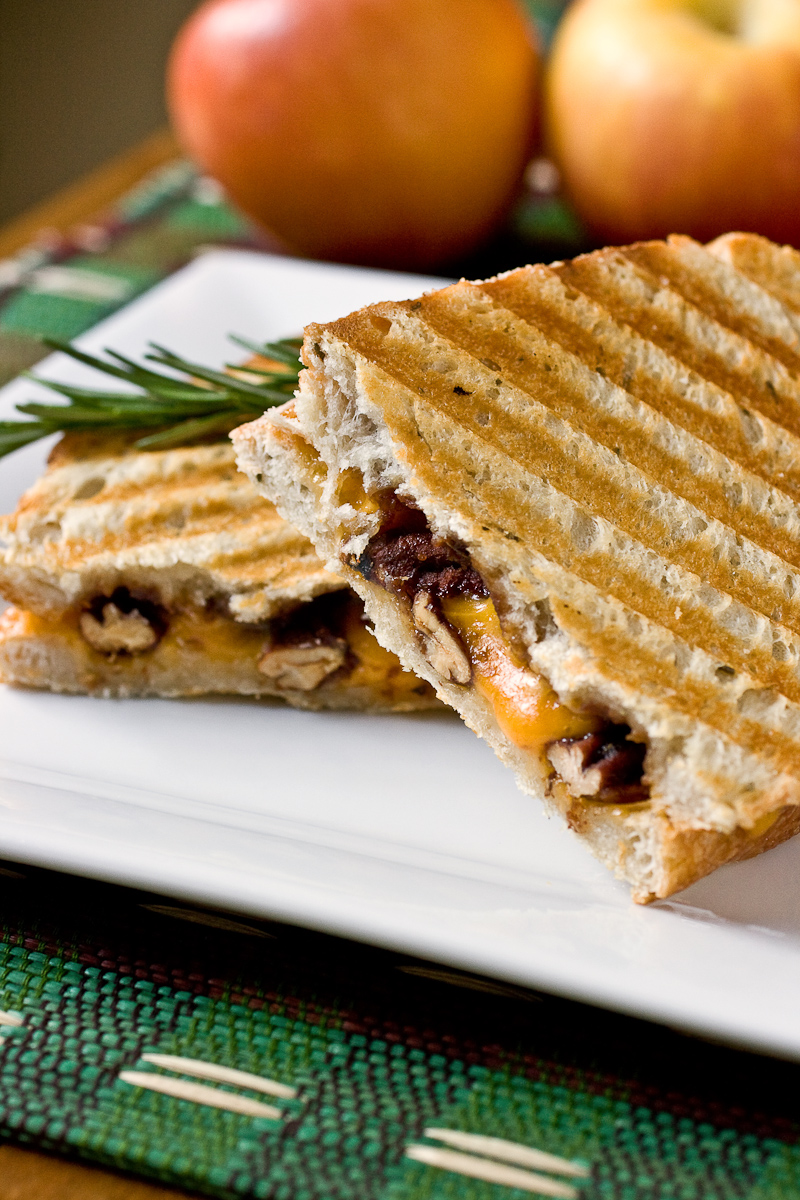 Today's guest post is by my friend Kathy Strahs of Panini Happy. Last week, she hosted my Spicy Caponata Panini, and this week she's brought us a delicious sounding panini filled with cheddar, apple butter and rosemary candied pecans. There are a couple of things I immediately like about this recipe. First of all, she's added the rosemary in two different ways, which is a smart way to develop complex and intense flavor. Second, the pecans add a crunchy element that makes the sandwich much more interesting. Take it away, Kathy…
I'm honored that Michael invited me to guest post on his beautiful blog. His recipes often inspire us to take dishes to that next level – work with a new ingredient, try a new technique, go a little beyond the everyday. When it comes to the recipes I blog about over at Panini Happy I explore all kinds of unexpected uses for the panini maker – everything from pressing homemade ice cream cones to grilling smashed potatoes to baking mini layer cakes. And, of course, I also grill a whole lot of panini. Today, I'm dressing up a simple grilled cheddar cheese sandwich with a few unique twists.
Some of my readers might be thinking, "More cheddar and apples?" I can't help it, this classic combination is a favorite of mine so I've grilled quite a few variations on it. But I never thought to involve rosemary before seeing Rosemary Apple Butter Grilled Cheese Sandwiches last week on Framed Cooks (Kate originally found the idea on The Professional Palate). I couldn't get it out of my mind. Rosemary sounded like the perfect enhancement to cheddar and apples.
I decided to incorporate rosemary into my latest cheddar-and-apples panini in two ways. First, I tossed together some rosemary candied pecans to add a little sweet crunch and gentle heat (I spiced them with cayenne as well) to the sandwiches (caution: these pecans are very addictive!). Second, I grilled it all on buttered rosemary bread to bring in more of those subtle, woodsy rosemary notes.
I loved these panini. Each sweet and savory flavor and texture worked harmoniously. It takes a little extra time to make the pecans, but it's well worth it – plus, you'll have an amazing snack while you wait for the sandwiches to grill.
Cheddar and Apple Butter Panini with Rosemary Candied Pecans
Vegetarian
Prep Time: 15 minutes
Cook Time: 40 minutes
Total Time: 55 minutes
Yield: 4 panini
For the rosemary candied pecans:
1/4 cup granulated sugar
2 teaspoons chopped fresh rosemary
1/2 teaspoon coarse salt
1/8 teaspoon ground cayenne pepper
1 egg white
1 tablespoon water
1 cup chopped pecans
Preheat the oven or toaster oven to 300°F. Line a baking sheet with foil sprayed with cooking spray.
Add the sugar, rosemary, salt and cayenne to a resealable plastic bag. Seal the bag and shake it well to combine it all.
In a medium bowl, whisk together the egg white and water until the mixture is slightly foamy. Add in the pecans and toss to coat them well. With a slotted spoon, transfer the pecans to the bag with the sugar mixture. Seal the bag and shake it well to coat all of the pecans.
Transfer the coated pecans to the prepared baking sheet and bake them for 30 minutes, giving them a stir with a fork after about 15 minutes. Set them aside to cool.
For the panini:
8 slices rosemary bread, or other country-style white bread
1/4 cup apple butter
8 ounces shredded sharp cheddar cheese
1 tablespoon melted butter
Preheat the panini grill to medium-high heat.*
For each sandwich: Top a slice of bread with 1/4 of the cheese and a few tablespoons of the Rosemary Candied Pecans. Spread about a tablespoon of apple butter inside another slice of bread and place it, apple butter side-down, on top of the pecans to close the sandwich.
Brush a little melted butter over the top of the sandwich and transfer it to the panini grill. Grill until the cheese is melted and the bread is toasted, 4 to 5 minutes. Slice the sandwich in half and serve it immediately.
*Alternatively, if you don't have a panini maker, you can always cook these sandwiches in a skillet or on a griddle over medium heat, flipping them once the cheese has melted about half way.