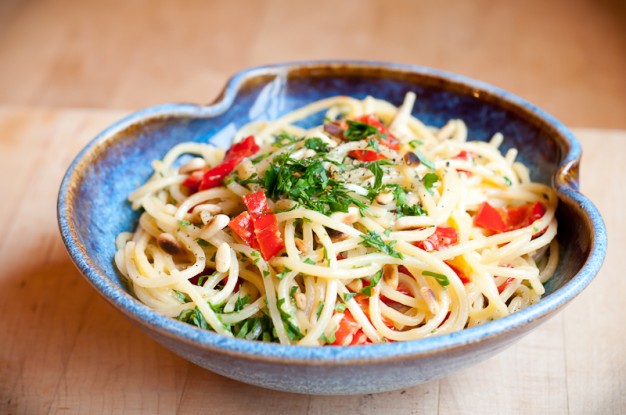 Spicy Mama Lil's Spaghetti alla Carbonara
Spaghetti alla carbonara is one of those great Italian dishes that comes with multiple-choice apocryphal explanations for the name. Possibly it is in the style favored by a group of charcoal makers, or coal miners, or maybe it was named after the charcoal burner it was cooked on. In any case, the traditional version is made by frying some pig bits with garlic and chili flakes, tossing your mostly cooked pasta through that pan, and then into a bowl with beaten eggs, cheese and black pepper. The hot pasta lightly cooks the egg, turning it into a rich and creamy sauce.
I've made slapdash vegetarian versions of carbonara for years. The other night I happened to have a jar of Mama Lil's spicy peppers open and added them in, and a whole new vista opened up for me. The kick from those pickled peppers took the dish to a whole new level.
I've since made it again, elaborating with some toasted pine nuts for crunch, and a shower of parsley for an herbal top note. I'm seriously obsessed… it is pretty much killing me not to jump up and make a bowl for myself right now.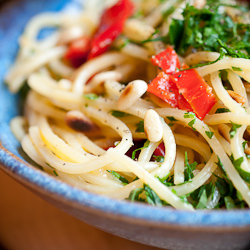 If you haven't had Mama Lil's before, you are missing out big time. They are made here in Seattle and therefore widely available, but outside of Seattle you may be able to find them at Whole Foods, or you can pick them up on Amazon. The version I linked to is the mildly spicy version, which is actually quite hot when cooked. They also make a "kick butt" version that is more than I could personally handle in this dish.
The critical move in making creamy carbonara comes when you dump the pasta into the eggs. You must be ready with your tongs and really go at the mixing, otherwise the eggs will scramble. There is no need to be scared of this step, it is easy to do right as long as you have everything prepared.
Spicy Mama Lil's Spaghetti alla Carbonara
Serves 2 as a hearty entree
15 minutes active time
Vegetarian
2/3 pound spaghetti
1/2 cup Mama Lil's peppers (including the oil from the jar)
4 cloves garlic, thinly sliced
2 eggs
1/2 cup grated Parmigiano-Reggiano cheese
Freshly ground black pepper
Kosher salt
1/4 cup toasted pine nuts
2 tablespoons minced parsley
Bring a large pot of well salted water to a boil. Put your serving bowls aside to warm. When the water is at a rolling boil, add the pasta. Heat a large skillet over medium high heat. Add the Mama Lil's peppers including at least a couple of tablespoons of the oil they are packed in. When the oil is shimmering, add the garlic and reduce the heat to low.
In a large bowl, whisk together the eggs, cheese, several generous grinds of black pepper, and a pinch of Kosher salt (you don't need much because the peppers and cheese are already salty). When the pasta is al dente (or even just slightly shy of al dente), drain it, add to the skillet and raise the heat to medium high. Using tongs, toss the pasta with the peppers for about 1 minute.
Pour the entire contents of the skillet into the egg mixture, and working quickly and aggressively with your tongs to prevent the eggs from scrambling, toss the pasta for about 1 minute. Taste and adjust seasoning.
Divide the pasta among the serving bowls, garnish with the toasted pine nuts and parsley and serve immediately.