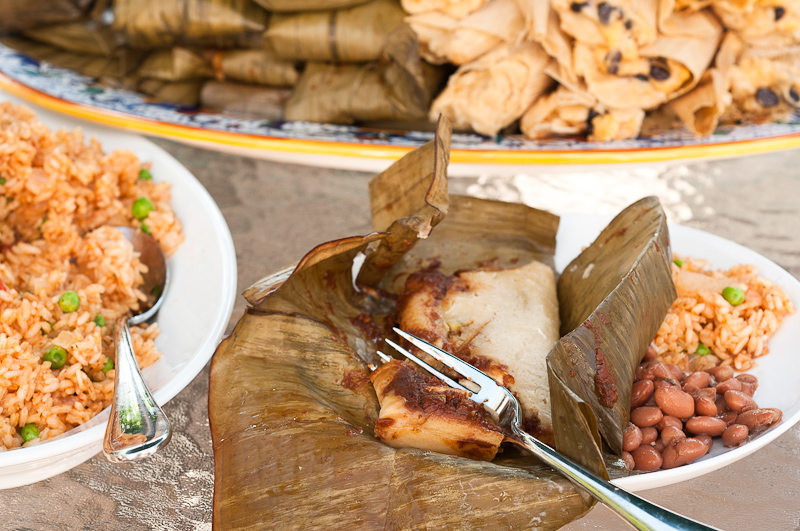 Tofu and Red Chili Tamales wrapped in Banana Leaves
I love tamales.
I love that they are a project, not something you simply throw together for a weeknight dinner. A project best done with friends and family, beating the masa and making fillings and sauces and forming the tamales together, before sitting down to a celebratory meal.
I love the aromatic cornhusk- or banana leaf- infused steam that fills your house as you cook them.
I love that moment when you unwrap that first tamal, like a little present, and inhale the aroma of the masa and the fillings. I love when you are on your third, or fourth and wondering if you can maybe loosen your belt and fit in just one more.
And I really love when I look in the freezer and find a bag with a few leftover tamales that I can have for breakfast. (They reheat beautifully in the microwave!)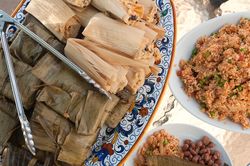 My wife and I were visiting the Old Mission in Santa Barbara earlier this year, and passing time in the gift shop I glanced through a book called Tamales 101. I wasn't expecting much, but to my pleasant surprise it turns out to be a terrific specialized cookbook. The author, Alice Guadalupe Tapp runs a very succesful tamale shop in Los Angeles, and she takes you through each step in great detail, laying out all of your options (fresh masa or masa harina? butter or shortening?) and what effect they have on the finished product. Better yet, she has a ton of vegetarian recipes.
I'm not going to try and replicate all of this info in a blog post, so l'll just share my version of a piquant red chili sauce. I like a large dose of it moistening the inside of tamales filled with cubes of tofu and zucchini, or with black beans. If you are interested, I highly recommend you pick up the book. Or if you want instant gratification, there is a pretty good visual tamale tutorial here.
Red Chili Sauce for Tamales
Vegetarian and vegan
Enough for at least 20-30 tamales 
4 ancho chilis
2 morita chilis (or 1 chipotle in adobo)
1 dried aji amarillo chili
1/2 large white onion, cut into a few pieces
2 cloves garlic (unpeeled)
4 teaspoons Better-than-Bouillon brand vegetable base
One 14 ounce can fire-roasted tomatoes
1 tablespoon Mexican oregano
1 tablespoon unsweetened cocoa powder
1 tablespoon salt
Wearing rubber gloves, tear open the chilis and dispose of their seeds and stems. Rip the chilis into smallish pieces. Put them in a blender jar and pour 4 cups boiling water over them. Let stand for 15 minutes.
Place a medium skillet over medium high heat. Add the onion and garlic and cook, tossing a couple of times, until softened and slightly browned. Remove from heat, cool slightly peel the garlic, and add to the blender jar.
Add the vegetable base, the tomatoes, the oregano, the cocoa powder and salt. Cover the blender and process on high speed for 1 minute. The result should be a thick sauce. If it is too thick, add a bit more water. Taste and adjust seasoning, then use to make tamales.