Today I'm happy to bring you a guest post from my friend Yu Ching, who writes the wonderful Lemonpi. I love her blog because whether she's making incredibly original desserts like a Parsnip and Cocoa Nib Cake or classics like Gâteau Breton, the recipes are rock solid and come with gorgeous photos. Take it away, Yu Ching…
It is an honour to be invited by Michael to write a guest post on Herbivoracious. I'm a huge fan of his simple and approachable recipes, and in fact do cook a lot of vegetarian food regularly at home, even if my own blog doesn't really reflect that. Since baking and sweets are my predominant interest, I'm featuring a slight twist on an old favourite of many cake fiends out there (myself included).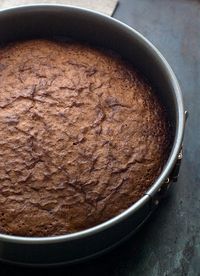 Once predominantly the domain of tinned pineapple rings and plasticky red cherries, it's high time the upside down cake got a bit of its groove back. Mine has been jazzed up with jackfruit as a topping but this would work equally well with sliced bananas or even mango.
The recipe is based on one by Joanne Chang in her very tasty book, Flour. The cake calls for tinned jackfruit which is an option given mostly for convenience. If you have readily available fresh jackfruit, use it by all means. Once baked and cooled, slip a paring knife around the edges of the tin to loosen it a little. Don't hesitate to then boldly upend this robust, buttery cake onto a plate and remove the tin with a flourish. As with many other great desserts such as tarte tatins and creme caramels, part of the pleasure for the baker as the cake maker is in this moment of great reveal.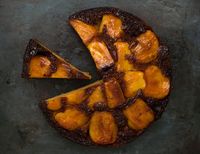 I offered this cake to a group of scientists for their morning tea, half fearing that jackfruit would turn out to be a bit of an acquired taste. As it happens, they loved every bit of it as much as I did.
Jackfruit brown sugar cake
Yield: one 9" round cake
One tin ripe jackfruit in syrup (440 grams)
1 tablespoon tamarind puree (optional)
100 grams (1/2 cup) caster sugar
180 grams (1 cup, loosely packed) brown sugar
86 grams (6 tablespoons) soft butter, plus 114 grams (1 stick) butter, melted and cooled
140 grams (about 1 cup plus 1 tablespoon) all-purpose flour
1 teaspoon baking powder
1/4 teaspoon sea salt
2 eggs, at room temperature
3 egg yolks, at room temperature
1 teaspoon vanilla extract
Preheat the oven to 175'C (350F). Butter the base and sides of a 9-inch round cake pan.
Drain the jackfruit and slice each piece into half.
Put 100g of sugar in a pan and cook to a caramel over medium heat, stirring with a heat proof spatula. Once the caramel is a medium golden brown, carefully whisk in the soft butter followed by the tamarind puree. Take care as the caramel will splutter. Bring the liquid to a boil, whisking to emulsify, then pour into the prepared cake pan. The caramel should be just enough to cover the base of the pan. Arrange the cut jackfruit pieces on top of this.
For the cake batter, whisk together the eggs, egg yolks, brown sugar, vanilla, salt and melted butter. Sift the flour and baking powder together. Fold the flour mixture into the egg mixture. Pour the batter over the jackfruit in the pan.
Bake for 45 minutes or until the top is golden brown and a skewer inserted into the cake comes out clean. Allow the cake to cool in the pan on a wire rack for at least 30 minutes before inverting it onto a serving plate. This cake is best served warm or at room temperature.