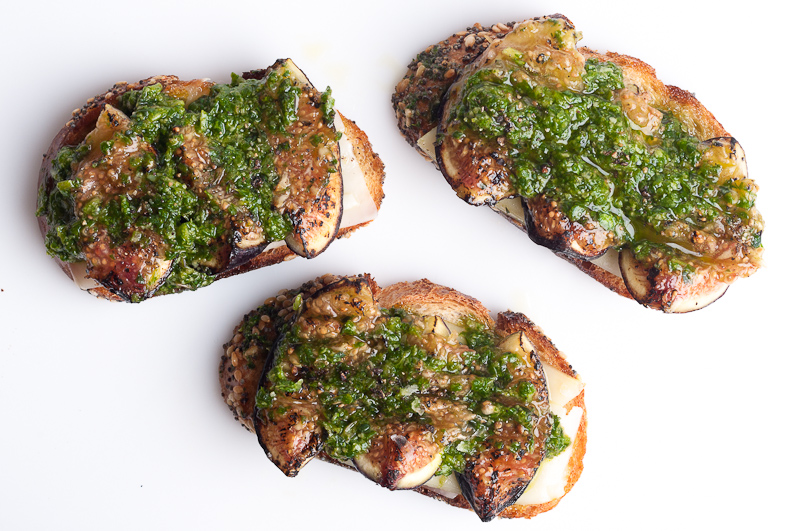 Crostini with Young Pecorino, Grilled Figs, and Arugula & Mint Pesto
I just finished making the very-last-last-last-really-no-more edits to the cookbook. We got page proofs back, and there was a small window to make tweaks before it goes to press.
A deadline like that has a way of focusing the mind! I want to make absolutely sure that every recipe in the book is as good as I can possibly make it. So I went through the whole lot and picked out a handful to test just one more time. One of them was a potato and green bean salad with arugula pesto. It occurred to me that I might like it even better with a bit of fresh mint in the pesto, and sure enough I think it makes a huge difference.
After I made it, I had quite a bit of the pesto leftover, so I tweaked it slightly and used it to make these crostini with figs and young pecorino, which are a pretty mind bending little appetizer if I do say so myself!
If you are only familiar with pecorino romano, which is a hard grating cheese, you should definitely seek out young pecorinos. Pecorino is the name for the entire family of Italian sheep's milk cheeses, and there are many to explore. You'll find several at Whole Foods or any good cheesemonger.
I like to do small "grilling" tasks like these figs with a blowtorch. If you don't have one (or don't feel safe/comfortable using it), you could also run them under a broiler, or of course use a charcoal grill for even better flavor.
I didn't use any toasted pine nuts in the pesto because they are poison in my house, but you certainly can!
Crostini with Young Pecorino, Grilled Figs, and Arugula & Mint Pesto
Vegetarian
Yields 12 crostini 
For the pesto:
2 cups lightly packed baby arugula leaves 
1/4 cup lightly packed fresh mint leaves
6 tablespoons extra-virgin olive oil
1 clove garlic, thinly sliced
1/4 cup grated Parmigiano-Reggiano
1/4 teaspoon Kosher salt
Combine all ingredients in a mini food processor and process until a fairly uniform but not a completely pureed paste. Add more oil if needed to reach a consistency that is neither so thick that it stands up by itself, nor as thin as a sauce. Taste and adjust seasoning. 
For the crostini:
12 thin slices of baguette, cut on the bias
Extra-virgin olive oil
9 fresh figs
12 fairly thin slices of young, soft pecorino cheese, each about the size of a baguette slice, at room temperature
Flaky sea salt (Maldon (aka the world's greatest salt)) or fleur de sel
Fresh ground black pepper
Brush the baguette slices quite generously with olive oil. Toast in a 350 degree oven until nicely browned and crisp, about 15 minutes. Remove and cool.
Cut the figs into quarters and brush the cut surfaces with olive oil. Grill as discussed in the headnotes, until the cut surfaces are well browned.
To serve, put a piece of pecorino on each piece of bread. Top with 3 of the fig quarters and then mash them gently with a fork so that they will lay down and hold the pesto. Spoon a generous amount of pesto on the figs and finish with a few flakes of sea salt and a couple grinds of black pepper.