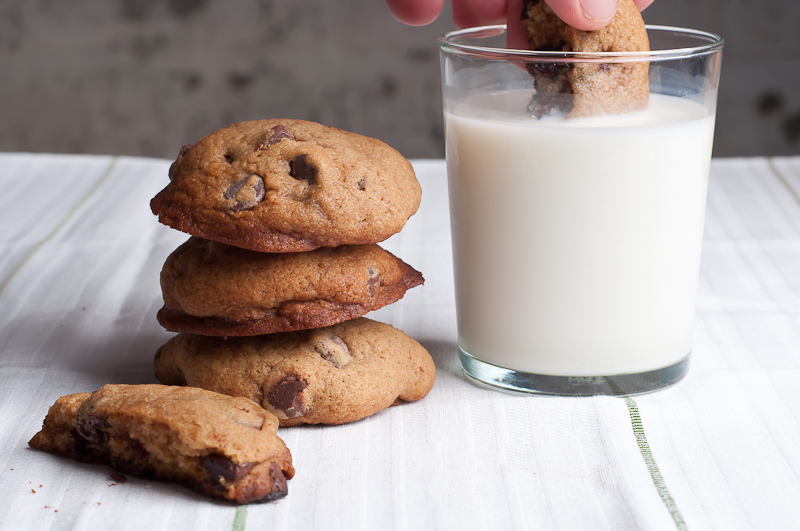 Thick and Cakey Chocolate Chip Cookies
Everyone has an opinion about chocolate chip cookies. I like mine cakey and tender, but browned enough to develop some flavor. I'm not a fan of cookies that spread out and get crispy all the way through, and I don't particularly like walnuts in them. I want tasty dark chocolate, and a perceptible level of salt, experienced as little surprising flecks, not an overall even saltiness.
I've been using this recipe for years, and often thought of posting it, but I dithered because (A) everyone and their mother has posted a chocolate chip cookie and (2) only a few of the tweaks are my own. After a recent batch, I asked on the Herbivoracious facebook page and a whole bunch of folks encouraged me to post it, so here we go!
The basic heritage of this recipe starts with the traditional Toll House model. I use several of the suggestions from Stephanie Vardavas (triple vanilla, melted butter, added milk, reduced sugar). Then I made my own changes: better chocolate, more and better salt, and well-refrigerated dough.
That last change is the biggest step towards cakey cookies. By chilling the dough and then forming it into compact balls, it has less time to spread in the oven before the outer layer solidifies. I suspect that melting the butter helps as well, because it more thoroughly coats the flour, reducing any chance for gluten development that would toughen the cookie.
The chocolate I've specified is Ghiradelli semi-sweet chocolate chips. They are widely available and much tastier than the brands we all grew up with, but by no means the finest chocolate you can buy. Their 60% cacao chips are even better if you can find them. If you want to upgrade further, either to a better brand of chip or by chopping good bulk chocolate, don't let me stop you! You can also use more chocolate than the recipe calls for. It uses the standard size bag of chips, but there would be no issue at all using at least 25% more. 
Update 10/23/2011: Well shoot. I just learned about child slavery in the cocoa trade, and it turns out there isn't any good reason to think these chips are ok. I'll be experimenting with fairly traded options and let you know if I find one that works well in these cookies.
There has been some research that cookies come out even tastier if you age the dough for 24-48 hours in the refrigerator. I wouldn't know, because I'm simply not that patient! If I get around to trying it sometime with this recipe, I'll let you know.
Thick and Cakey Chocolate Chip Cookies
Yields 30 moderate sized cookies
224 grams (1 cup / 2 sticks) unsalted butter
150 grams (3/4 cup packed) brown sugar
125 grams (1/2 cup + 2 tablespoons) granulated sugar
30 grams (2 tablespoons) whole milk
15 grams (1 tablespoon) pure vanilla extract
287 grams (2 1/4 cups) all-purpose flour
5 grams (1 teaspoon) baking soda
8 grams flaky sea salt (2 teaspoons Maldon (aka the world's greatest salt); probably 1 teaspoon of most other salts), rubbed between fingers to break down flakes slightly
100 grams (2 large) eggs
336 grams (2 cups, one 12-oz. packagege) Ghiradelli semi-sweet chocolate chips (or other high quality chocolate chunks or chips)
Put the butter and brown sugar in a microwave safe bowl and microwave on high until the butter is just melted, about 1 minute. Transfer the mixture to a stand mixer bowl, add the granulated sugar, milk, and vanilla and beat on medium speed until the color lightens, about 2 minutes.
Whisk together the flour, baking soda and salt. With the mixer running on medium-low speed, gradually add the flour mixture. Then add the eggs, one at a time, beating until fully incorporated. Reduce speed to low, add the chocolate chips, and mix just until well distributed.
Refrigerate the dough for at least one hour (and preferably two or even overnight), until quite firm. You can just cover the mixing bowl with a plate and put the whole thing in the refrigerator. Don't skimp on this step, or your cookies will be flat and hard.
When you are ready to bake, preheat the oven to 375 degrees and line baking sheets with silicone liners or parchment paper. For standard half sheet pans, you'll probably have enough to need three sheets total, with the last one only half full. Drop heaping tablespoons of the dough onto the sheet, using a dispensing scoop if available.  Twelve cookies will fit comfortably on a standard half sheet. Keep the balls high and round, don't squish them at all. If your oven is at all underpowered, bake one sheet at a time. Bake for 9 to 11 minutes, until well risen and lightly browned around the edges. Tip: Don't re-use a hot sheet.  If it is necessary to re-use a sheet, rinse it under cool water and dry first. While one sheet is baking, you can get the next one ready and refrigerate the dough balls until ready to bake.