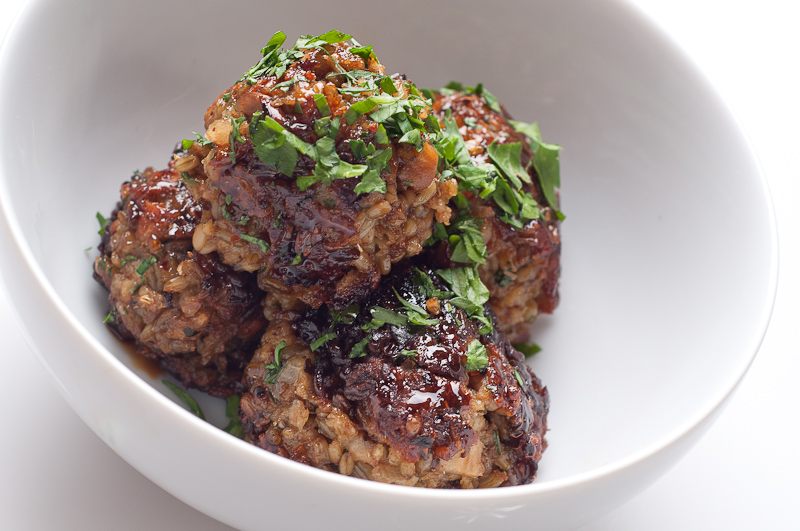 Freekeh Kofte – Green Wheat "Meatballs"
One of the great things about being a food blogger is that friends and family bring you cool ingredients. My mother in law gave me a box of freekeh, which I'd never even heard of before. It turns out that freekeh is wheat that has been harvested while it is still green, sun-dried, and then lightly roasted by burning the chaff and stalks around it. It doesn't take much imagination to envision that this was the result of a happy accident under desperate circumstances the first time! 
Freekeh has been used in the Middle East and North Africa for centuries. It can be made into spiced pilafs, used as a stuffing, or cooked into soups ands stews. Both the greenness and the roasting contribute to an aroma that is unlike anything else.
A sensible thing that I didn't do would have been to follow a traditional recipe for my first time using a new ingredient. Another sensible thing would have been to make the title of this post some sort of freekeh pun. But I resisted, and you can totally thank me later.
Instead, I decided to make the freekeh into kofte. Otherwise known as meatballs, except, of course, no meat. The coarse texture of the grain helps the kofte stay loosely bound, instead of becoming overly dense. I went with ras al hanout and a glaze of pomegranate molasses to stick with a Middle Eastern flavor profile. There were none leftover immediately following the photograph.
You could probably use fennel seeds and garlic and serve this with tomato sauce for an Italian approach. 
Have you cooked with freekeh before? If so, add a comment below and let me know how you use it.
Pomegranate-glazed Freekeh Kofte
Vegetarian
Makes about 12 moderate sized kofte 
2 tablespoons vegetable oil plus more for pan frying the kofte
1/2 onion, finely diced
1 cup freekeh (green wheat, see above)
2/3 cup diced roasted eggplant (Roast whole eggplant at 450 until tender. Cool. Dice.)
2 eggs, lightly beaten
1/2 teaspoon chili flakes
1-2 teaspoons ras al hanout
1/2 cup breadcrumbs (panko works well)
2 tablespoons minced flatleaf parsley plus more for garnish
1/2 teaspoon Kosher salt
Several grinds black pepper
1/3 cup pomegranate molasses
Place a medium saucepan with a tightfitting lid over medium heat. Add 2 tablespoons of vegetable oil, and when it is hot, add the onion and saute until softened, about 1 minute. Add the freekeh and cook, stirring frequently, until it is somewhat toasted and smells appetizing, about 2 minutes.
Add 2 1/3 cups of water and stir once. Reduce heat to low, cover, and simmer until the water is completely absorbed, about 50 minutes. (Follow package directions if they are different.)
Allow the freekeh to cool to room temperature. Using your hands, mix in the eggplant, eggs, chili flakes, ras al hanout, breadcrumbs, parsley and black pepper. Try  not to smush everything together too much as this will produce an overly dense kofte.
Put a large skillet over medium-high heat and add about 1/4" of vegetable oil. Grab a ball of the freekeh mixture about 1 1/2 inches in diameter and gently shape it to be as round as possible. Add it to the oil and repeat until about half of the balls are in the oil. Cook for about 2 minutes, adjust heat so that they are browning but not burning. Carefully flip and cook until browned on the other side too. If you have an instant read thermometer, check to make sure that they are reaching an internal temperature of at least 155 degrees to be sure that the inside is cooked. Remove with a slotted spatula and brush lightly with the pomegrante molasses. Repeat with the remaining kofte and serve immediately – they will soften too much if they sit around for long.