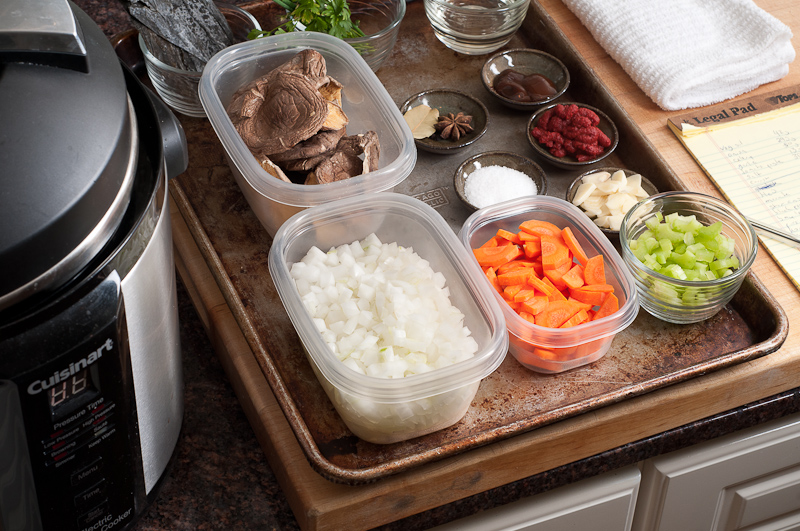 Mise en Place for Umami-Packed Vegetarian Broth
I've been doing a lot of reading about modern methods for making stocks and broths lately. Modernist Cuisine has a detailed chapter devoted to producing them using both sous vide and pressure cooker methods. Dave Arnold at the French Culinary institute has written several great posts on the subject, and made me doubt my own pressure cooker. Alex and Aki's Ideas In Food book talks about making microstocks in the pressure cooker, allowing them to highlight the flavor of a single ingredient. 
While I love the microstock idea, my goal for today's recipe was to create a more general purpose broth that you could use in a variety of contexts where you want a serious umami wallop. Umami, of course, is that famed fifth flavor, sensed by receptors that look for glutamate and various ribonucleotides – basically indicators that a food contains protein. It isn't so surprising that we'd be wired to like protein, right? 
I want to pack so much umami into this broth that you have one sip and feel your eyes roll back in your head involuntarily. I want to evoke a guttural groan, and in my small sample of testers, that is exactly what has happened.
Let me back up a step to note what a good vegetable stock is not. Some folks are under the misimpression that you make stock by saving all the leftover bits of onion skin, trimmed half moldy bits of carrot and generally any other dross that they might feel guilty about tossing in the compost bin, and boiling them until they die a second death. This is a very bad idea, unless you like to start your soups and sauces with a watery, bitter, insipid, poorly balanced liquid. In which case I guess it is an excellent idea.
The vegetarian ingredients best known for high concentrations of glutamates are tomatoes, dried shiitake mushrooms, marmite, kombu seaweed, and parmesan cheese. I decided to include the first four, but omit the parmesan to keep this broth vegan. The challenge was to find a balance of these ingredients that wouldn't allow any one to dominate. I didn't want to taste it and say "wow, nice mushroom broth" or "mmmm, dashi". 
Heston Blumenthal, in The Fat Duck Cookbook, mentions some research that shows that compounds in star anise, when cooked with the sulfur present in onions and other alliums, releases a host of new flavor chemicals that enhance umami flavors, so I added that as well. I've started doing that just about anytime I caramelize onions and have been impressed with the results. 
If you would like to make this broth crystal clear, then you can use Dave Arnold's stupid-simple agar clarification. This would be the way to go if you'd like to serve it as a consomme or for something like ravioli en brodo. It can be used as-is as the basis of a rustic soup (French onion soup would be killer), you can cook grains in it, or use it to add background complexity to a sauce. I haven't tried it but I think it would be outrageous for flavoring the masa in tamales.
Have you ever wondered about the difference between stock and broth? Modernist Cuisine explains this well. A stock is a base ingredient, left relatively unseasoned because you may well want to reduce (concentrate) it in the process of making a sauce. If it were fully seasoned, it would become too salty. A broth, on the other hand, is a plain but fully finished and seasoned soup that can be eaten just as it is.
Today's recipe is for a broth, but it is also eminently usable as a stock if you cut the salt down to 5 grams. You can then reduce the stock by 50% to concentrate the flavors, either beforehand or in the process of making a pan sauce.
Umami-Packed Vegetarian Broth
Yields about 1 liter (4 1/4 cups)
Vegetarian and vegan, gluten-free depending on your opinion of Marmite
42 grams (1/4 cup) vegetable oil
290 grams (2 cups) finely diced onion
200 grams (1 cup) thin half moons of carrot
50 grams (1/3 cup) diced celery
13 grams (about 2 cloves) minced garlic
1.5 grams (1 star) star anise, broken into pieces
10 grams (1 1/4 teaspoon if using Diamond Crystal, less for other brands) Kosher salt
0.23 grams (6 peppercorns) whole black peppercorn
0.2 grams (1 leaf) bay leaf
30 grams (2 tablespoons) dry vermouth
30 grams (1 tablespoon) tomato paste
13 grams (2 teaspoons) Marmite – if you need gluten-free broth, do some research or omit
10 grams (1 small handful) parsley leaves and stems
2 grams (about 10 stems) fresh chives
1.5 grams (1 small sprig) fresh rosemary
45 grams (about 3 cups) dried shiitake mushrooms
13 grams (1 small piece) kombu
1500 grams (6 1/3 cups) water
If using an electric pressure cooker, set it to "saute". If using a stovetop model, place the base over medium high heat. When it is preheated, add the oil, and when the oil is shimmering, add the onion, carrot, celery, garlic, star anise and salt. Cook, stirring occasionally, until the onion is well browned, about 10 minutes.
Stir in the peppercorns and bay leaf. Deglaze the pan with the vermouth. Stir in the tomato paste and continue cooking, stirring occasionally, until it has started to brown as well, about 5 more minutes.
Stir in the marmite, parsley, chives, rosemary, shiitake mushrooms and kombu. Add the water and stir again. Cover and cook at high pressure for 20 minutes. Allow pressure to release naturally.
Strain the broth, pressing down on the vegetables to release as much liquid as possible. Then strain again through a very fine meshed sieve, and then through a triple layer of cheesecloth if desired. Taste and adjust seasoning. It will likely need a bit more salt.