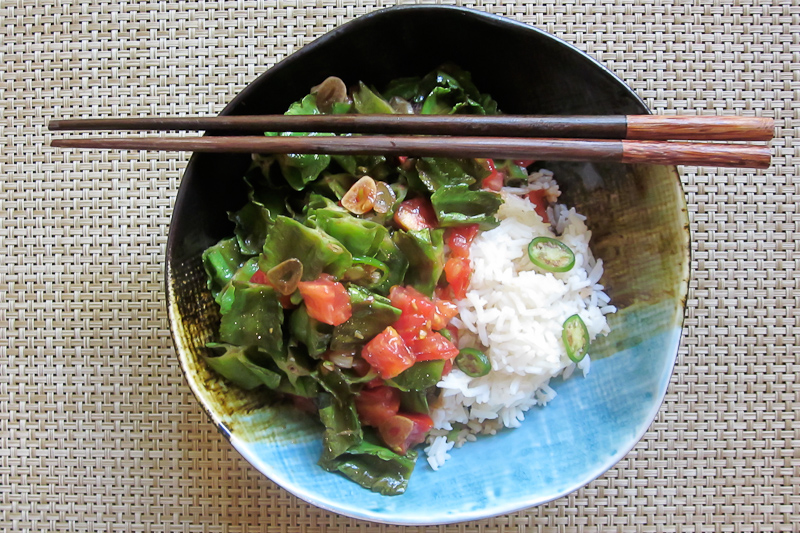 I ran into a vegetable I'd never seen before at a farm stand in Kawaihae on the Big Island of Hawaii, in the middle of a preposterous but amusing adventure that involved driving back and forth over the same stretch of coast approximately seventy-three times. These pods were about 8 inches long, with ruffled leaves, somewhat crunchy like romaine lettuce, but with a central seed pod a bit like a green bean. Most unusual.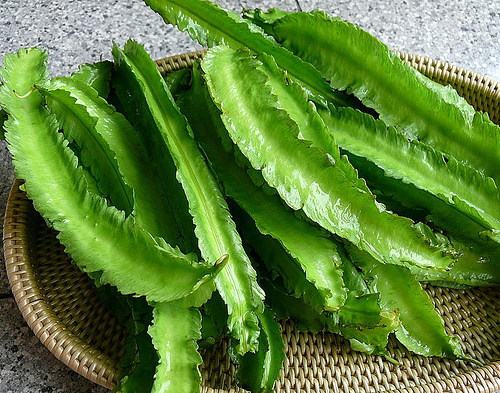 Photo courtesy of Terri at HungerHunger
My policy is to always buy an unknown fruit or vegetable, on the assumption that the web will help me figure out what it is and how to use it. The gentleman I bought them from said to eat them raw, but an initial skeptical bite showed that to be a fairly unappealing prospect.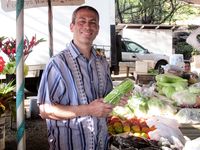 Asking around on the social media, @kitsune_shoujo from Singapore, and Ananthi Parkin from Malaysia informed me right away that this vegetable is kacang botol, or winged bean, and that they it could be used in a variety of stir-fried dishes, or cooked and chilled for a salad.
Here's my first try at a recipe using them with what I found in our rental house kitchen. I thought it was pretty darn tasty. This is a pretty basic method for a stir-fry flavored with garlic and tomatoes that you could adapt to green beans or okra, for example. In the heat of the very rapid stir-fry, the tomatoes begin to break down and create a bit of sauce, which is enhanced with soy sauce and toasted sesame oil.
Stir-Fried Winged Beans (Kacang Botol) with Tomato and Garlic
Vegetarian, vegan, and gluten-free
Serves 4 as a side dish 
1/4 cup vegetable oil
6 cloves garlic, thinly sliced
dried red chiles, to taste
1 pound winged beans (kacang botol), cut into bite-sized lengths
1/2 teaspoon Kosher salt
1 large tomato, diced
1 tablespoon soy sauce (gluten-free if needed)
1 teaspoon toasted sesame oil
Heat a wok or your largest skillet over maximum heat. Add the oil, and when it is shimering, add the garlic and chilis. Stir-fry for ten seconds, without burning, and immediately add the winged beans and salt.
Stir-fry for about 30 seconds, until the beans brighten in color.
Add the tomatoes and stir-fry about 30 more seconds, until the tomatoes just slightly begin to break down and form a sauce. Remove from heat.
Stir in the soy sauce and toasted sesame oil. Taste and adjust seasoning and serve immediately.