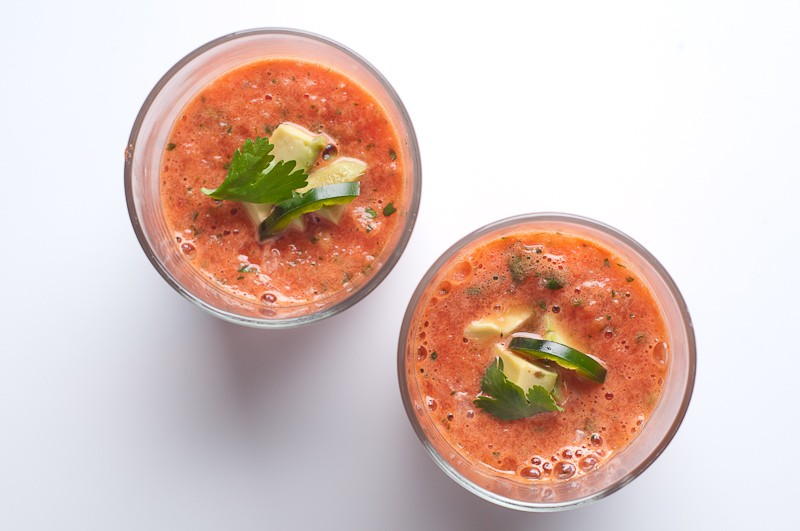 Watermelon and Sweet Onion Gazpacho

You've probably had a tomato and watermelon salad. That combination seems to be all the rage now, and it emphasizes the fact that tomatoes are a fruit, not a vegetable. So why not go the other direction, and put watermelon to work in a soup that is traditionally made with tomatoes?
Like regular gazpacho, this is embarassingly easy to make. Five minutes of active time and then just let it chill down and serve at your leisure.
I took my friend Aseem's suggestion to add avocado to gazpacho, but used it as a chunky garnish instead of pureeing it in. The creamy texture makes a nice counterpoint to the watermelon. 
This soup has a tendency to separate fairly quickly. You can simply stir it just before serving, but if you want it to hold for more than a couple of minutes, an easy solution is to use a tiny bit of xanthan gum (readily available at health food type stores that serve gluten-free bakers, or on Amazon). I've explained how in the recipe. Mixing it with the salt first makes it easier to disperse without clumping.
Watermelon and Sweet Onion Gazpacho
Vegetarian, vegan, and gluten-free
Yields about 4 cups / serves 4 
5 cups cubed seedless watermelon
3/4 teaspoon salt
1/4 teaspoon (1 gram) xanthan gum (optional)
Juice of 1 lime
2 tablespoons extra-virgin olive oil plus additional for garnish
1/2 minced jalapeno plus additional for garnish
1/2 cup minced sweet onion (such as Walla Walla)
2 tablespoons tightly packed cilantro leaves plus additional for garnish
1/2 avocado, diced (cut just before serving to avoid browning, or toss with lime juice)
Put the watermelon in the jar of a blender. Whisk together salt and xanthan gum, then sprinkle the mixture over the watermelon. (If not using the xanthan gum, just add the salt to the watermelon.) Add the lime juice and olive oil. Cover and puree briefly, retaining a little bit of texture.
If using the xanthan gum, let stand 10 minutes to allow it to hydrate, then puree again very briefly.
Add the jalapeno, onion and cilantro and run the blender just for a few seconds to mix. Refrigerate until chilled, at least 1 hour. Stir, taste and adjust seasoning.
To serve, divide among serving bowls or glasses and garnish with a drizzle of olive oil, avocado, jalapeno and cilantro and serve immediately.